Manduca rustica harterti
(Rothschild, 1894)

Manduca rustica harterti, Jalousie Resort, St. Lucia, courtesy of Tony and Pat James
This site has been created by Bill Oehlke at oehlkew@islandtelecom.com
Comments, suggestions and/or additional information are welcomed by Bill.
TAXONOMY:



Family: Sphingidae, Latreille, 1802
Subfamily: Sphinginae, Latreille, [1802]
Tribe: Sphingini, Latreille, 1802
Genus: Manduca Hubner, 1807 ...........
Species: rustica harterti Rothschild, 1894


MIDI MUSIC
.....It's a Wonderful World.....
copyright C. Odenkirk


ON.OFF

DISTRIBUTION:
Manduca rustica harterti flies in Bonaire (specimen type locality), a little island about thirty miles north of Venezuela. Moths are also taken through the Lessser Antilles and have lighter forewings than Manduca rustica rustica. Pat and Tony James report them from St. Lucia. FLIGHT TIMES: Manduca rustica harterti adults have major flight peaks in May-June and September-December.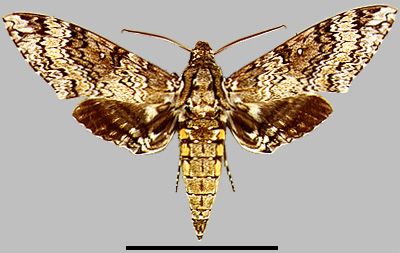 Manduca rustica harterti courtesy of Jean Haxaire.
ECLOSION:
Pupae probably wiggle to surface from subterranean chambers just prior to eclosion.
SCENTING AND MATING:
Females call in the males with a pheromone released from a gland at the tip of the abdomen. Adults probably take nectar from flowers. EGGS, LARVAE, PUPAE:Larvae feed on Tabebuia pallida and on Verbenaceae, Boraginaceae, Convolvulaceae and Lamiaceae.
Manduca rustica harteri, Jalousie Resort, St. Lucia, courtesy of Tony and Pat James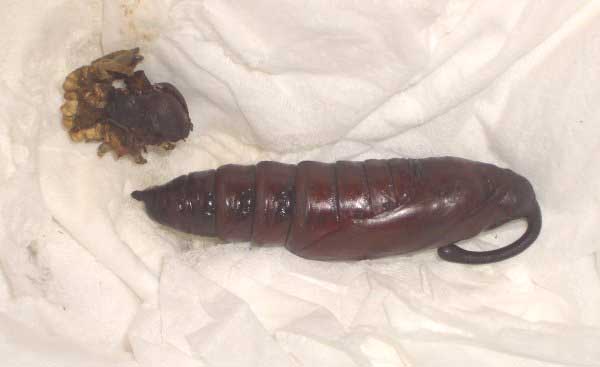 Manduca rustica harteri, Jalousie Resort, courtesy of Tony and Pat James.
Return to Sphingidae Index
Return to Sphingini Tribe