Created as per

Hawkmoths of the World

, Kitching and Cadiou, 2000; February 12, 2011

Updated as per All Leps Barcode of Life (Venezuela, Ecuador, Peru, Bolivia), December 2007

Updated as per

Funet

(Rio Dagua, Colombia), February, 12, 2011

Updated as per

CATE

(Colombia, Ecuador, Peru); February 12, 2011

Updated as per personal communication with Vadim Kroutov (Junin, Peru, 104mm male); March 1, 2015
Manduca trimacula
(Rothschild & Jordan, 1903) Protoparce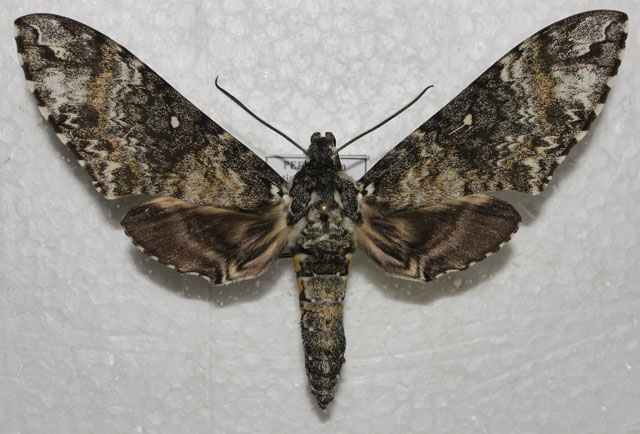 Manduca trimacula male, 104mm, Junin, Peru,
courtesy of Vadim Kroutov.
This site has been created by Bill Oehlke at oehlkew@islandtelecom.com
Comments, suggestions and/or additional information are welcomed by Bill.
TAXONOMY:



Family: Sphingidae, Latreille, 1802
Subfamily: Sphinginae, Latreille, [1802]
Tribe: Sphingini, Latreille, 1802
Genus: Manduca Hubner, [1807] ...........
Species: trimacula (Rothschild & Jordan, 1903)


MIDI MUSIC
.....It's a Wonderful World.....
copyright C. Odenkirk


ON.OFF

DISTRIBUTION:
Manduca trimacula (wingspan: males: 104mm (VK); females: 112mm?) flies in
Colombia: Valle del Cauca: Rio Dagua, (specimen type locality);
Ecuador;
Peru: Junin: La Oroya (3745m);
Venezuela; and
Bolivia: La Paz: Murillo, Río Zongo/Songo, 750m.
Forewing with outer margin sinuate at vein CuA2. 55-60 mm.
Antenna long and stout. Body and forewing uppersides brownish-yellow, mottled with grey and tawny olive. Head with a creamy white streak above the eye, continued to pronotum. Mesothoracic tegula with a thin whitish lateral border, along which runs an indistinct blackish brown line. Abdomen upperside paler, with mesial tufts of suberect scales; a series of white apical dots at each side, as in Manduca rustica; segments 1-3 with a yellow lateral patch bordered with black.
Palpus with 2nd segment longer than in Manduca lucetius or Manduca rustica; 1st and base of 2nd segments creamy white.Femora and thorax underside nearly white; tibiae and tarsi ringed with white.Foretarsus with 1st segment without obviously elongate spines. Pulvillus present.Abdomen underside dirty white, with brown mesial spots.
Forewing upperside with undulate and zigzag lines well-marked; discal and postdiscal lines curved as in Manduca sexta, the space between the 2nd and 3rd discal lines white between veins Rs3 and Rs4, greyish white elsewhere; also greyish white on the distal side of the 3rd discal line; the space between the heavily-marked 1st and 2nd discal lines scarcely darker than the rest of the disc, not silky black as in Manduca lucetius; postdiscal line heavy, forming a patch on vein M3 and behind CuA2, followed by a large, ill-defined, creamy white patch at vein M2; the creamy-white submarginal zigzag line heavy, but broken between the veins; discal spot nearly white, round; oblique apical line heavy, with a creamy white border anteriorly; creamy white fringe spots large.
Underside of both wings brownish-yellow, darker brown distally; the hindwing greyish-white in the proximal half of the abdominal fold; three darker discal bands, faint on the forewing, are better marked on the hindwing, where they are parallel down to vein 2A. Hindwing upperside blackish brown, the pale bands very obscure, clearly marked only in the abdominal fold; fringe spotted with creamy white.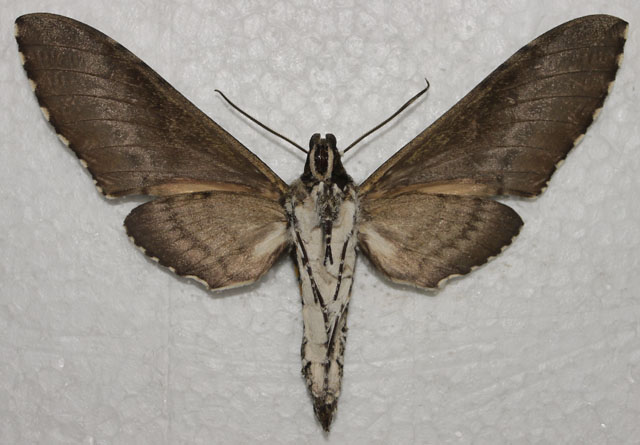 Manduca trimacula male (verso), 104mm, Junin, Peru,
courtesy of Vadim Kroutov.
FLIGHT TIMES:
Manduca trimacula adults ECLOSION:Pupae probably wiggle to surface from subterranean chambers just prior to eclosion.
SCENTING AND MATING:
Females call in the males with a pheromone released from a gland at the tip of the abdomen. Adults probably take nectar from flowers. EGGS, LARVAE, PUPAE:Larvae feed on
Use your browser "Back" button to return to the previous page.
Return to Sphingidae Index
Return to Sphingini Tribe