Updated as per

The Known Sphingidae of Costa Rica

, November 2007

Updated as per personal communication with Jose Monzon (Guatemala); May 2009

Updated as per

AN ANNOTATED CHECKLIST OF THE SPHINGIDAE OF BOLIVIA

, December 2009

Updated as per CATE (description; Brazil, Peru, Costa Rica, Ecuador, Bolivia); February 19, 2011

Updated as per personal communication with Jose Ramon Alvarez Corral (Barinas; Merida, Venezuela) May 28, 2012; ongoing

Updated as per "A Hawk Moths fauna of southern Maranhão state, Brazil, ... ";

NEVA: Jahrgang 34 Heft 3 November 2013

; via Jean Haxaire; April 5, 2014

Updated as per personal communication with Tony James (Gamboa, Panama, Panama, April 22-27, 2015); May 7, 2015
Nyceryx coffaeae
nye-SIR-iksMKOF-fee-ay
Walker, 1856

Nyceryx coffaeae, male, Costa Rica, courtesy of Dan Janzen.
This site has been created by Bill Oehlke at oehlkew@islandtelecom.com
Comments, suggestions and/or additional information are welcomed by Bill.
TAXONOMY:



Family: Sphingidae, Latreille, 1802
Subfamily: Macroglossinae, Harris, 1839
Tribe: Dilophonotini, Burmeister, 1878
Genus: Nyceryx Boisduval, [1875] ...........
Species: coffaeae Walker, 1856


MIDI MUSIC
.....It's a Wonderful World.....
copyright C. Odenkirk


ON.OFF

DISTRIBUTION:
Nyceryx coffeae (wingspan: 66(TJ)-69mm) flies from
Brazil, the specimen type locality; Rio Madeira below S. Antonio; southern Maranhao; to
Mexico;
Belize;
Guatemala;
Costa Rica;
Panama: Panama: Gamboa; etc, into South America:
Colombia;
Venezuela: (Barinas; Merida, Venezuela (JRAC));
Ecuador: Napo;
Peru: Rio Madeira below S. Antonio; Carabaya, S. Domingo;
Bolivia: Beni (350-800m) and Santa Cruz (400m); etc.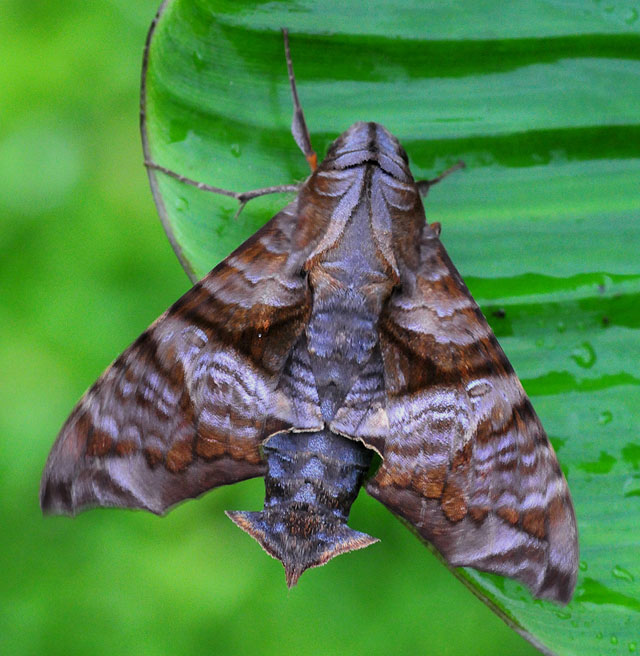 Nyceryx coffeae, Misahualli, Napao, Ecuador, March 3, 2009, courtesy of Steve Ife.

Immediately distinguishable from all other Nyceryx by the dark brown band dividing the yellow basal area of the hindwing upperside. Hindwing upperside with yellow basal area crossed by a dark brown band that stops in front of Rs. CATE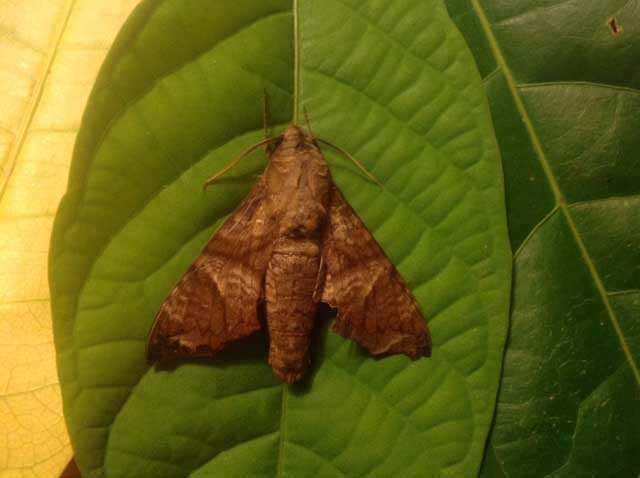 Nyceryx coffaeae 66mm, Gamboa, Panama, Panama,
April 22-27, 2015, courtesy of Tony James.
FLIGHT TIMES:
Moths are probably on the wing in just about every month. Tony James reports an April flight in Panama.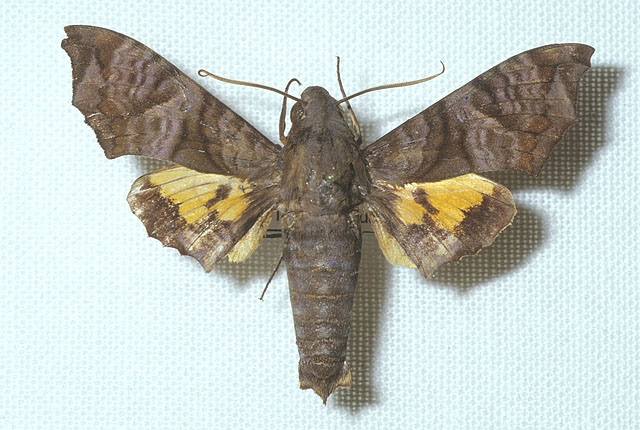 Nyceryx coffeae male courtesy of Hubert Mayer copyright.
ECLOSION:
Adults eclose, usually within three weeks, from pupae formed in flimsy cocoons spun amongst leaf litter. SCENTING AND MATING:Females call in the males with a pheromone released from a gland at the tip of the abdomen.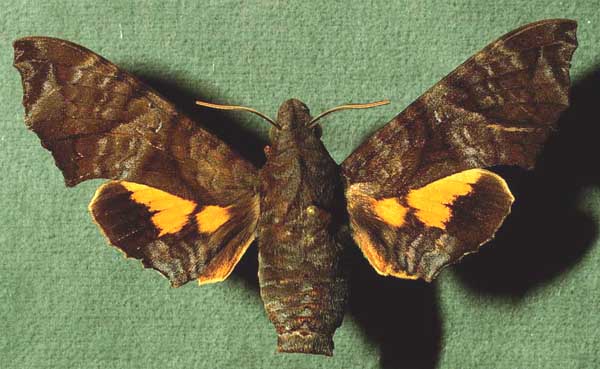 Nyceryx coffeae, female, Costa Rica, courtesy of Dan Janzen.
EGGS, LARVAE, PUPAE:
Larvae feed on Calycophyllum candidissimum .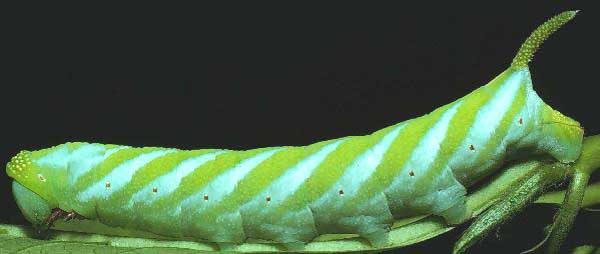 Nyceryx coffeae courtesy of Dan Janzen.

Nyceryx coffeae courtesy of Dan Janzen.

Moths eclose in as few as fourteen days from pupation date.

Return to Sphingidae Index
Return to Dilophonotini Tribe
Goto South American Index

Use your browser "Back" button to return to the previous page.

This page is brought to you by Bill Oehlke and the WLSS. Pages are on space rented from Bizland. If you would like to become a "Patron of the Sphingidae Site", contact Bill.

Please send sightings/images to Bill. I will do my best to respond to requests for identification help.

Enjoy one of nature's wonderments: Live Saturniidae (Giant Silkmoth) cocoons.

Show appreciation for this site by clicking on flashing butterfly to the left.
The link will take you to a page with links to many insect sites.