Updated as per

AN ANNOTATED CHECKLIST OF THE SPHINGIDAE OF BOLIVIA

, December 2009

Updated as per CATE (description; Brazil, Peru, Bolivia, Argentina); February 19, 2011

Updated as per personal communication with Jose Ramon Alvarez Corral (Barinas; Merida, Venezuela) May 28, 2012; ongoing
Nyceryx magna
R. Felder, 1874

Nyceryx magna, male, Costa Rica, courtesy of Dan Janzen.
This site has been created by Bill Oehlke at oehlkew@islandtelecom.com
Comments, suggestions and/or additional information are welcomed by Bill.
TAXONOMY:



Family: Sphingidae, Latreille, 1802
Subfamily: Macroglossinae, Harris, 1839
Tribe: Dilophonotini, Burmeister, 1878
Genus: Nyceryx Boisduval, [1875] ...........
Species: magna R. Felder, 1874


MIDI MUSIC
.....It's a Wonderful World.....
copyright C. Odenkirk


ON.OFF

DISTRIBUTION:
Nyceryx magna flies in
Brazil, the specimen type locality; Rio Madeira below San Antonio; Amazonas: Teffe; and in
Costa Rica;
Venezuela: (Barinas; Merida, Venezuela (JRAC));
Ecuador;
Peru: Iquitos;
Immediately distinguishable from other species of Nyceryx by the dark forewing upperside, and the brownish-orange basal area and pale purple bands in the tornal angle of the hindwing upperside. Antenna very pale buff. Basal area of hindwing upperside brownish orange (similar to Nyceryx lunaris), anteriorly with a brownish-black spot that is contiguous with the costal border (corresponding to the basalmost of the three spots in Nyceryx ericea); bands in the tornal area pale purple. CATE
FLIGHT TIMES:
Moths are probably on the wing in just about every month. ECLOSION:Adults eclose, usually within 23-32 days. SCENTING AND MATING:Females call in the males with a pheromone released from a gland at the tip of the abdomen.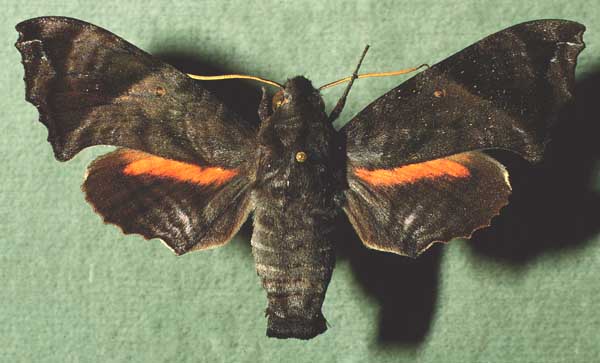 Nyceryx magna, female, Costa Rica, courtesy of Dan Janzen.
EGGS, LARVAE, PUPAE:
Larvae feed on Pentagonia donnell-smithii.
Early instar larvae have very large heads and elongated tails. The head is a distinctive blue-green in the final instar and the tail is shorter and rough.
The pupa is smooth and shiny with alternating light and dark bands on the abdomen. Moths generally eclose within 23-32 days of pupation.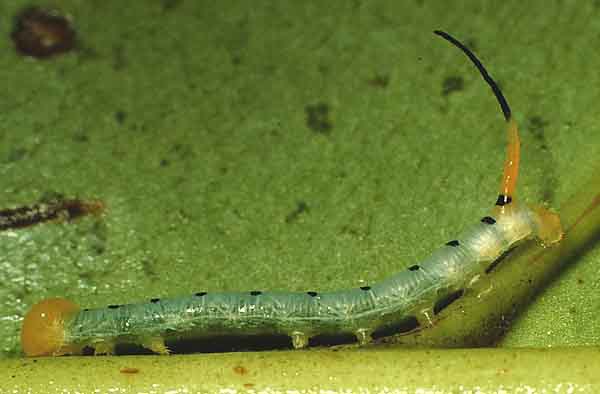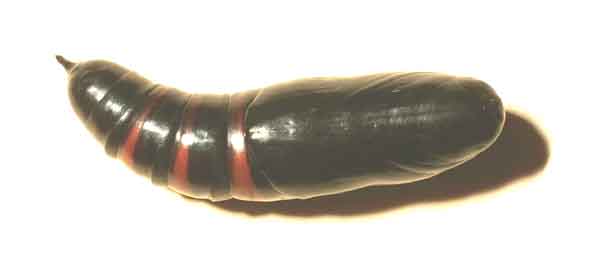 Return to Sphingidae Index
Return to Dilophonotini Tribe
Goto South American Index