Updated as per

AN ANNOTATED CHECKLIST OF THE SPHINGIDAE OF BOLIVIA

, December 2009

Updated as per CATE (description; Bolivia: Mapiri; Ecuador: Zamora; Brazil: Santa Catarina; Venezuela; French Guiana); February 19, 2011

Updated as per personal communication with Jose Ramon Alvarez Corral (Sierra de Lema, Bolivar, Venezuela, 63mm, September, 1995, 1090m); May 27, 2012

Updated as per personal communication with Frank Steiger (Junin and Pasco, Peru); June 17, 2013
Nyceryx maxwelli
Rothschild, 1896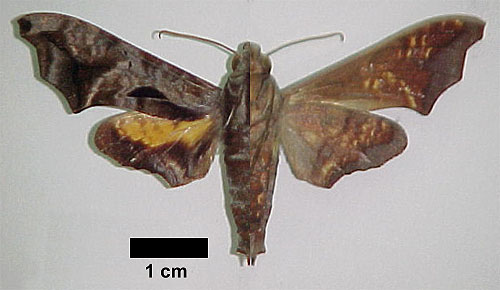 Nyceryx maxwelli, Venezuela, from Hawkmoths of Venezuela,
courtesy of Dr. María Esperanza Chacín and José Clavijo A., Ph.D.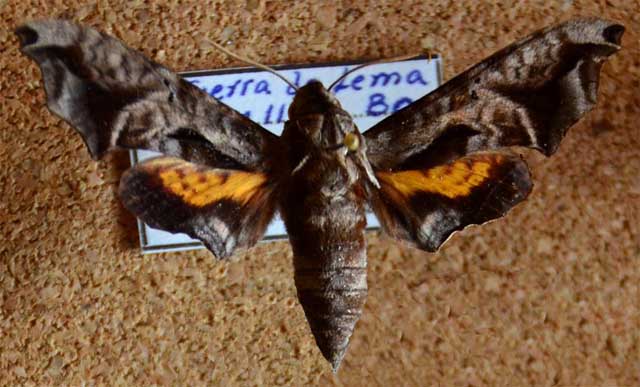 Nyceryx maxwelli Sierra de Lema, Bolivar, Venezuela,
63mm, September, 1995, 1090m, courtesy of Jose Ramon Alvarez Corral.
This site has been created by Bill Oehlke at oehlkew@islandtelecom.com
Comments, suggestions and/or additional information are welcomed by Bill.
TAXONOMY:



Family: Sphingidae, Latreille, 1802
Subfamily: Macroglossinae, Harris, 1839
Tribe: Dilophonotini, Burmeister, 1878
Genus: Nyceryx Boisduval, [1875] ...........
Species: maxwelli Rothschild, 1896


MIDI MUSIC
.....It's a Wonderful World.....
copyright C. Odenkirk


ON.OFF

DISTRIBUTION:
Nyceryx maxwelli (wingspan: approx. 63mm) flies in
Bolivia: La Paz (750-1060m), the specimen type locality; Mapiri; and in
Venezuela: Bolivar: Sierra de Lema, 1090m (JRA);
French Guiana;
Ecuador: Zamora;
Brazil: Santa Catarina.
I suspect it also flies in Peru: Junin and Pasco: Oxapampa (now confirmed by Frank Steiger).
Similar to Nyceryx continua cratera but apex of hindwing upperside brown and tornal area not yellow. Hindwing upperside with yellow basal area not extending beyond 1A and apex brownish-orange (not dark brown). CATE
FLIGHT TIMES:
Moths are probably on the wing in just about every month. Jose Ramon Alvarez Corral reports a September flight in Venezuela.
ECLOSION:
Adults eclose, usually within three weeks. SCENTING AND MATING:Females call in the males with a pheromone released from a gland at the tip of the abdomen.
EGGS, LARVAE, PUPAE:
Larval hosts are unknown.
The species name, maxwelli, is honourific for Maxwell.
Return to Sphingidae Index
Return to Dilophonotini Tribe
Goto South American Index