Updated as per

AN ANNOTATED CHECKLIST OF THE SPHINGIDAE OF BOLIVIA

, October 2007

Updated as per

The Known Sphingidae of Costa Rica

, November 2007

Updated as per personal communication with Johan van't Bosch (Mato Grosso, Brazil, September 20), March 2008

Updated as per personal communication with Paul Smith (Mbarcayu, Canindeyu, Paraguay, Ocrtober 2008); November 2009

Updated as per personal communication with Jose Ramon Alvarez Corral (Barinas; Merida, Venezuela) May 28, 2012; ongoing
Nyceryx stuarti
Nyceryx stuarti, Cristalino Jungle Lodge, Mato Grosso, Brazil,
September 20, 2007, 71m, courtesy/copyright of Johan van't Bosch.
This site has been created by Bill Oehlke at oehlkew@islandtelecom.com
Comments, suggestions and/or additional information are welcomed by Bill.
TAXONOMY:



Family: Sphingidae, Latreille, 1802
Subfamily: Macroglossinae, Harris, 1839
Tribe: Dilophonotini, Burmeister, 1878
Genus: Nyceryx Boisduval, [1875] ...........
Species: stuarti Rothschild, 1894


MIDI MUSIC
.....It's a Wonderful World.....
copyright C. Odenkirk


ON.OFF

DISTRIBUTION:
Nyceryx stuarti (forewing length = 28-32mm) flies from Costa Rica;
Venezuela: (Barinas; Merida, Venezuela (JRAC));
Peru, the specimen type locality, to
Brazil: Mato Grosso, Minas Gerais;
Bolivia: Santa Cruz (April); and
Paraguay: Canindeyu (October).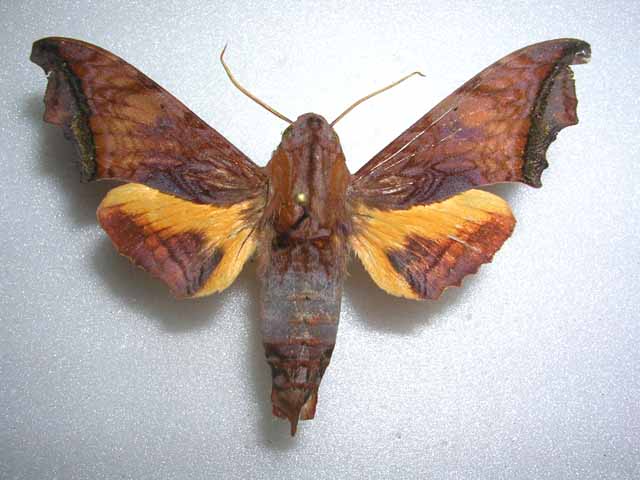 Nyceryx stuarti, Brasil, Poté, Minas Gerais, November 11, 2004,
courtesy of Frederik Goussey.
FLIGHT TIMES:
Moths are probably on the wing in just about every month, but with no records for March or September in Costa Rica.
There are at least two broods in Peru with moths on the wing in January-February and again in June-July. the specimen from Brazil is from November.
ECLOSION:
Adults eclose, usually within three to five weeks from pupation date.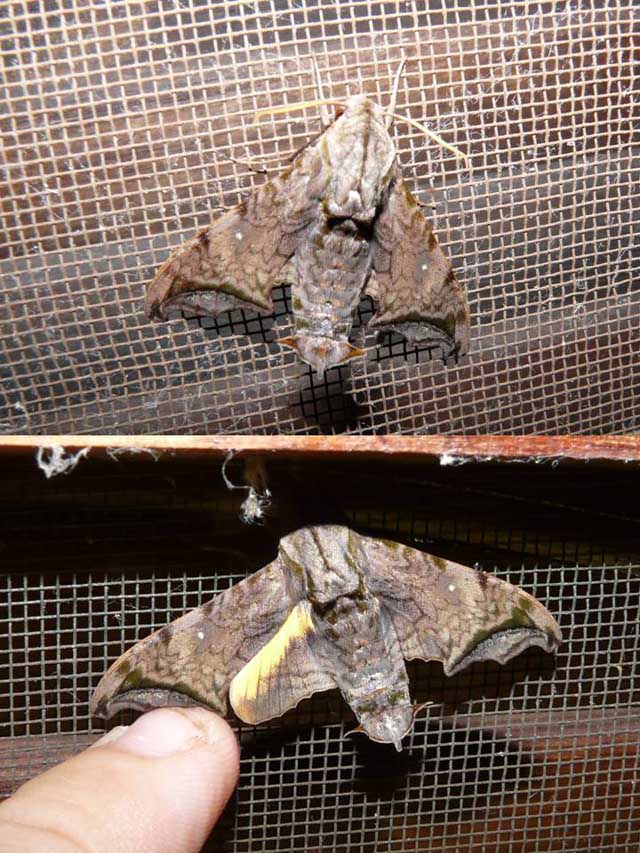 Nyceryx stuarti, Mbarcayu, Canindeyu, Paraguay,
October, 2008, courtesy of Paul Smith.
SCENTING AND MATING:
Females call in the males with a pheromone released from a gland at the tip of the abdomen.
Females are active just after midnight with males beginning night flight around 1:00 am.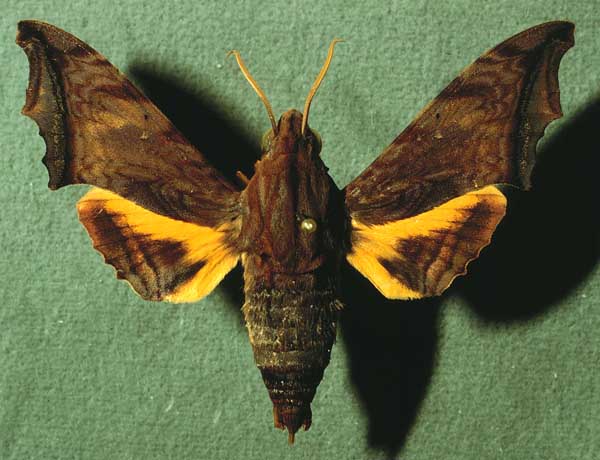 Nyceryx stuarti male, Costa Rica, courtesy of Dan Janzen.
EGGS, LARVAE, PUPAE:
Larvae probably feed on Pentagonia donnell-smithii, and Chimarrhis parviflora.
Return to Sphingidae Index
Return to Dilophonotini Tribe
Goto South American Index