Oryba achemenides
oh-REE-buhmmack-eh-meh-NIH-dees
(Cramer, 1779) Sphinx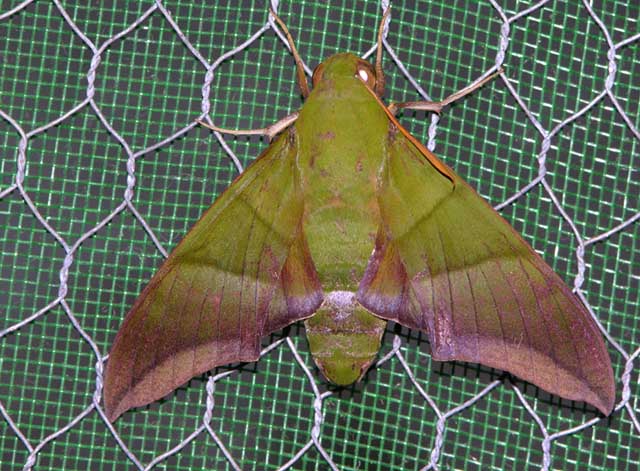 Oryba achemenides, Cristalino Jungle Lodge, Mato Grosso, Brazil,
August 23, 2007, 71m, courtesy/copyright of Johan van't Bosch.
This site has been created by Bill Oehlke at oehlkew@islandtelecom.com
Comments, suggestions and/or additional information are welcomed by Bill.
TAXONOMY:



Family: Sphingidae, Latreille, 1802
Subfamily: Macroglossinae, Harris, 1839
Tribe: Dilophonotini, Burmeister, 1878
Genus: Oryba Walker, 1856 ...........
Species: achemenides Cramer, 1779


MIDI MUSIC
.....It's a Wonderful World.....
copyright C. Odenkirk


ON.OFF

DISTRIBUTION:
Oryba achemenides, (wingspan: 100-120 mm, females larger than males), flies in
Surinam;
Venezuela: Barinas, Bolivar, Merida, Miranda, Tachira, Zulia at elevations from sea level to 1200m;
Belize: Stann Creek;
Guatemala; and
Costa Rica (generally in Central America to the Amazon region), including Mato Grosso State in Brazil. It is also reported from Bolivia: La Paz (750m), Santa Cruz.
In Greek mythology "Oryba" is one of the twelve cities which Alexander has taken from the Arabians.
I believe Perses Achéménides is the name of a famous Greek army.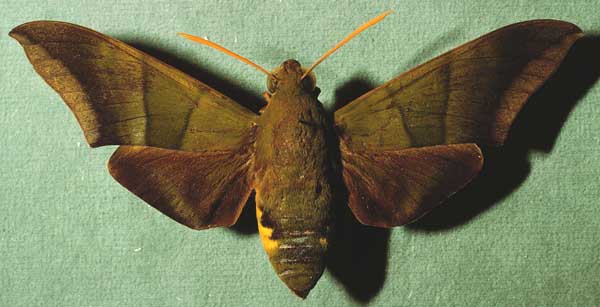 Oryba achemenides male, Costa Rica, courtesy of Dan Janzen.
FLIGHT TIMES:
There are probably several flights throughout the year. Johan van't Bosch reports them on the wing in Mato Grosso, Brazil, in August. ECLOSION:Larvae probably pupate in thin walled cocoons under leaf litter. SCENTING AND MATING:Females call in the males with a pheromone released from a gland at the tip of the abdomen.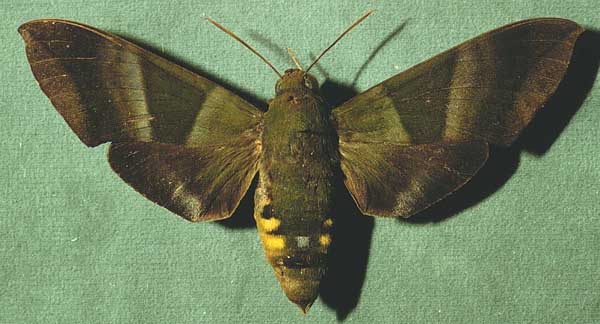 Oryba achemenides female, Costa Rica, courtesy of Dan Janzen.
EGGS, LARVAE, PUPAE:
Use your browser "Back" button to return to the previous page.
Return to U. S. A. Table
Return to Sphingidae Index
Return to Dilophonotini Tribe

Use your browser "Back" button to return to the previous page.
This page is brought to you by Bill Oehlke and the WLSS. Pages are on space rented from Bizland. If you would like to become a "Patron of the Sphingidae Site", contact Bill.
Please send sightings/images to Bill. I will do my best to respond to requests for identification help.
Enjoy one of nature's wonderments: Live Saturniidae (Giant Silkmoth) cocoons.

Show appreciation for this site by clicking on flashing butterfly to the left.
The link will take you to a page with links to many insect sites.