Updated as per

The Known Sphingidae of Costa Rica

, November 2007

Updated as per personal communication with Jose Monzon (Guatemala); May 2009

Updated as per

CATE

(description; Mexico to Panama); March 18, 2011
Pachygonidia drucei
Rothschild & Jordan, 1903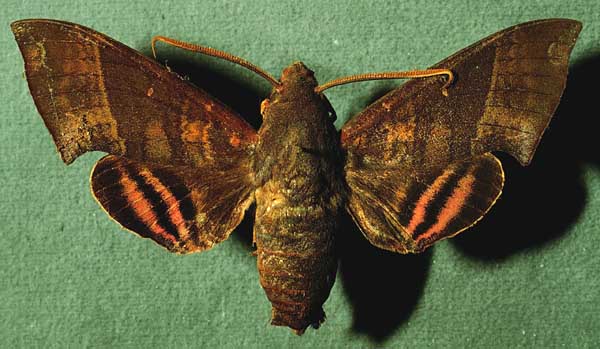 Pachygonidia drucei male, Costa Rica, courtesy of Dan Janzen.
This site has been created by Bill Oehlke at oehlkew@islandtelecom.com
Comments, suggestions and/or additional information are welcomed by Bill.
TAXONOMY:



Family: Sphingidae, Latreille, 1802
Subfamily: Macroglossinae, Harris, 1839
Tribe: Dilophonotini, Burmeister, 1878
Genus: Pachygonidia Fletcher, 1982 ...........
Species: drucei Rothschild & Jordan, 1903


MIDI MUSIC
.....It's a Wonderful World.....
copyright C. Odenkirk


ON.OFF

DISTRIBUTION:
Pachygonidia drucei, (wingspan: 72-82mm, males smaller than females), flies in
Panama and
Costa Rica and north to
Mexico;
Guatemala; and
Belize.
The forewing is most similar to that of Pachygonidia hopfferi, but the apex is pointed (not sinuate between Rs3 and Rs4, i.e. not dentate at the end of Rs4). The outer margin is only slightly hollowed out between apex and M3, not angled at M2.
The discal spot is relatively large, and the clayish patch below the apex is much more distinct as is the diffuse, whitish scaling near the anal angle, compared to hoppferi.
The hindwing has three median transverse rose-pinkish bands as in hopfferi. CATE
FLIGHT TIMES:
There are probably several flights throughout the year. Tony James reports a June flight in Panama.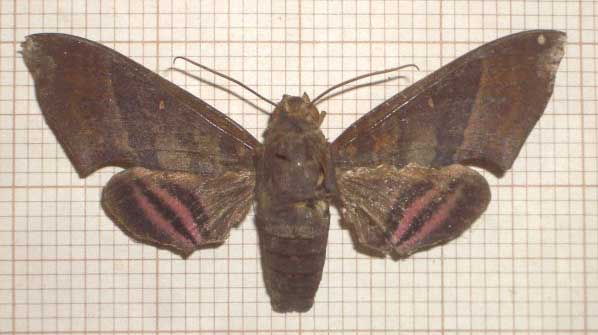 Pachygonidia drucei, Gamboa, Panama,
78mm, June 2007, courtesy of Tony James.
ECLOSION:
Larvae probably pupate in thin walled cocoons under leaf litter. SCENTING AND MATING:Females call in the males with a pheromone released from a gland at the tip of the abdomen.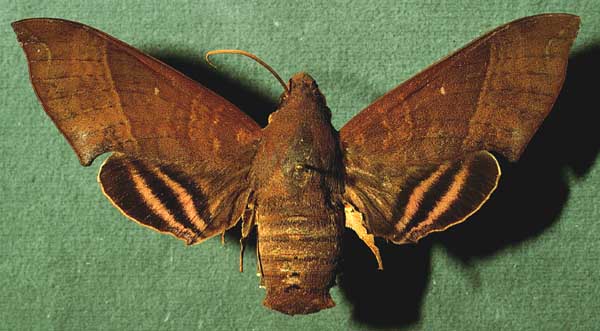 Pachygonidia drucei female, Costa Rica, courtesy of Dan Janzen.
EGGS, LARVAE, PUPAE:
| | |
| --- | --- |
| Mature larvae probably descend host to pupate amongst leaf litter. Larvae feed on Doliocarpus dentatus, Doliocarpus multiflorus and Tetracera hydrophila . | |
Larvae are long, thin and green in the early instars, with a long, straight tail/horn. Note the curly tail in later instars and tail-less final instar in the Dan Janzen images below.


Return to U. S. A. Table
Return to Sphingidae Index
Return to Dilophonotini Tribe


Use your browser "Back" button to return to the previous page.

This page is brought to you by Bill Oehlke and the WLSS. Pages are on space rented from Bizland. If you would like to become a "Patron of the Sphingidae Site", contact Bill.

Please send sightings/images to Bill. I will do my best to respond to requests for identification help.

Enjoy one of nature's wonderments: Live Saturniidae (Giant Silkmoth) cocoons.

Show appreciation for this site by clicking on flashing butterfly to the left.
The link will take you to a page with links to many insect sites.