Protambulyx euryalus
Rothschild & Jordan, 1903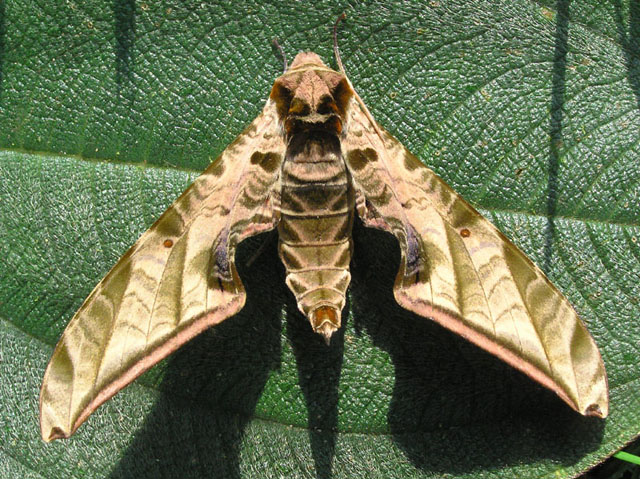 Protambulyx euryalus, Valle de Cauca, Colombia,
June 26, 2003, elevation 2100m, courtesy of Peter Hoell.
This site has been created by Bill Oehlke at oehlkew@islandtelecom.com
Comments, suggestions and/or additional information are welcomed by Bill.
TAXONOMY:



Family: Sphingidae, Latreille, 1802
Subfamily: Sphinginae, Latreille, 1802
Tribe: Smerinthini, Grote & Robinson, 1865
Genus: Protambulyx Rothschild & Jordan, 1903 ...........
Species: euryalus Rothschild & Jordan, 1903


MIDI MUSIC
.....It's a Wonderful World.....
copyright C. Odenkirk


ON.OFF

DISTRIBUTION:
Protambulyx euryalus (forewing length: 105-110mm), flies in
Venezuela (specimen type locality);
Colombia: Valle de Cauca (2100m);
Ecuador: Morona-Santiago: Macas;
Peru: Puno: Carabaya: Tinguri and Santo Domingo; Cusco: San Pedro (AS); and
Bolivia: La Paz (750-1800m).

Protambulyx euryalus is similar to Protambulyx eurycles, but euryalus has a narrower forewing marginal band between veins M1 and M2. The forewing outer margin is not crenulated in euryalus.
The hindwing postmedian line is curved in euryalus while it is angled in eurycles.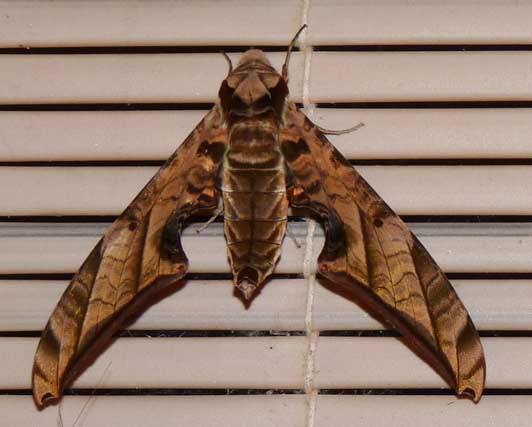 Protambulyx euryalus, San Pedro, Cusco, Peru, July 2010,
courtesy of Attila Steiner, tentative id by Bill Oehlke.

I favour euryalus over ockendeni for the San Pedro, Cusco, Peru, moth because of strong contrast between lines and maculations with rest of wing. I expect them to be more muted in ockendeni, but I am not sure. Bill Oehlke.
FLIGHT TIMES:
Protambulyx euryalus adults probably fly throughout the year. Adults nectar from flowers.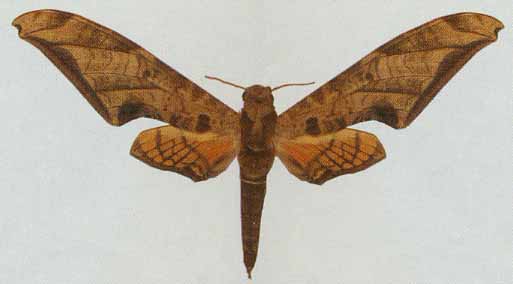 Protambulyx euryalus courtesy of Vladimir Izersky.
ECLOSION:
Pupae probably wiggle to surface from subterranean chambers just prior to eclosion.
SCENTING AND MATING:
Females call in the males with a pheromone released from a gland at the tip of the abdomen. EGGS, LARVAE, PUPAE: Larvae feed on plants in the Anacardiaceae family: Anacardium, Spondias, Erythoxylon, Comocladia.
Moths may eclose within fourteen days of pupation.
Return to U. S. A. Table
Return to Main Sphingidae Index
Return to Smerinthini Tribe