Updated as per personal communication with Jean Haxaire
Updated as per personal communication with Frank Steiger (Bosque's Holet, Villa Rica, Raimondi, Junin, May); June 17, 2013


Protaleuron herbini
proht-AL-yoo-ronMHER-bin-eye
Haxaire, March 2001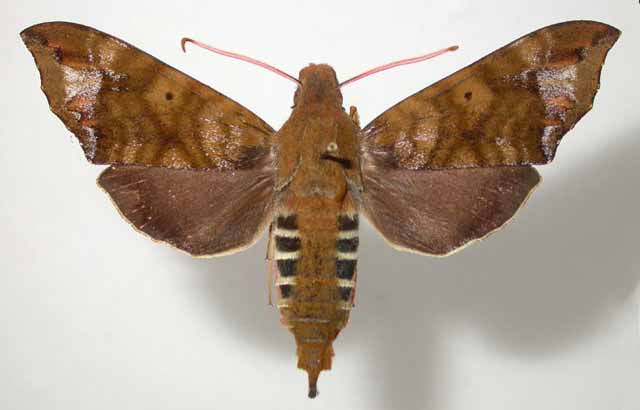 Protaleuron herbini courtesy of Jean Haxaire
This site has been created by Bill Oehlke at oehlkew@islandtelecom.com
Comments, suggestions and/or additional information are welcomed by Bill.
TAXONOMY:

Family: Sphingidae, Latreille, 1802
Subfamily: Macroglossinae, Harris, 1839
Tribe: Dilophonotini, Burmeister, 1878
Genus: Protaleuron Rothschild & Jordan, 1903 ...........
Species: herbini Haxaire, 2001


MIDI MUSIC
.....It's a Wonderful World.....
copyright C. Odenkirk


ON.OFF

DISTRIBUTION:
Protaleuron herbini flies in
Ecuador;
Peru: Junin (FS); and posibly as far south as
< ahref=SphBolivia.htm>Bolivia.htm>Bolivia.
This species is rarely seen in collections, with only four specimens know to exist as of February 2005.
Jean Haxaire has both Protaleuron herbini (two specimens) and Protaleuron rhodogaster (only three specimens known world wide) in his collection.
FLIGHT TIMES:
Frank Steiger reports a May flight in Junin, Peru.
ECLOSION:
SCENTING AND MATING: EGGS, LARVAE, PUPAE:
The pronunciation of scientific names is troublesome for many. The "suggestion" at the top of the page is merely a suggestion. It is based on commonly accepted English pronunciation of Greek names and/or some fairly well accepted "rules" for latinized scientific names.

The suggested pronunciations, on this page and on other pages, are primarily put forward to assist those who hear with internal ears as they read.

There are many collectors from different countries whose intonations and accents would be different.

"Proto" means derived from, and, combined with "aleuron" which is the Greek word for wheat or meal, probably just indicates the similarity of members of this genus to the earlier named genus Aleuron.

The species name "herbini" is an honorific name for a collector/friend/colleague named Daniel Herbin.

Return to U. S. A. Table
Return to Sphingidae Index
Return to Dilophonotini Tribe