Tony and Pat James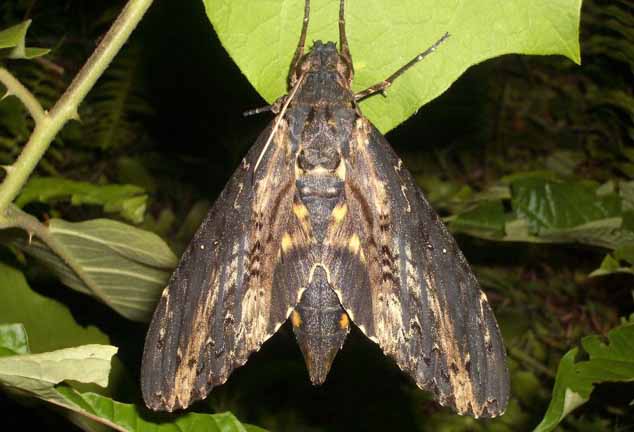 Neococytius cluentius, resting by the side of a track near Sherwood Forest,
Portland, Jamaica, July 2004, courtesy of Tony and Pat James.

Tony and Pat James from Cornwall, South-west England, UK, have sent me several images of Sphingidae from Jamaica.

As husband and wife they have been visiting many of the Caribbean Islands.

Tony writes, "A lot of my spare time has been taken up with studies of Phasmatodea, and my wife & I usually use our holidays going off looking for live culture material from the wild (particularly from the Neotropical region), to either further our knowledge or check out old scientific papers / records working with the Orthoptera Department of the Natural History Museum in London. Last year, I got involved with a local group in South-west England, called the Cornwall Moth Group, and have again started re-kindling my interest in Lepidoptera of the nocturnal kind."

Use your browser "Back" button to return to this page after visiting the Cornwall Moth Group website.

Tony adds, "We have now stayed at around 10 of the Caribbean islands over the years, so I know I have a few more pictures from places there, as well as others in Fiji and Malaysia, so if you are interested, I can also dig them out. We also intend going to St. Kitts for two weeks at the end of next week, and this time we are taking a newly developed portable Moth Trap, so it will be interesting to see what comes in on that island. If we're successful, I'll send you any Sphingidae pictures we get."

I, Bill Oehlke, am looking forward to seeing and posting more images from Tony and Pat. I am also interested in images from other photographers, nature lovers, etc., who have visited the "Islands".

Use your browser "Back" button to return to the previous page.