Updated as per

AN ANNOTATED CHECKLIST OF THE SPHINGIDAE OF BOLIVIA

, October 2007

Updated as per

http://www.pybio.org/MACROGLOSSINAE.htm (Paraguay)

, October 2007

Updated as per More, Kitching and Cocucci's

Hawkmoths of Argentina

2005, October, 2007

Upfated as per personal communication with Ezequiel Osvaldo Núñez Bustos (Argentina), Ocotber 2007

Updated as per

The Known Sphingidae of Costa Rica

, November 2007

Updated as per personal communication with Jose Monzon (Guatemala); May 2009

Updated as per French GUiana Systematics: Sphingidae; May 14, 2011

Updated as per personal communication with Sergio D. Ríos Díaz in

CATÁLOGO DE LOS SPHINGIDAE (INSECTA: LEPIDOPTERA) DEPOSITADOS EN EL MUSEO NACIONAL DE HISTORIA NATURAL DEL PARAGUAY

; sent to me in July 2014 by Sergio D. Ríos Díaz.

Updated as per personal communication with Vadim Kroutov (Rio Monzon, Huanuco, Peru, male 52mm); February 22, 2015

Updated as per personal communication with Ezequiel Bustos (Shilap revta. lepid. 43 (172) diciembre, 2015, 615-631 eISSN 2340-4078 ISSN 0300-5267), January 4, 2016
Perigonia ilus
Boisduval, 1870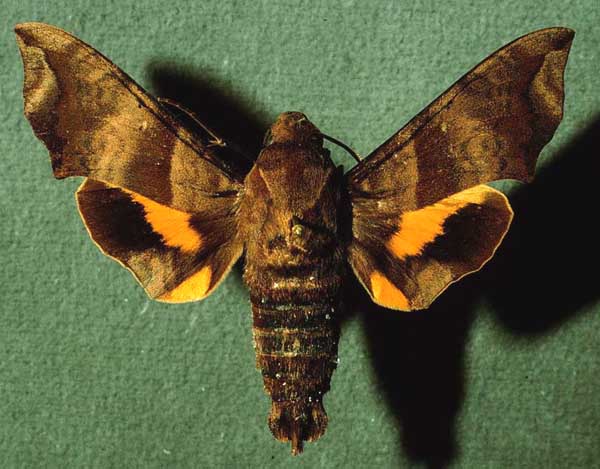 Perigonia ilus male courtesy of Dan Janzen.
This site has been created by Bill Oehlke. Comments, suggestions and/or additional information are welcomed by Bill.
TAXONOMY:


Family: Sphingidae, Latreille, 1802
Subfamily: Macroglossinae, Harris, 1839
Tribe: Dilophonotini, Burmeister, 1878
Genus: Perigonia Herrich-Schaffer, ]1854] ...........
Species: ilus Boisduval, 1870

DISTRIBUTION:
Perigonia ilus (wingspan: 52mm(VK)-54-58mm), moths fly in Honduras, the specimen type locality, and in Costa Rica and Belize.
Eurides Furtado reports them from Mato Grosso, Brazil. They fly as far south as southern Uruguay.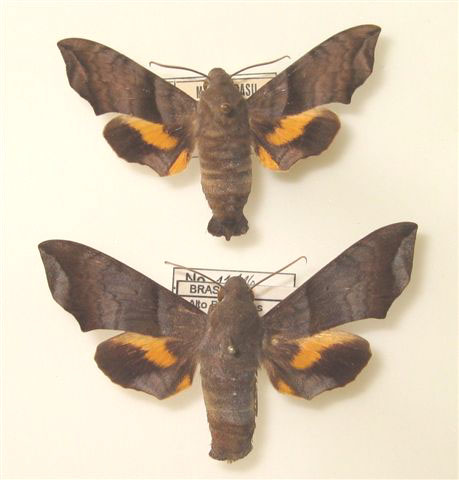 Perigonia ilus, Mato Grosso, Brazil, courtesy of Eurides Furtado.

Mexico:
Belize: Corozol, Orange Walk, Cayo, Toledo;
Guatemala (JM);
Honduras;
El Salvador;
Nicaragua;
Costa Rica;
Panama;
Colombia;
Venezuela: Aragua, Bolivar, Carabobo, Distrito Federal, Lara, Miranda, Monagas, Yaracuy;
French Guiana: Saint-Georges l'Oyopok;
Ecuador;
Peru: Huanuco: Rio Monzon;
Bolivia: La Paz, Santa Cruz;
Argentina: Misiones;
Paraguay: Alto Paraguay, Boqueron, Presidente Hayes, Concepcion, San Pedro, Canindeyu, Alto Parana, Cordillera, Central, Caazuagu. Paraguari, Guaira, (probably Caazapa, Itapua (WO??));
Brazil: Mato Grosso; and
Uruguay; at elevations from sea level to at least 1600m.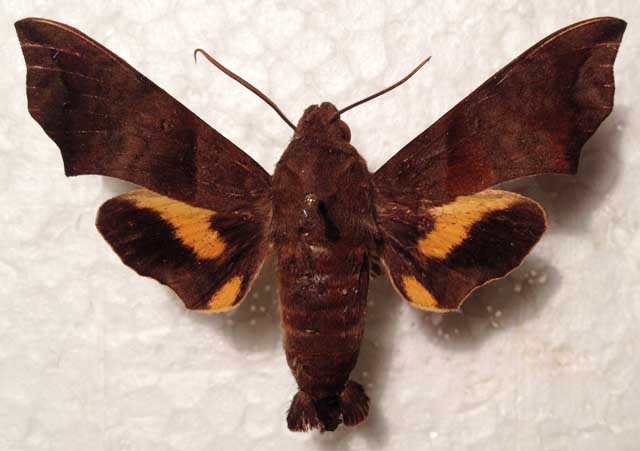 Perigonia ilus male, 52mm, Rio Monzon, Huanuco, Peru,
courtesy of Vadim Kroutov.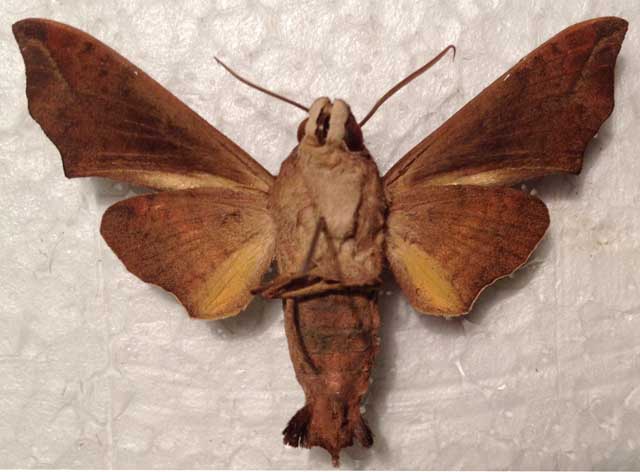 Perigonia ilus male (verso), 52mm, Rio Monzon, Huanuco, Peru,
courtesy of Vadim Kroutov.

"Until recently, both P. ilus and P. passerina were treated as two of the many forms of the variable P. lusca. However, both are now recognized as species. P. ilus can be easily distinguished from the other two by the pale yellow anal patch on the hindwing underside (greyish-buff in P. l. lusca and P. passerina)." AN ANNOTATED CHECKLIST OF THE SPHINGIDAE OF BOLIVIA

Visit Perigonia ilus, Misiones, Argentina, courtesy/copyright Ezequiel Osvaldo Núñez Bustos.
FLIGHT TIMES:
Perigonia ilus has been taken in Costa Rica in all months of the year. March and October flights have been recorded in French Guiana.
ECLOSION:
Moths emerge from pupae in shallow underground chambers.
SCENTING AND MATING:

Females call in the males with a pheromone released from a gland at the tip of the abdomen. Adults nectar at flowers.

Here is a "pair that came to the house light in copulation. Note that she is old and worn, and he is very new and fresh.

It was very hard to separate them without tearing abdomens, even when newly killed and relaxed.

When they were flying, both had their wings going frantically."

Image and information courtesy of Dan Janzen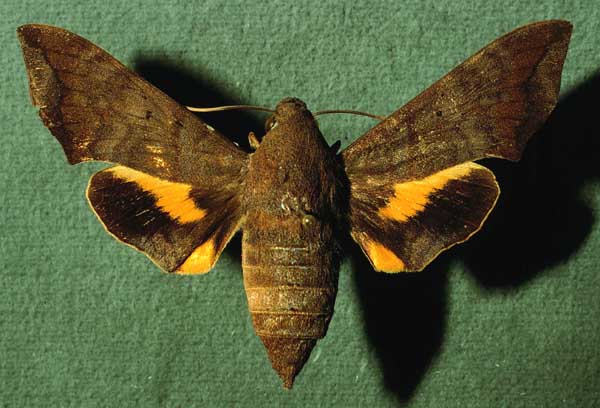 Perigonia ilus female courtesy of Dan Janzen.
Perigonia lusca/ilus, Las Cruces Castillo de Canas, Guanacaste, Costa Rica,
May 9, 2006, 127m, courtesy of Gernot Kunz

Perigonia

P. ilus and P.lusca can more easily be determined via a view of the underside of the lower wing.
EGGS, LARVAE, PUPAE:
Larvae have a yellow tail horn, a green body and a dark blue stripe down the back. There are several color morphs. Larvae feed on Calycophyllum candidissimum and Guettarda macrosperma of the Rubiaceae family.
Ezequiel Bustos writes, "This is one of the most common species in Misiones province, Argentina, especially because the larvae feed in the Ilex paraguariensis plantations (yerba mate), the national drink of Argentina."
Ilex paraguariensis is a species of holly (family Aquifoliaceae) native to subtropical South America. People steep the dry leaves (and twigs) in hot water, rather than boiling water. The beverage is a slightly less potent stimulant than coffee and it is much gentler on the stomach.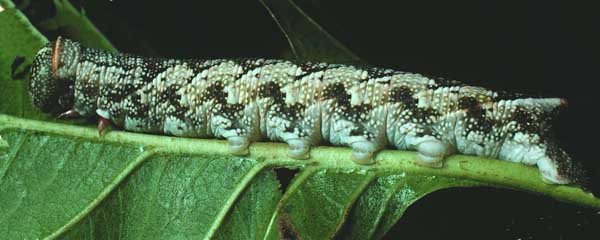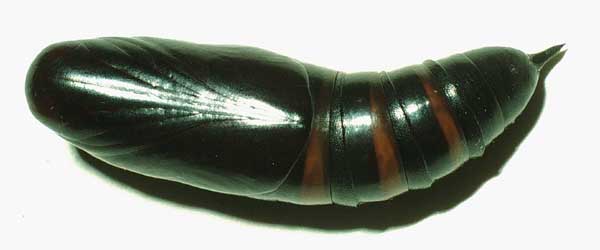 Moths emerge in as few as twelve days after pupation.
Larvae are subject to parasitization by Thyreodon maculipennis subfamily Ophioninae, family Ichneumonidae.
Return to U. S. A. Table
Return to Sphingidae Index
Return to Dilophonotini Tribe
Goto Central American Indices
Goto South American Indices

Use your browser "Back" button to return to the previous page.
This page is brought to you by Bill Oehlke and the WLSS. Pages are on space rented from Bizland. If you would like to become a "Patron of the Sphingidae Site", contact Bill.
Please send sightings/images to Bill. I will do my best to respond to requests for identification help.
Enjoy one of nature's wonderments: Live Saturniidae (Giant Silkmoth) cocoons.

Show appreciation for this site by clicking on flashing butterfly to the left.
The link will take you to a page with links to many insect sites.