Updated as per personal communication with Jean Haxaire

Updated as per personal communication with Horst Kach

Updated as per

CATE

(description; Ecuador); March 18, 2011
Pachygonidia odile
pah-kih-geh-NIHD-ee-uhm eh-DILL
Eitschberger & Haxaire, 2002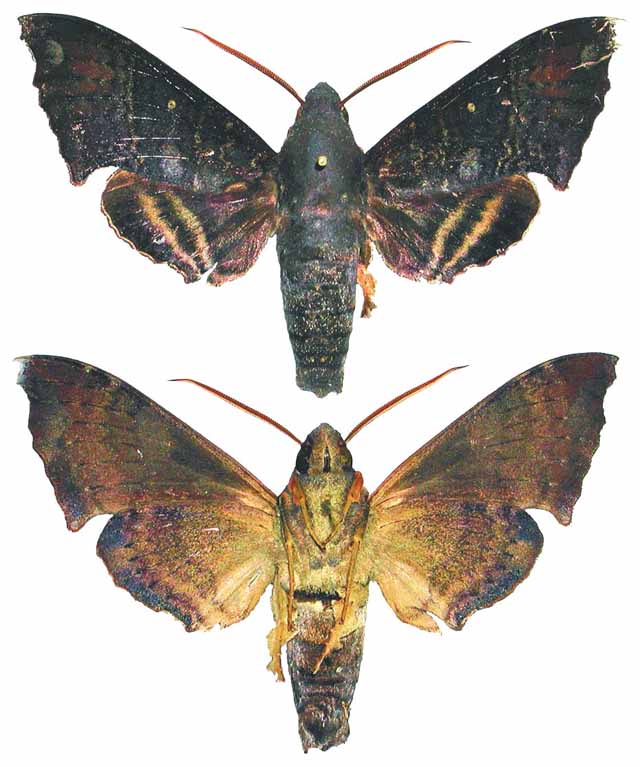 Pachygonidia odile, courtesy of Jean Haxaire
This site has been created by Bill Oehlke at oehlkew@islandtelecom.com
Comments, suggestions and/or additional information are welcomed by Bill.
TAXONOMY:



Family: Sphingidae, Latreille, 1802
Subfamily: Macroglossinae, Harris, 1839
Tribe: Dilophonotini, Burmeister, 1878
Genus: Pachygonidia Fletcher, 1982 ...........
Species: odile Eitschberger & Haxaire, 2002


MIDI MUSIC
.....It's a Wonderful World.....
copyright C. Odenkirk


ON.OFF

DISTRIBUTION:
Pachygonidia odile, (wingspan (approximately): males: 65mm ; females: 69mm), flies in
Ecuador: Pichincha. The specimen depicted above is the only one known in European collections as of February 28, 2005.
The species is named for Jean Haxaire's wife, Odile, and Jean Haxaire and Ulf Eitschberger decided to go with her actual name rather than to go with the convention of "odilae". I asked him about the pronunciation of Odile and he wrote back "as in daffodil". Thus, in the suggested pronunciation, I am going with the actual pronunciation of the honoree's name rather than any latinizing of it. My own personal preference is that other namers/describers do as Jean and Ulf have done when it comes to honorific names for species or subspecies. I do not like the convention of the "i" or "ii" endings for male honorees and "ae" for female honorees.
FLIGHT TIMES:
There are probably several flights throughout the year.
Horst Kach sent me this image of Pachygonidia subhamata (bottom right) from Los Bancos, Pichincha Province, Ecuador, along with three specimens of the very rare Pachygonidia odile (one female top left), all captured between November and April, 2003 and 2004.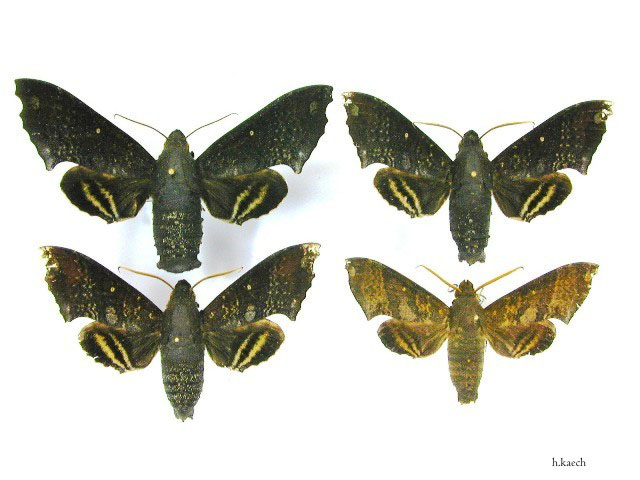 ECLOSION:
Larvae probably pupate in thin-walled cocoons under leaf litter. SCENTING AND MATING:Females call in the males with a pheromone released from a gland at the tip of the abdomen.
EGGS, LARVAE, PUPAE:
Mature larvae probably descend host to pupate amongst leaf litter.
Return to U. S. A. Table
Return to Sphingidae Index
Return to Dilophonotini Tribe

This page is brought to you by Bill Oehlke and the WLSS. Please help to build the data base by sending sightings, preferably with images. Please indicate your name (with permission to post credited image) and the place and date of the sighting, at least to the county level.
This page and the entire Sphingidae site is provided on webspace rented from Bizland by Bill Oehlke. If you would like to become a "Patron of Sphingidae of the Americas", please contact Bill Oehlke for details.
Use your browser "Back" button to return to the previous page.