Updated as per personal communication with Jose Monzon (Guatemala); May 2009

Updated as per More, Kitching and Cocucci's

Hawkmoths of Argentina

2005, December 2009

Updated as per

AN ANNOTATED CHECKLIST OF THE SPHINGIDAE OF BOLIVIA

, December 2009

Updated as per French Guiana Systematics: Sphingidae; May 14, 2011

Updated as per CATE Sphingidae (Brazil, Venezuela, Paraguay, Argentina); May 14, 2011

Updated as per "A Hawk Moths fauna of southern Maranhão state, Brazil, ... ";

NEVA: Jahrgang 34 Heft 3 November 2013

; via Jean Haxaire; April 5, 2014

Updated as per personal communication with Sergio D. Ríos Díaz in

CATÁLOGO DE LOS SPHINGIDAE (INSECTA: LEPIDOPTERA) DEPOSITADOS EN EL MUSEO NACIONAL DE HISTORIA NATURAL DEL PARAGUAY

; sent to me in July 2014 by Sergio D. Ríos Díaz.

Updated as per personal communication with Ezequiel Bustos (Shilap revta. lepid. 43 (172) diciembre, 2015, 615-631 eISSN 2340-4078 ISSN 0300-5267), January 4, 2016
Perigonia pallida pallida

Peroigonia pallida pallida
This site has been created by Bill Oehlke at oehlkew@islandtelecom.com
Comments, suggestions and/or additional information are welcomed by Bill.
TAXONOMY:



Family: Sphingidae, Latreille, 1802
Subfamily: Macroglossinae, Harris, 1839
Tribe: Dilophonotini, Burmeister, 1878
Genus: Perigonia Herrich-Schaffer, ]1854] ...........
Species: pallida pallida Rothschild & Jordan, 1903


MIDI MUSIC
.....It's a Wonderful World.....
copyright C. Odenkirk


ON.OFF

DISTRIBUTION:
Perigonia pallida pallida moths fly in
Venezuela: Merida;
French Guiana: Kaw;
Paraguay: San Pedro; Alto Paraguay;
Bolivia: Santa Cruz (150m);
Argentina: (460-570m) Buenos Aires, Entre Rios, Chaco, Formosa, Missiones, Salta, Jujuy, Santa Fe, Tucuman???; and
Brazil: Para; southern Maranhao.
Jose Monzon reports them in Guatemala, considerably north of range usually stated, so they may also be in Colombia, Panama, Costa Rica, Nicaragua, but more likely the Guatemalan sighting was of a stray.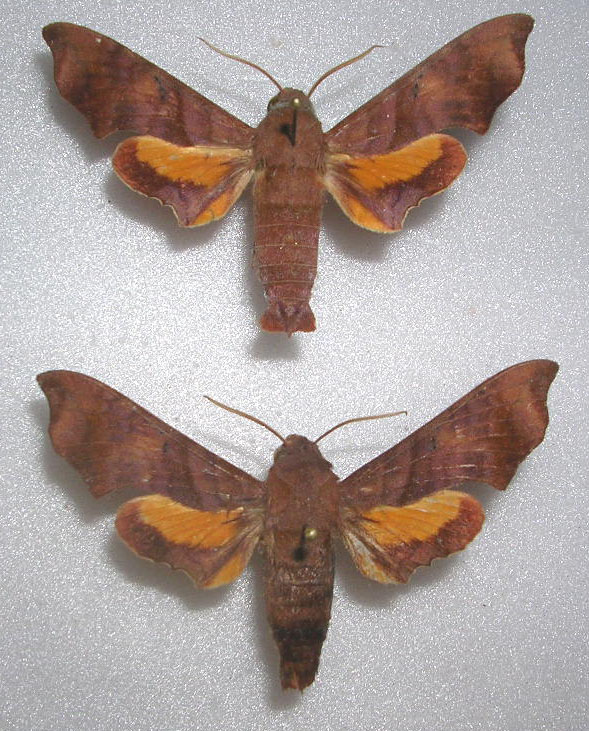 Perigonia pallida, Brasil, Poté, Minas Gerais, November 11, 2004,
courtesy of Frederik Goussey.
FLIGHT TIMES:
The Minas Gerais specimens were taken in November. A November-December flight is reported in Bolivia. French Guiana Systematics reports flights in February and December.
ECLOSION:
SCENTING AND MATING:Females call in the males with a pheromone released from a gland at the tip of the abdomen. EGGS, LARVAE, PUPAE:
Return to Sphingidae Index
Return to Dilophonotini Tribe
Reurn to Saturniidae Index
Use your browser "Back" button to return to the previous page.
This page is brought to you by Bill Oehlke and the WLSS. Pages are on space rented from Bizland. If you would like to become a "Patron of the Sphingidae Site", contact Bill.
Please send sightings/images to Bill. I will do my best to respond to requests for identification help.
Enjoy one of nature's wonderments: Live Saturniidae (Giant Silkmoth) cocoons.

Show appreciation for this site by clicking on flashing butterfly to the left.
The link will take you to a page with links to many insect sites.