Updated as per

AN ANNOTATED CHECKLIST OF THE SPHINGIDAE OF BOLIVIA

, December 2009

Updated as per personal communication with Jean Haxaire

Updated as per personal communication with Bernhard Wenczel (Oxapampa, Pasco, Peru; 2512m); April 21, 2011

Updated as per personal communication with Jim Vargo (Paradise Lodge, Cosnipata Valley, Cuzco Department, Peru; nectaring 5:45am; 63mm); June 8, 2012
Protaleuron rhodogaster
proht-AL-yoo-ronM roh-doh-GAS-ter
Rothschild & Jordan, 1903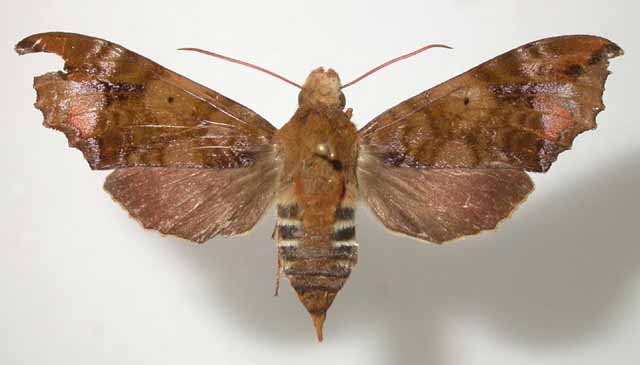 Protaleuron rhodogaster courtesy of Jean Haxaire
This site has been created by Bill Oehlke at oehlkew@islandtelecom.com
Comments, suggestions and/or additional information are welcomed by Bill.
TAXONOMY:

Family: Sphingidae, Latreille, 1802
Subfamily: Macroglossinae, Harris, 1839
Tribe: Dilophonotini, Burmeister, 1878
Genus: Protaleuron Rothschild & Jordan, 1903 ...........
Species: rhodogaster Rothschild & Jordan, 1903


MIDI MUSIC
.....It's a Wonderful World.....
copyright C. Odenkirk


ON.OFF

DISTRIBUTION:
Protaleuron rhodogaster (wingspan: males: 63mm (JV); females: probably larger) flies in eastern Ecuador;
Peru: Pasco Department (2512m); Cosnipata Valley, Cuzco Department (JV); and
Bolivia: Beni (1450m).
This moth may have a dawn flight pattern. This is suggested by reports from both Bernhard Wenczel and Jim Vargo.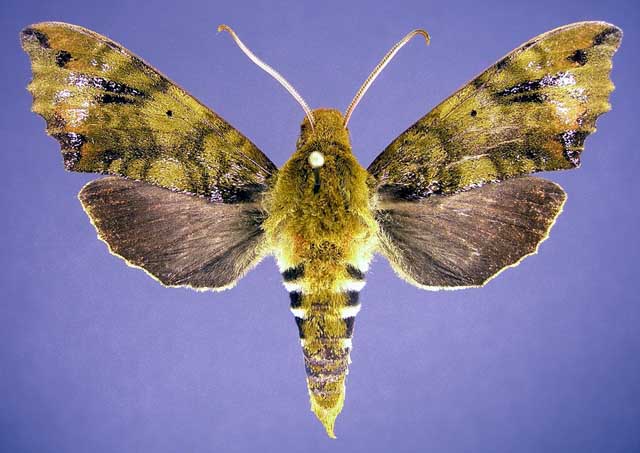 Protaleuron rhodogaster, Paradise Lodge, Cosnipata Valley, Cuzco Department, Peru,
63mm, nectaring at 5:45am, courtesy of Jim Vargo.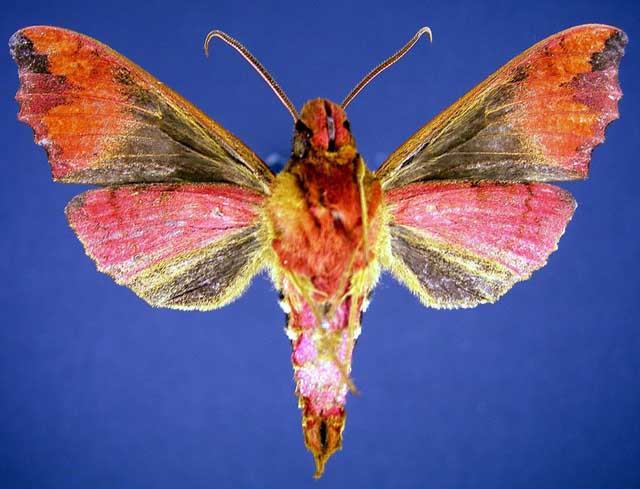 Protaleuron rhodogaster, Paradise Lodge, Cosnipata Valley, Cuzco Department, Peru,
63mm, nectaring at 5:45am, courtesy of Jim Vargo.

This species is rarely seen in collections. Jean Haxaire has both Protaleuron herbini (two specimens) and Protaleuron rhodogaster (only three specimens known to exist worldwide as of February 2005) in his collection.

The pronunciation of scientific names is troublesome for many. The "suggestion" at the top of the page is merely a suggestion. It is based on commonly accepted English pronunciation of Greek names and/or some fairly well accepted "rules" for latinized scientific names.

The suggested pronunciations, on this page and on other pages, are primarily put forward to assist those who hear with internal ears as they read.

There are many collectors from different countries whose intonations and accents would be different.

"Proto" means derived from, and, combined with "aleuron" which is the Greek word for wheat or meal, probably just indicates the similarity of members of this genus to the earlier named genus Aleuron.

The species name comes from the Greek "rhodo" which means red and "gaster" which means belly. Perhaps this moth's abdomen is red or pink ventrally?? or it may refer to the wide stripe of reddish brown "fur" that divides the abdomen on the dorsal surface.
FLIGHT TIMES:
Bernhard Wenczel writes of the Protaleuron rhodogaster taken by Jose Boettger in Peru, "I forgot to mention WHEN Jose caught that female. And this is a quite interesting fact. The female flew into the white sheet about ONE HOUR AFTER sunrise. The sun was already shining bright. So female didnít actually come to the lamp but was either stopped by the sheet or was attracted by it. Jose reported that the moth was flying quite fiercely up and down the sheet and he had to be fast to get it. This behavior is very unlikely for a moth that was just disturbed and looks now for a new place to hide."
ECLOSION:
SCENTING AND MATING: EGGS, LARVAE, PUPAE:
Return to U. S. A. Table
Return to Sphingidae Index
Return to Dilophonotini Tribe