Updated as per

The Known Sphingidae of Costa Rica

, November 2007

Updated as per personal communication with Jose Monzon (Guatemala); May 2009

Updated as per

AN ANNOTATED CHECKLIST OF THE SPHINGIDAE OF BOLIVIA

, December 2009

Updated as per CATE (Mexico, Costa Rica, Panama, Venezuela, French Guiana, Ecuador, Peru, Bolivia, Brazil); February 18, 2011

Updated as per personal communication with Ezequiel Bustos (Dpto. General José de San Martín, Río Caraparí, Salta, Argentina, May 1980, 700 m); July 5, 2017
Perigonia stulta
per-ih-GON-ee-uhMSTULL-tuh
Herrich-Schaffer, ]1854]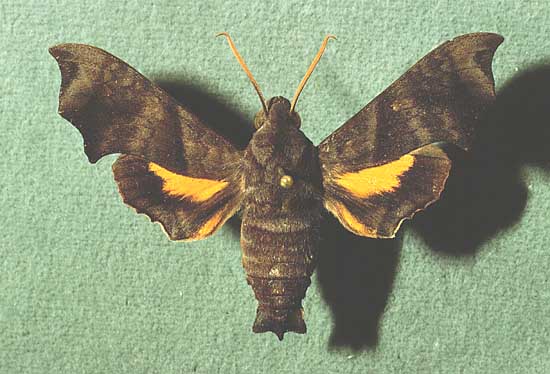 Perigonia stulta male courtesy of Dan Janzen.
This site has been created by Bill Oehlke.
Comments, suggestions and/or additional information are welcomed by Bill.
TAXONOMY:


Family: Sphingidae, Latreille, 1802
Subfamily: Macroglossinae, Harris, 1839
Tribe: Dilophonotini, Burmeister, 1878
Genus: Perigonia Herrich-Schaffer, ]1854] ...........
Species: stulta Herrich-Schaffer, [1854]

DISTRIBUTION:
Perigonia stulta (wingspan: 50 - 55 mm) moths fly in Tropical America:
Costa Rica;
Panama;
Guatemala (JM);
Ecuador;
Peru;
Venezuela;
Bolivia: La Paz, Cochabamba; Mapiri, San Augustin; etc.;
Argentina Salta (EB);
Brazil.
Crenulations of forewing outer margin are variable in degree of development. Forewing upperside lacking a distinct grey-brown or pale brown lunate patch on the outer margin. Forewing underside submarginal line distinct at least from the apex to M2, bordered with grey distally. CATE
The genus name "Perigonia" POSSIBLY was chosen to reflect the bud like tufts of hairs near the tip of the abdomen.
"Stulta" means stupid or foolish, an unusual choice for a species name!
The pronunciation of scientific names is troublesome for many. The "suggestion" at the top of the page is merely a suggestion. It is based on commonly accepted English pronunciation of Greek names and/or some fairly well accepted "rules" for latinized scientific names.
The suggested pronunciations, on this page and on other pages, are primarily put forward to assist those who hear with internal ears as they read.
There are many collectors from different countries whose intonations and accents would be different.
FLIGHT TIMES:
Perigonia stulta has been taken in Costa Rica in all months except March.
Perigonia stulta male, courtesy of Hubert Mayer copyright.
ECLOSION: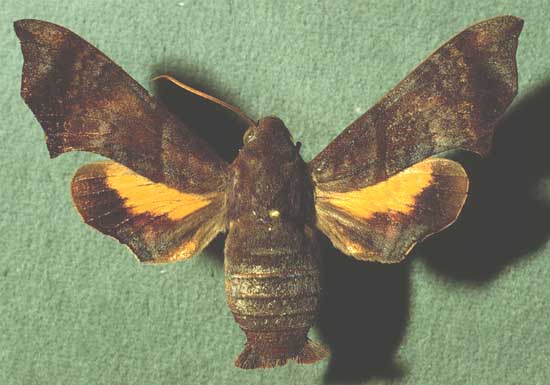 Perigonia stulta female courtesy of Dan Janzen.
SCENTING AND MATING:Females call in the males with a pheromone released from a gland at the tip of the abdomen. EGGS, LARVAE, PUPAE:
Use your browser "Back" button to return to the previous page.
Return to Sphingidae Index
Return to Dilophonotini Tribe
Use your browser "Back" button to return to the previous page.
This page is brought to you by Bill Oehlke and the WLSS. Pages are on space rented from Bizland. If you would like to become a "Patron of the Sphingidae Site", contact Bill.
Please send sightings/images to Bill. I will do my best to respond to requests for identification help.
Enjoy one of nature's wonderments: Live Saturniidae (Giant Silkmoth) cocoons.

Show appreciation for this site by clicking on flashing butterfly to the left.
The link will take you to a page with links to many insect sites.