Protambulyx sulphurea
(Rothschild, 1894) Ambulyx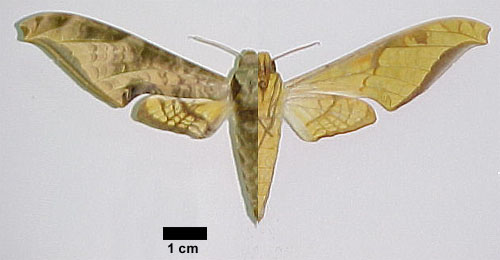 Protambulyx sulphurea, Venezuela, from Hawkmoths of Venezuela,
courtesy of Dr. María Esperanza Chacín and José Clavijo A., Ph.D.

This site has been created by Bill Oehlke at oehlkew@islandtelecom.com
Comments, suggestions and/or additional information are welcomed by Bill.
TAXONOMY:



Family: Sphingidae, Latreille, 1802
Subfamily: Sphinginae, Latreille, 1802
Tribe: Smerinthini, Grote & Robinson, 1865
Genus: Protambulyx Rothschild & Jordan, 1903 ...........
Species: sulphurea (Rothschild, 1894)


MIDI MUSIC
.....It's a Wonderful World.....
copyright C. Odenkirk


ON.OFF

DISTRIBUTION:
Protambulyx sulphurea (Wing span: approx. 103-110-118mm), flies in
northern and southwestern Venezuela (specimen type locality); and in
French Guiana: Kaw. It has also been recorded in Bolivia: Beni (235-1000m);
Brazil: Rio de Janeiro.
This species was originally described as an aberration of Protambulyx eurycles, but it is more similar to Protambulyx ockendeni with narrower and paler wings, and a less contrasting pattern. The forewing lackings the large costal patches and subbasal patch on the inner margin of Protambulyx ockendeni.
The hindwings are lemon yellow.
On the ventral surface the forewing marginal band is much narrower than in Protambulyx ockendeni, especially below M3.
Protambulyx sulphurea male, Rio de Janeiro, Brazil,
on my home computer only.
FLIGHT TIMES:
Protambulyx sulphurea adults probably fly throughout the year.
Adults nectar from flowers.
Protambulyx sulphurea male, Kaw, French Guiana,
103mm, August 2000, on my home computer only.
ECLOSION:
Pupae probably wiggle to surface from subterranean chambers just prior to eclosion.
Protambulyx sulphurea female, French Guiana,
118mm, on my home computer only.
SCENTING AND MATING:
Females call in the males with a pheromone released from a gland at the tip of the abdomen. EGGS, LARVAE, PUPAE: Larvae feed on
Moths may eclose within fourteen days of pupation.
Return to U. S. A. Table
Return to Main Sphingidae Index
Return to Smerinthini Tribe