Sphinx chersis
SFINKSmmCHER-sihs
(Hubner, [1823]) Lethia
Northern Ash Sphinx or Great Ash Sphinx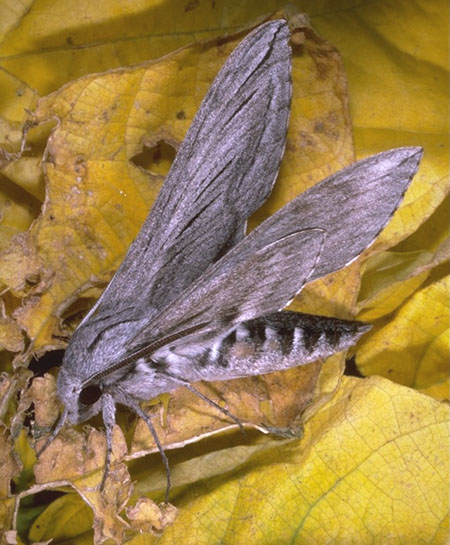 Sphinx chersis chersis courtesy of T. W. Davies, Chiricahua Mountains, Cochise County, Arizona.
This site has been created by Bill Oehlke at oehlkew@islandtelecom.com
Comments, suggestions and/or additional information are welcomed by Bill.
TAXONOMY:



Family: Sphingidae, Latreille, 1802
Subfamily: Sphinginae, Latreille, 1802
Tribe: Sphingini, Latreille, 1802
Genus: Sphinx Linnaeus, 1758 ...........
Species: chersis chersis Hubner, [1823]


MIDI MUSIC
.....It's a Wonderful World.....
copyright C. Odenkirk


ON.OFF

DISTRIBUTION:

The Great Ash Sphinx, Sphinx chersis chersis (Wing span: 3 9/16 - 5 1/8 inches (9 - 13 cm)), flies from Mexico north through most of the United States, but it is rare in the Gulf States. Massachusettes is the specimen type locality.

Visit Sphinx chersis, Wolf Creek, Josephine County, Oregon, July 17, 2009, courtesy of Edna Woodward. Visit Sphinx chersis, Tucson, Pima County, Arizona, July 25, 2009, courtesy of Meg Benhase.

The upperside of the forewing is soft dark gray to blue-gray with a series of black dashes, one of which reaches the wing tip. The upperside of the hindwing is black with blurry pale gray bands.

Sphinx chersis, Peterborough, Ontario, June 8-9, 2005, courtesy of Tim Dyson.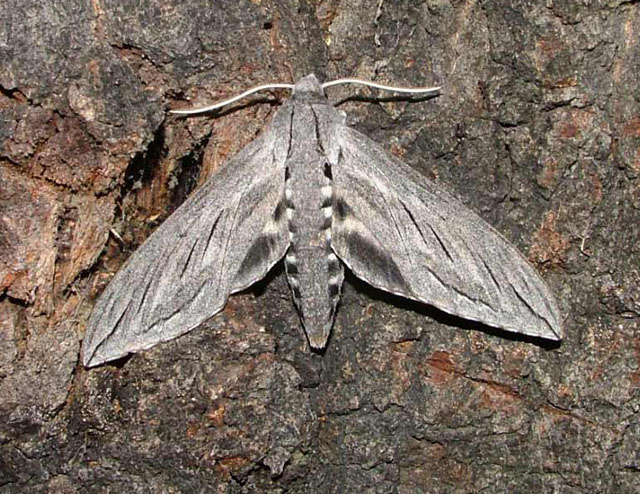 Sphinx chersis, Pena Blanca, Santa Cruz Co., Arizona,
August 6, 2004, courtesy of Bob Nuelle, Jr. and Robert Nuelle III
Sphinx chersis, Sphinx perelegans and Sphinx vashti are quite similar. Sphinx perelegans has a dark upper thorax with wide black bars extending to the abdomen. In Sphinx chersis the entire thorax is uniform light blue-grey with very narrow dark lines.
Sphinx vashti, most similar to S. perelegans, lacks the checkered fringe on the hindwings.
Sphinx asella is a smaller species with more white above the dark streaks near the forewing apex.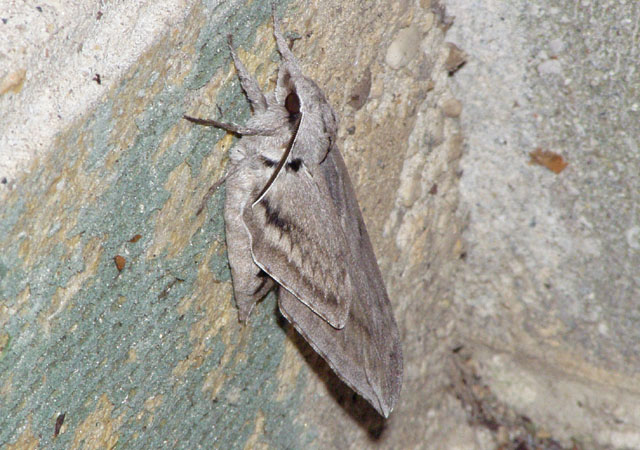 Sphinx chersis, July 16, 2006, Curtis, Mackinac County, northern Michigan,
courtesy of Mike and Jill DeVries.
FLIGHT TIMES:
Northern Ash Sphinx adults fly as a single brood in the north and as two broods in the south from May-June and from July-August. ECLOSION:Pupae probably wiggle to surface from subterranean chambers just prior to eclosion.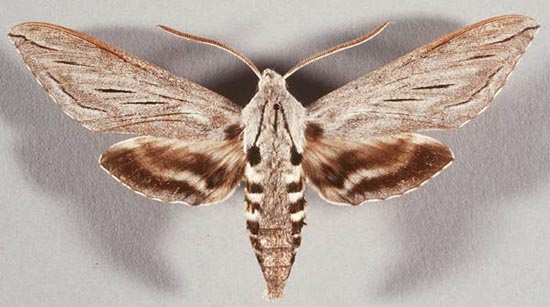 Northern Ash Sphinx courtesy Royal British Columbia Museum.
SCENTING AND MATING:
Females call in the males with a pheromone released from a gland at the tip of the abdomen. Adults nectar at a variety of deep-throated flowers such as Japanese honeysuckle (Lonicera japonica), bouncing bet (Saponaria officinalis), dogbane (Apocynum), and evening primrose (Onagraceae).
Sphinx asellus is very similar to Sphinx chersis, but asellus is smaller, paler, and has more white above the dark streaks of the forewing apex.
Jim Tuttle writes, "Sphinx chersis has a pair of single and very fine black lines running longitudinally along the thorax; whereas Sphinx asellus (Kitching & Cadiou changed it from asella) almost always has two sets of black lines - the inner lines tend to be bolder than in chersis - the outer (away from the center of the thorax and toward the wings) being very faint."
It is often very difficult to tell the two species apart as adult moths. The larvae, however, are quite distinct.
It is even very difficult for the leading experts to tell the two species apart. Jean Haxaire indicates the following Sphingidae is Sphinx chersis while Jim Tuttle says he would "GUESS" the image to be Sphinx asellus, based upon the boldness of the black lines, and even though the secondary lines are not visible in the picture.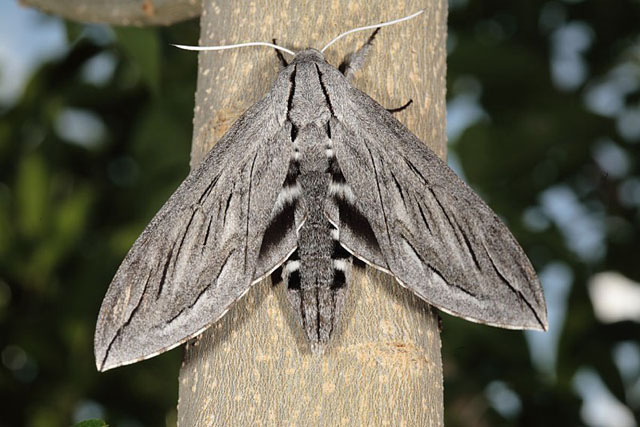 Sphinx chersis/asellus, Arizona, courtesy of Adam Fleishman.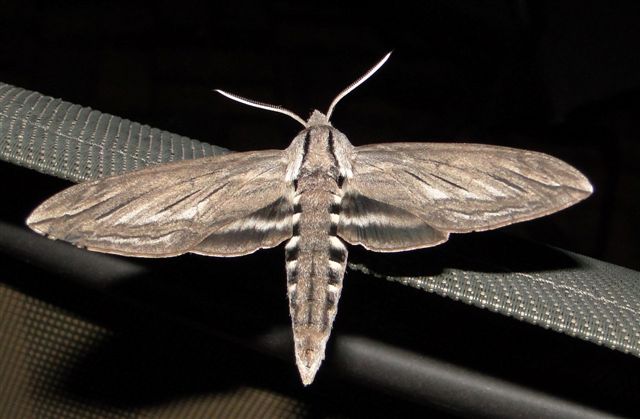 Sphinx chersis, Athol, Worcester County, Massachusetts,
July 19, 2010, courtesy of Dave Small, tentative id by Bill Oehlke.

In July of 2010 Dave Small sent me images which he had tentatively identified as Sphinx canadensis from Athol, Worcester County, Massachusetts. I spent some time looking at the images and wrote back to Dave that I felt the moth in question was more likley Sphinx chersis. I have assembled a Sphinx canadensis vs Sphinx chersis comparison page, based on what I think?? are fairly consistent diagnostic feature to help distinguish the two species. It is possible that the characters I have indicated are not consistent across a large number of specimens.
EGGS, LARVAE, PUPAE:
The larvae are pale bluish green. There are reddish forms, even in the early instars. Visit Sphinx chersis various instars and colors, Wolf Creek, Josephine County, Oregon, courtesy of Edna Woodward.

The head has a pair of yellow lateral bands meeting at the apex. The oblique, lateral stripes are pale and bordered anteriorly with a darker green.

The surface is generally granulose, particularly the first three segments, and the first three segments darker green or less blue green than the remainder of the body. There are both yellow and green colour morphs.

Larval hosts are ash, lilac, privet, cherry, and quaking aspen.
Visit red form Sphinx chersis third or fourth instar, Lapeer County, Michigan, September 7, 2009, courtesy of Carrin W. Gordie Snyder sent me these images of Sphinx chersis larvae, Ossekeag, New Brunswick, August 15, 2005. The blue "horn", pale lateral markings and light spiracular ovals indicate they are Sphinx chersis.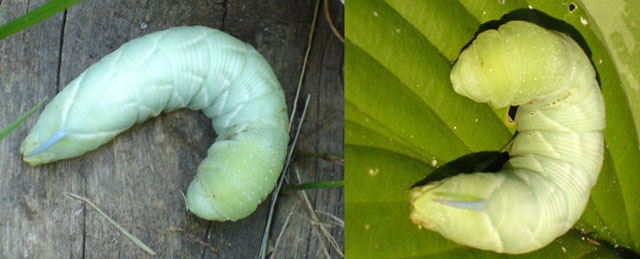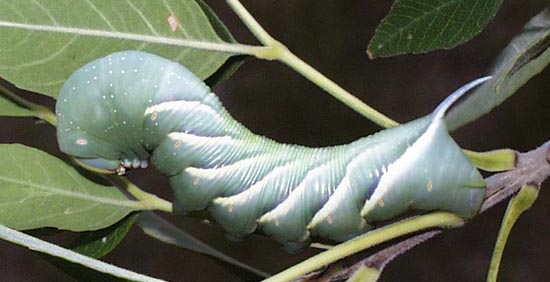 Green colour morph courtesy of Bruce Walsh; yellow by Tony Thomas.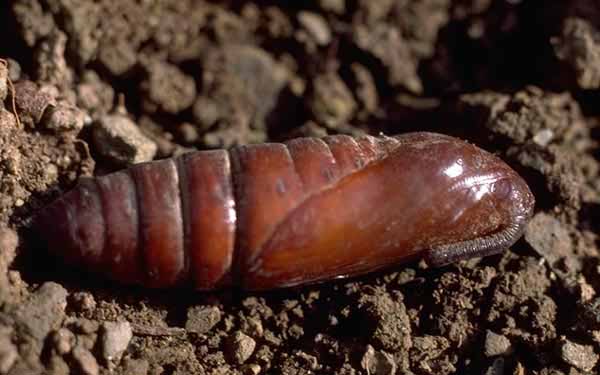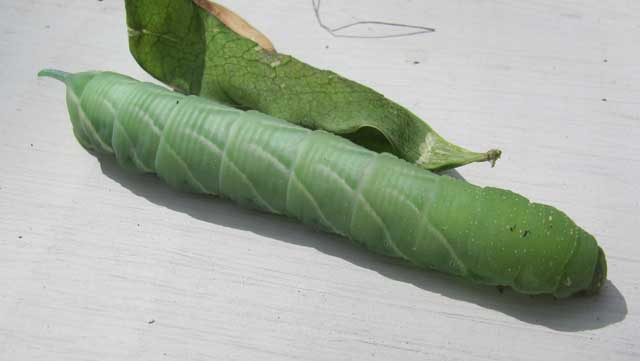 Sphinx chersis fifth instar, Lumsden Beach, Saskatchewan,
August 11, 2011, courtesy of Fiona Ramsay.
Visit Sphinx chersis, adult moth and larva, Door County, Wisconsin, courtesy of Janice Stiefel.
Visit Sphinx chersis fifth instar, Ottawa, Ontario, August 1, 2010, courtesy of Dan Chartrand. Return to Sphingidae Index
Return to Sphingini Tribe

Enjoy some of nature's wonderments, giant silk moth cocoons. These cocoons are for sale winter and fall. Beautiful Saturniidae moths will emerge the following spring and summer. Read Actias luna rearing article. Additional online help available.
Eggs of many North American species are offered during the spring and summer. Occasionally summer Actias luna and summer Antheraea polyphemus cocoons are available. Shipping to US destinations is done from with in the US.
Use your browser "Back" button to return to the previous page.
This page is brought to you by Bill Oehlke and the WLSS. Pages are on space rented from Bizland. If you would like to become a "Patron of the Sphingidae Site", contact Bill.
Please send sightings/images to Bill. I will do my best to respond to requests for identification help.

Show appreciation for this site by clicking on flashing butterfly to the left.
The link will take you to a page with links to many insect sites.