Updated as per James P. Tuttle's The Hawk Moths of North America, May 2010
Updated as per personal communication with Evan Rand (Sagenosema elsa, April, 2009; May 2010, south of Sedona, Yavapai Co., AZ,); May 11, 2010

Sagenosoma elsa
Elsa Sphinx Moth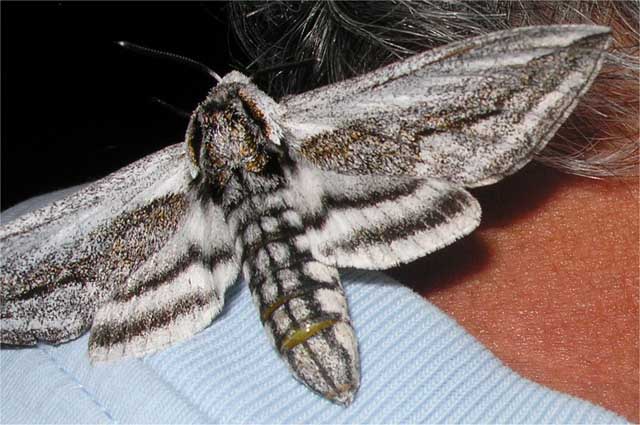 Sagenosema elsa, White Mountain Lake, Navajo County, Arizona,
August 14, 2010, courtesy of Alex Jones.
This site has been created by Bill Oehlke at oehlkew@islandtelecom.com
Comments, suggestions and/or additional information are welcomed by Bill.
TAXONOMY:



Family: Sphingidae, Latreille, 1802
Subfamily: Sphinginae, Latreille, [1802]
Tribe: Sphingini, Latreille, 1802
Genus: Sagenosoma Jordan, 1946 ...........
Species: elsa Strecker, 1877


MIDI MUSIC
.....It's a Wonderful World.....
copyright C. Odenkirk


ON.OFF

DISTRIBUTION:
The very rare Elsa Sphinx Moth, Sagenosoma elsa (Wing span: 2 3/4 - 3 1/4 inches (7 - 8.2 cm)), flies from
southern Utah;
southern Colorado; south to
throughout Arizona (specimen type locality) and
western 2/3 of New Mexico, and
possibly into northern Mexico.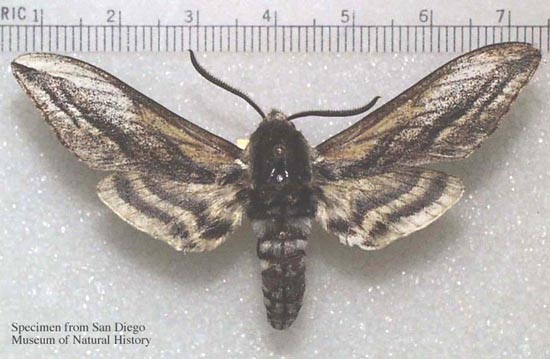 Sagenosoma elsa, Arizona, courtesy of Bruce Walsh.
The upperside of the forewing has a wide white band along the costa from base to apex. The remainder of the wing has black and white bands. The entire forewing is speckled with dark dots and has a light dusting of pale yellow to yellow-green scales. The upperside of the hindwing is white with two black bands.
FLIGHT TIMES:
Sagenosoma elsa adults probably fly as a single brood from May-July. Evan Rand reports an April-May flight south of Sedona in Yavapai County, Arizona. He also sends the image of the following specimen, taken July 27, 2010.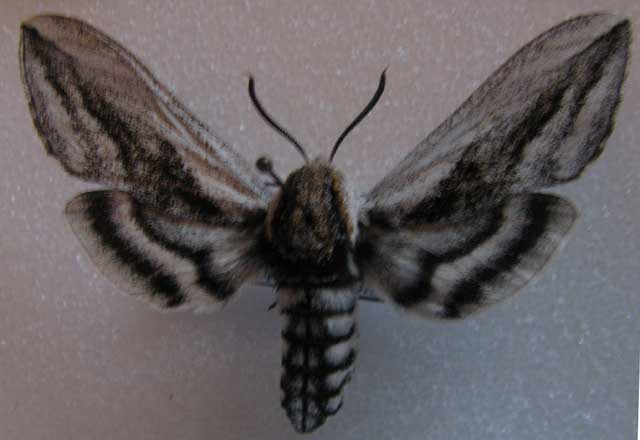 Sagenosema elsa, Kansas Settlement Road, Willcox Playa, Cochise Co., AZ,
July 27, 2010, courtesy of Evan Rand.
ECLOSION:
Pupae probably wiggle to surface from subterranean chambers just prior to eclosion.
SCENTING AND MATING:Females call in the males with a pheromone released from a gland at the tip of the abdomen. EGGS, LARVAE, PUPAE:Larval hosts are unknown, but larvae probably feed on Lycium in the nightshade family (Solanaceae).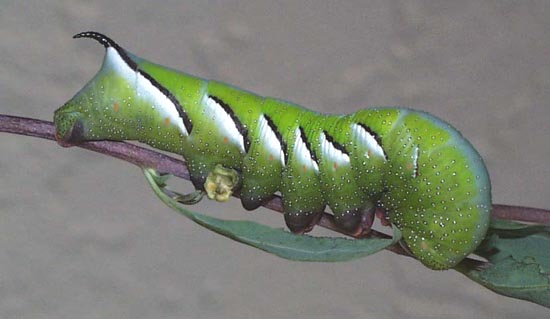 Return to Sphingidae Index
Return to Sphingini Tribe