Updated as per

http://biological-diversity.info/sphingidae.htm (Belize)

, November 2007

Updated as per

Fauna Entomologica De Nicarauga

, November 2007

Updated as per

The Known Sphingidae of Costa Rica

, November 2007

Updated as per

The Hawk Moths of the North America

, 2007, James P. Tuttle (

Sphinx

to

Lintneria

); April 2009

Updated as per CATE Sphingidae (as far south as Ecuador), April 20, 2011

Updated as per personal communication with Gregory Nielsen (Villavicencio, Meta, Colombia, April 17, 2011, 500m); April 21, 2011

Updated as per personal communication with Hubert Mayer (La Union del Toachi, Pichincha, Ecuador; January 16, 2002); August 9, 2011

Updated as per personal communicataion with Ismael Chaves Aguilar (Heredia, Costa Rica, final instar); June 15, 2015
Lintneria merops merops
lint-NER-ee-uhMMEER-ahps
Boisduval, 1870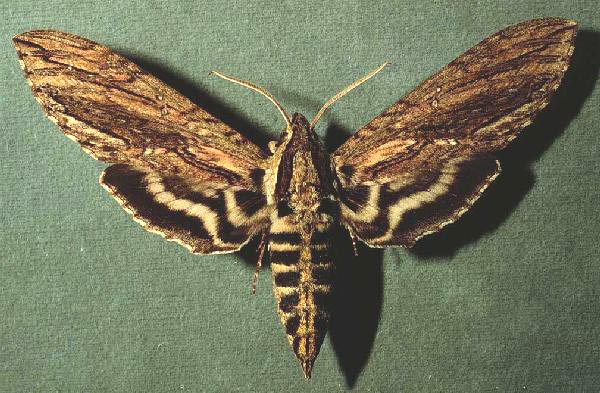 Lintneria merops merops male courtesy of Dan Janzen.
Lintneria merops merops, Chiapas, Mexico,
courtesy of Zak van Loocke.
This site has been created by Bill Oehlke at oehlkew@islandtelecom.com
Comments, suggestions and/or additional information are welcomed by Bill.
TAXONOMY:

Family: Sphingidae, Latreille, 1802
Subfamily: Sphinginae, Latreille, 1802
Tribe: Sphingini, Latreille, 1802
Genus: Lintneria Butler, 1876 ...........
Species: merops merops Boisduval, 1870


MIDI MUSIC
.....It's a Wonderful World.....
copyright C. Odenkirk


ON.OFF

DISTRIBUTION:
Lintneria merops merops (wingspan: 95-103-122 mm, females larger than males), flies in
Honduras (specimen type locality) and from western S. America, including
Venezuela; to
Mexico;
Belize: Cayo;
Guatemala: Izabal (JM);
Nicaragua: Jinotega, Matagalpa, Masaya, Granada, Isla de Ometepe, Rio San Juan;
Costa Rica: Guanacaste, San Jose, Alajuela, Lemon, Puntarenas, Heredia, Carthage; and into South America:
Colombia: Meta; and
Ecuador: (Pichincha, near Alluriquin: La Union del Toachi (HM)).
I suspect it also flies in Panama.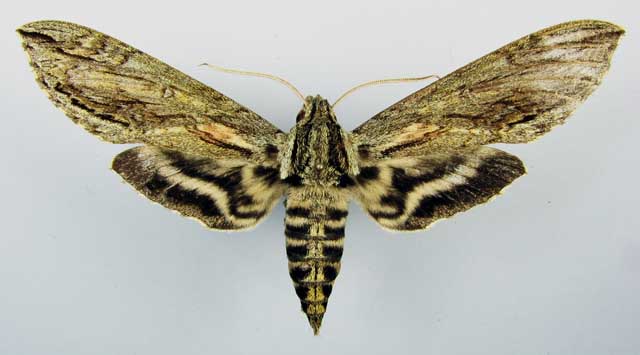 Lintneria merops, Villavicencio, Meta, Colombia,
Km 13 via Acacias, 04°03'55.0 N 073°41'87.0 W,
April 17, 2011, 500m, FWL = 46 mm, Wingspan 95 mm; leg. Gregory Nielsen.
In his The Hawk Moths of North America, 2007, James P. Tuttle has assigned all the Sphinx genus species from Mexico south throughout South American to Lintneria, Butler, 1876, based on consistent differences in wing characters and significant larval differences.
Cate: "The prominent stripes on the thorax upperside are reminiscent of those of Lintneria justiciae and Lintneria balsae, which also have similar wing patterns. In all 3 the lateral and mesial edges of the band are black; in Lintneria merops the central part is bright reddish brown, much brighter than in Lintneria justiciae and Lintneria balsae. Abdomen upperside with fringe of tergites without orange-yellow spots."
The two subspecies, monjena and judsoni, have been synonymized with nomimate merops by Kitching and Cadiou, 2002.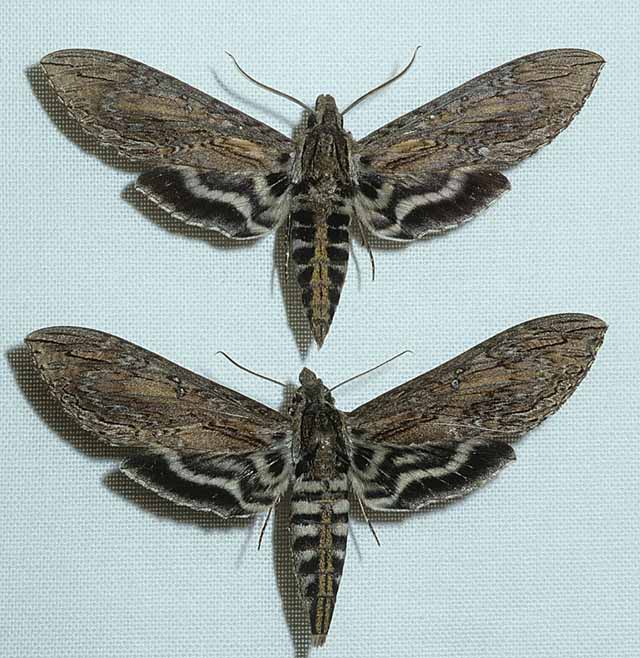 Lintneria merops pair, courtesy of Hubert Mayer.
FLIGHT TIMES:
Lintneria merops merops adults fly in Costa Rica from April until January. Gregory Nielsen reports an April 17, 2011, flight in Meta, Colombia. Hubert Mayer reports a January flight in La Union del Toachi, Pichincha, Ecuador.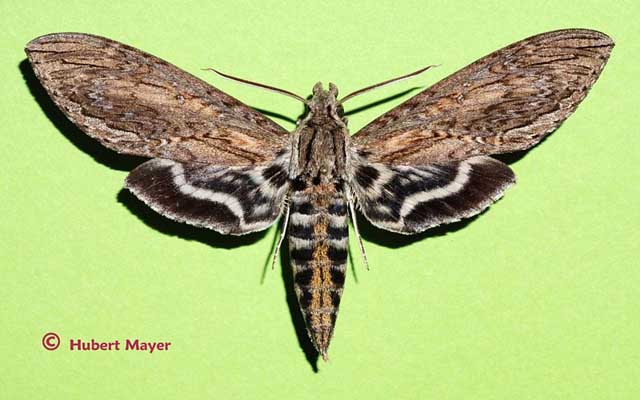 Lintneria merops male, La Union del Toachi, near Alluriquin, Pichincha, Ecuador,
980m, January 16, 2002, courtesy/copyright of Hubert Mayer.
ECLOSION:
Pupae probably wiggle to surface from subterranean chambers just prior to eclosion.
SCENTING AND MATING:
Females call in the males with a pheromone released from a gland at the tip of the abdomen. Adults pollinate orchids.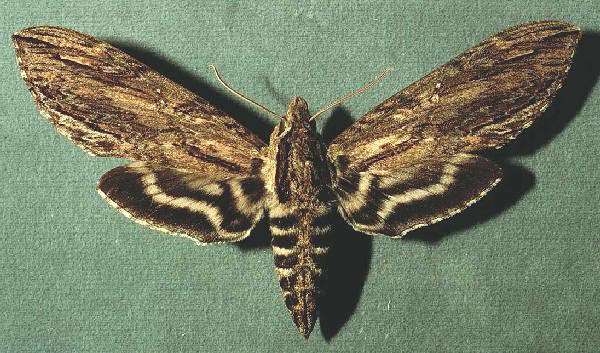 Lintneria merops merops female courtesy of Dan Janzen.
EGGS, LARVAE, PUPAE:
Larval hosts are Lantana camara and probably other members of the Verbenaceae family. The third instar has a dermal crest and yellow eye-spots on sides; there are 2 black eye-spots on last two instars.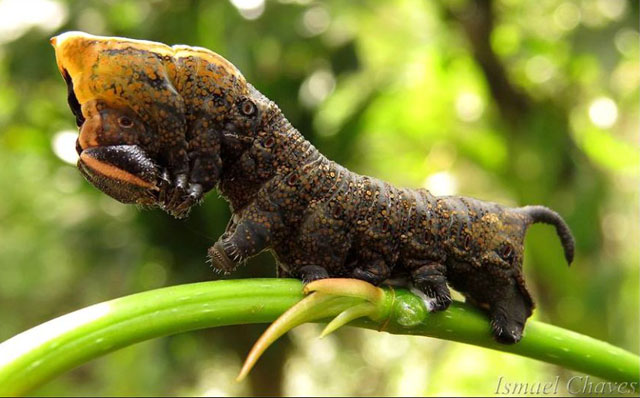 Lintneria merops?? fifth instar, Heredia, Costa Rica,
courtesy of Ismael Chaves Aguilar, tentative id by Bill Oehlke.

Other possibilities include:



| | |
| --- | --- |
| The pupa has a long flat tongue case. Moths emerge about fifty days after pupation, but some which pupate in July, emerge in November. | |
Larvae are subject to parasitization by Belvosia sp. 6 of the Tachinidae family.
Please visit my special request for images of Lintneria species larvae at Lintneria larvae, and help if you can. It is anticipated that the Lintneria larvae will most often be encountered on Lamiaceae: Salvia (Sage), Mentha (Mints), Monarda (Beebalm) and Hyptis (Bushmints); Verbenaceae: Verbena and Lantana camara (shrub verbenas or lantanas).
Although they may be encountered feeding during daylight hours, one is even more likely to discover them feeding in the evening or after dark.
Two of the greatest clues for discovering larvae are stripped foliage and droppings beneath the plant. You might be quite surprised at what will turn up in the evening or after dark in a flashlight assisted search.
It is believed that all "Lintneria larvae will exhibit "a fleshy thoracic dorsal "horn" in the first 4 instars (unique in the Sphingidae of the world to my knowledge) which is replaced by a thoracic dorsal "hump" with a large black patch in the 5th instar." J.A. Tuttle.
Return to Sphingidae Index
Return to Sphingini Tribe

Use your browser "Back" button to return to the previous page.
This page is brought to you by Bill Oehlke and the WLSS. Pages are on space rented from Bizland. If you would like to become a "Patron of the Sphingidae Site", contact Bill.
Please send sightings/images to Bill. I will do my best to respond to requests for identification help.
Enjoy one of nature's wonderments: Live Saturniidae (Giant Silkmoth) cocoons.

Show appreciation for this site by clicking on flashing butterfly to the left.
The link will take you to a page with links to many insect sites.