| | |
| --- | --- |
| | Updated as per James P. Tuttle's The Hawk Moths of North America, July 2008 |
Sphingidae of the United States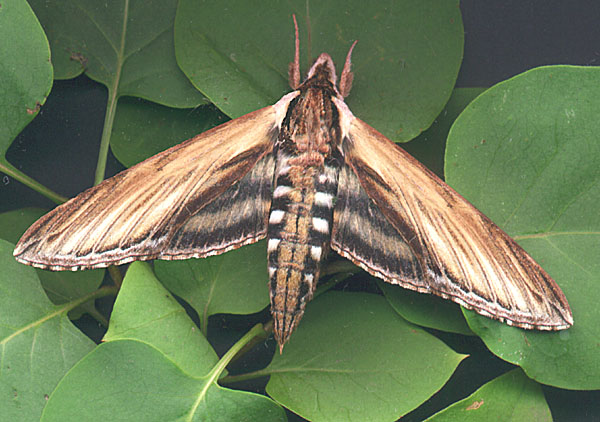 Sphinx kalmiae, scan by Bill Oehlke.
The following tables list all of the Sphingidae occuring in the continental United States.
This page lists states alphabetically from Alabama to Missouri. Click on Montana to Wyoming to access those states on another page. Species, identified in each of the colour-coded states, are marked with an appropriately coloured "X". Click on any of the hypertext scientific names to the left to access pictures and information files.
This site, created and maintained by Bill Oehlke, is brought to you by the WLSS.
Visit the introduction to the World's Largest Saturniidae Site by clicking on the banner or on text below.

Bill Oehlke: email oehlkew@islandtelecom.com
WLSS Introduction

Please note, the files are not linked back to this page, as they are part of an even larger project, The Sphingidae of the Americas. To return to this page, use your back button.

The tables and much information are adapted from information on the USGS Moths of North America website co-ordinated by Paul Opler at http://www.npwrc.usgs.gov/resource/distr/lepid/moths/mothsusa.htm

I have sought out the best images (adults, larvae, pupae, eggs), particularly of live specimens, on the internet in order to assist with identification at any stage. If you discover errors or omissions, please advise Bill Oehlke at oehlkew@islandtelecom.com

Many people have assisted me with this website. Please visit acknowledgements which is linked back to this page.

As of August 1, 2010, over six hundred different people have sent me digital images to post to the site. See the list of those who have submitted images at "Patrons of the Sphingidae Site".

All images, submitted and posted to the website, remain the property of respective photographers and are credited as such.

A letter "C" in a slot indicates a confirmed specimen, although the species is not listed for that state on the USGS website; an "R" indicates rare; an "S" indicates an occasional stray; an "X" indicates a well-known species from that state as identified on USGS.

As of July 18, 2008, I have begun, starting alphabetically by state, to include additional ranges as per James P. Tuttle's excellent book, The Hawk Moths of North America.

Every North American Sphingidae enthusiast should have a copy of Tuttle's book.

You can click on the state name in the header to go to a file specific to the state.

* Five North American species previously listed with Sphinx genus are now listed as Lintneria, based on James P. Tuttle's revision in The Hawk Moths Of North America, 2007. Tuttle indicates two additional "Sphinx" species (Lintneria geminus and Lintneria lugens), sometimes included in North American listings, probably are not present, even as strays, in the United States.

This website has been created and is maintained by Bill Oehlke without government or institutional financial assistance. All expenses, ie., text reference support material, webspace rental from Bizland, computer repairs/replacements, backups systems, software for image adjustments (Adobe Photoshop; L-View), ftp software, anti-virus protection, scanner, etc. are my own.

I very much appreciate all the many images that have been sent to me, or of which I have been granted permission to copy and post from other websites. All images on this site remain the property of respective photographers.

If you would like to contribute to the maintenace of this website by sending a contribution to

Bill Oehlke
Box 476
155 Peardon Road
Montague, Prince Edward Island, C0A1R0
Canada

your donation would be much appreciated and would be used for
1) paying for webspace rental;
2) paying for computer maintenance and software upgrades;
3) purchases of additional text reference material (journals and books) in anticipation of expanding the site to a worldwide Sphingidae site;
4) helping to pay my daughter's tuition (completed spring 2013); with anything left over going to humanitarian aid.

If you are mailing a check from USA, please use $1.15 postage (2014 rate). Donations can also be made through Paypal via the button below.

Return to Indices by Nation

Return to Main Sphingidae Index

Go to Montana to Wyoming

Many of the images of Sphingidae larvae and adults on this website (Central and South Amerrican sections, especially) come from Dan Janzen who works tirelessly on a project to raise funds for "rainforest purchase in Costa Rica to add land to the Area de Conservacion Guanacaste (ACG), where the great majority of these moths occur as living wild populations. There is NO overhead charged on these funds. The current ACG land purchase project is described at the following web site: http://janzen.sas.upenn.edu/RR/rincon_rainforest.htm".

If you appreciate this website and would like to contribute to the rainforest conservation project, please consult the link above.

Contributions can be made out to Guanacaste Dry Forest Conservation Fund and sent to

Professor Dan Janzen,
Department of Biology,
University of Pennsylvania,
Philadelphia, PA 19104

Tim Dyson has sent me outstanding images of live moths from Peterborough, Ontario, Canada. Check out the Catocala along Tim's Bait Trail at Tim Dyson: Night Vison Photography.

Visit other Lepidoptera websites designed and maintained by Bill Oehlke by clicking on the BLUE TEXT:

SATURNIIDAE OF PRINCE EDWARD ISLAND
Livestock for sale

SPHINGIDAE OF PRINCE EDWARD ISLAND

BUTTERFLIES OF PRINCE EDWARD ISLAND

THE KIRBY WOLFE SATURNIIDAE COLLECTION

THE THIBAUD DECAENS SATURNIIDAE COLLECTION

CATERPILLAR IDENTIFICATION GUIDE

CATERPILLARS TOO!: a membership site featuring images of North American butterfly caterpillars and adult butterflies, too, to help with identification.

WORLD'S LARGEST SATURNIIDAE SITE: a membership site covering most of the World's Saturniidae

Enjoy one of nature's wonderments: Live Saturniidae (Giant Silkmoth) cocoons.

Show appreciation for this site by clicking on flashing butterfly to the left.
The link will take you to a page with links to many insect sites.