Updated as per

AN ANNOTATED CHECKLIST OF THE SPHINGIDAE OF BOLIVIA

, October 2007

Updated as per

http://www.pybio.org/SPHINGINAE.htm (Paraguay)

, October 2007

Updated as per personal communication with Ezequiel Osvaldo Núñez Bustos, Argentina, March 2008

Updated as per personal communication with Ezequiel Bustos (Aguas Blancas, Salta, Argentina, 405m); December 2009

Updated as per CATE Sphingidae (Brazil, Petropolis); April 20, 2011

Updated as per personal communication with Andres Urbas (Camp Caiman near Kaw, French Guiana, April 1, 2011); May 7, 2011

Updated as per personal communication with Larry Valentine (Itanhandu, Minas Gerais, Brazil, October 14, 2011); October 16, 2011

Updated as per personal communication with Humberto Calero Mejia (92mm, Isla Gorgona, Cauca, Colombia, June 5, 2011; 0m); December 20, 2011

Updated as per personal communication with Ezequiel Bustos (Shilap revta. lepid. 43 (172) diciembre, 2015, 615-631 eISSN 2340-4078 ISSN 0300-5267), January 4, 2016

Updated as per personal communication with Lamirez Silva (nar Rio de Janeiro, Rio de Janeiro, Brazil, September 12, 2016); September 12, 2016
Xylophanes chiron nechus
zail-AH-fan-eesMKYE-ronM NECK-uhs
(Cramer, 1777) Sphinx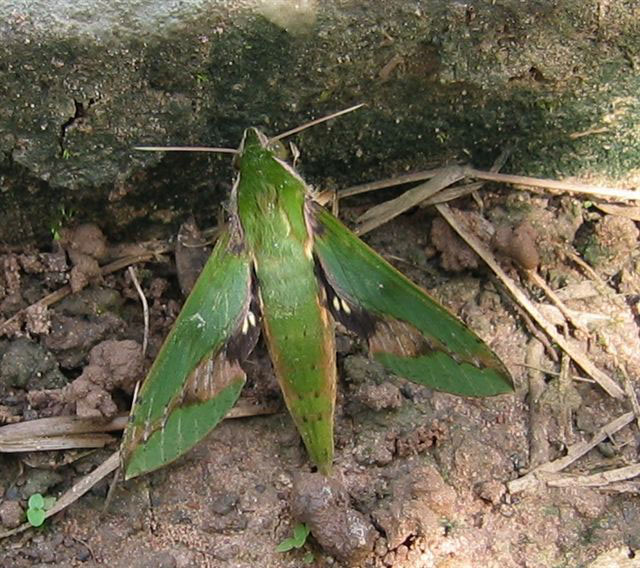 Xylophanes chiron nechus female, courtesy of Eurides Furtado.
This site has been created by Bill Oehlke at oehlkew@islandtelecom.com
Comments, suggestions and/or additional information are welcomed by Bill.
TAXONOMY:


Family: Sphingidae, Latreille, 1802
Subfamily: Macroglossinae, Harris, 1839
Tribe: Macroglossini, Harris, 1839
Genus: Xylophanes Hubner [1819] ...........
Species: chiron nechus (Cramer, 1777)

DISTRIBUTION:

Xylophanes chiron nechus (wingspan: approximately 92mm) fly in the West Indies (specimen type locality), and also occur in
Colombia: Cauca: Isla Gorgona (0m, HCM);
French Guiana: Kaw;
Bolivia: Santa Cruz: Potrerillos del Güendá; Florida, Mataral; Pampa Grande; Ichilo, La Víbora; Buena Vista; Sarah; La Paz: Murillo, Cota Cota; Zongo, Cuticucho; Beni: Espíritu, Cabaña; Cochabamba: Carrasco, Chapare;
Brazil: rio de Janeiro: Petropolis and Rio de Janeiro; Minas Gerais: Itanhandu; and
Paraguay: Concepcion, San Pedro, Canindeyu, Alto Parana, Cordillera, Central, Paraguari, Guaira, Caaguazu, Caazapa, (probably Itapua (WO??));
northern Argentina: Misiones, Salta (405m EB), (Buenos Aires, Corrientes, Entre Rios, Tucuman (EB)).

It is also reported in Mexico and Belize. The moth is probably very widespread in its range.

X. c. nechus, December 23, 2005, Misiones Province, near Puerto Iguazu, near light at night, courtesy of Oz Rittner.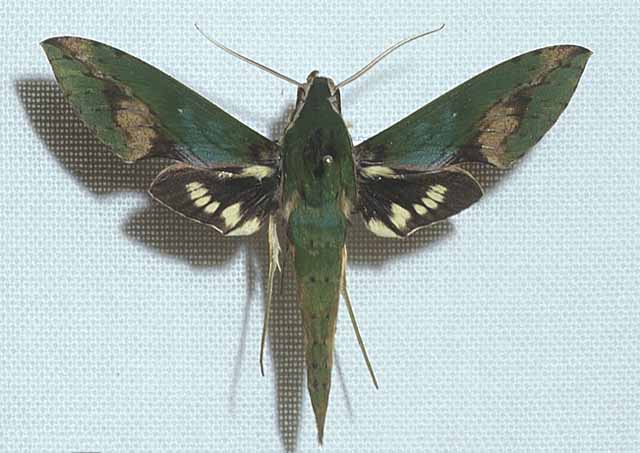 Xylophanes chiron nechus male, courtesy of Hubert Mayer copyright.
CATE: "Very similar to Xylophanes chiron chiron but brown pattern elements of forewing upperside better developed. Moths in which the ground colour is brown rather than green do occur but are very rare.
"Pale brown scaling along fourth postmedian line more strongly developed, in particular the patch running from M2 to the inner margin is broader and more ovate rather than narrowly triangular."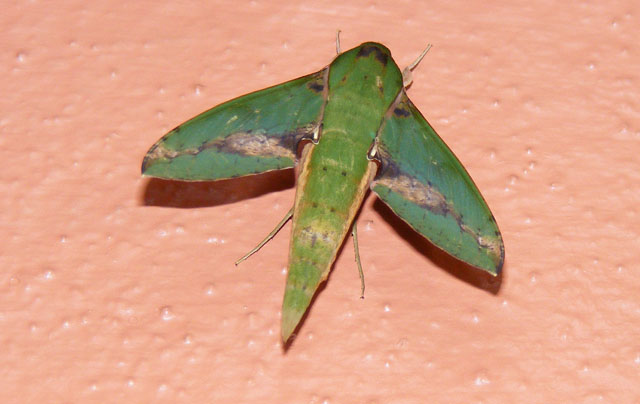 Xylophanes chiron nechus, Baldi Hot Springs, Arenal Volcano Cloud Forest,
Alajuela, Costa Rica, August 11, 2013, courtesy of Graeme Davis.
FLIGHT TIMES:
Xylophanes chiron nechus adults have been taken in December in Argentina. Ezequiel Osvaldo Núñez Bustos reports a February flight in Misiones Province, Argentina. There are probably multiple broods elsewhere. Andres Urbas confirms an April 1, 2011, flight near Kaw, French Guiana. Larry Valentine reports a mid October flight, 2011, in Itanhandu, south eastern Minas Gerais, Brazil. Humberto calero Mejia reports a June 5, 2011 flight on Isla Gorgona, Cauca, Colombia.
Visit Xylophanes chiron nechus, Itanhandu, Minas Gerais, Brazil, courtesy of Larry Valentine.
Visit Xylophanes chiron nechus recto and verso, Isla Gorgona, Cauca, Colombia, June 5, 2011, courtesy of Humberto Calero Mejia.
Visit Xylophanes chiron nechus (recto and verso), near Rio de Janeiro, Rio de Janeiro, Brazil, September 12, 2016, courtesy of Jamirez Silva.
Xylophanes chiron nechus, Camp Caiman, near Kaw, French Guiana,
April 1, 2011, courtesy of Andres Urbas.
ECLOSION:
Pupae probably wiggle to surface from subterranean chambers just prior to eclosion.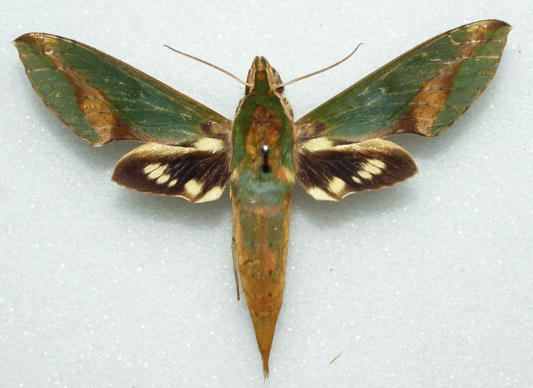 Xylophanes chiron nechus male, Mexico, courtesy of Manuel Balcazar-Lara.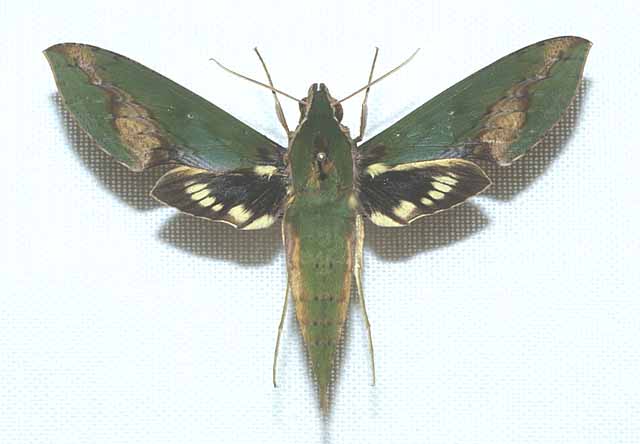 Xylophanes chiron nechus female, courtesy of Hubert Mayer copyright.
SCENTING AND MATING:Females call in the males with a pheromone released from a gland at the tip of the abdomen. Males come in to lights very readily, but females are seldom taken in that way.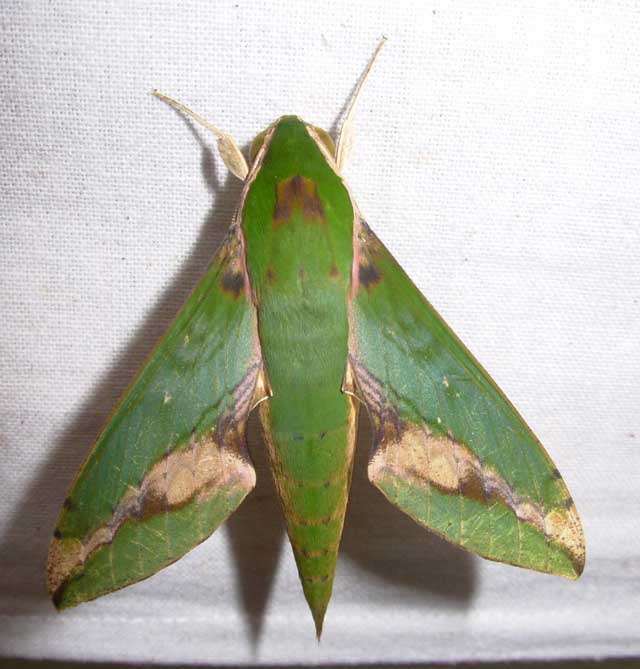 Xylophanes chiron nechus, Yacutinga Private Reserve, Misiones Province,
(near border between Argentina and Brazil), February, 2008
courtesy/copyright of Ezequiel Osvaldo Núñez Bustos.
EGGS, LARVAE, PUPAE:
Larvae probably feed on Psychotria panamensis and Psychotria nervosa of the Rubiaceae family and on Pavonia guanacastensis of the Malvaceae family.
Eurides Furtado reports the natural hostplant is Rudgea viburnoides (Cham.) Benth. (Rubiaceae), and the larval and pupal images below are courtesy of Eurides.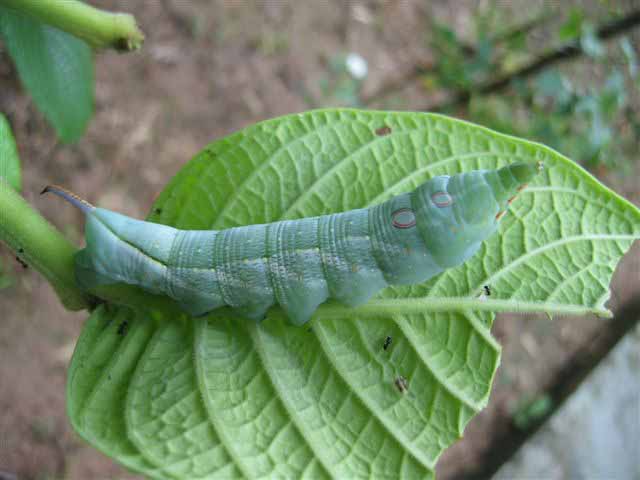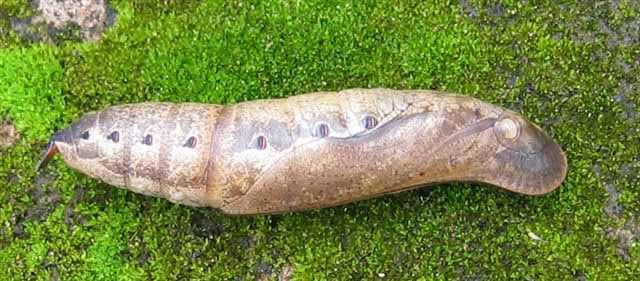 Moths emerge approximately one-two months after larvae pupate.

Use your browser "Back" button to return to the previous page.

Goto Main Sphingidae Index
Goto Macroglossini Tribe
Goto Central American Indices
Goto Carribean Islands
Goto South American Indices
Goto U.S.A. tables

The pronunciation of scientific names is troublesome for many. The "suggestion" at the top of the page is merely a suggestion. It is based on commonly accepted English pronunciation of Greek names and/or some fairly well accepted "rules" for latinized scientific names.

The suggested pronunciations, on this page and on other pages, are primarily put forward to assist those who hear with internal ears as they read.

There are many collectors from different countries whose intonations and accents would be different.

Jean Marie Cadiou writes, "When I say "Xylophanes" in English I pronounce it something like "Zailophanees", with the emphasis on the "o". The French pronounce it differently, something like "Kzeelophaness" with no emphasis, and the Germans yet in a different way..." In Greek myth, Phanes is the golden winged Primordial Being who was hatched from the shining Cosmic Egg that was the source of the universe. He personifies light emerging from chaos.

"Xylo" is the Greek word for wood.

The specimen type for the genus Xylophanes is Xylophanes anubus. Perhaps ? when Hubner examined this species, the yellow-orange and brown tones of the forewings suggested wings of wood.

The species name "chiron" comes from Greek mythology where Chiron is the wise centaur who tutors Achilles, Hercules and Asclepius. I do not know the source of the subspecies name.