Updated as per

AN ANNOTATED CHECKLIST OF THE SPHINGIDAE OF BOLIVIA

, October 2007

Updated as per More, Kitching and Cocucci's

Hawkmoths of Argentina

2005, October, 2007

Updated as per CATE (Huancabamba, Peru), February 9, 2011

Updated as per personal communication with Les Catchick (San Isidro, Napo, Ecuador, April 6, 2011); December 7, 2011

Updated as per personal communication with Ezequiel Bustos (Shilap revta. lepid. 43 (172) diciembre, 2015, 615-631 eISSN 2340-4078 ISSN 0300-5267), January 4, 2016
Xylophanes docilis
(Butler, 1875)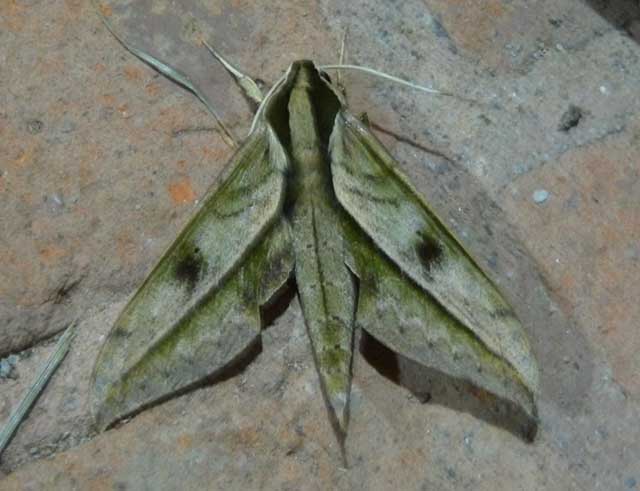 Xylophanes docilis, San Isidro, Napo, Ecuador,
April 6, 2011, courtesy of Les Catchick.
This site has been created by Bill Oehlke at oehlkew@islandtelecom.com
Comments, suggestions and/or additional information are welcomed by Bill.
TAXONOMY:



Family: Sphingidae, Latreille, 1802
Subfamily: Macroglossinae, Harris, 1839
Tribe: Macroglossini, Harris, 1839
Genus: Xylophanes Hubner [1819] ...........
Species: docilis Butler, 1875


MIDI MUSIC
.....It's a Wonderful World.....
copyright C. Odenkirk


ON.OFF

DISTRIBUTION:
Xylophanes docilis moths (forewing length = 36-40mm) fly in
Ecuador (specimen type locality), San Isidro (1750m, LC);
Bolivia: La Paz: Murillo, Zongo Chuchulluni; Zongo, Pacollo; Murillo, Río Zongo to Río Suapi (750m); Nor Yungas, Coroico, (1200m) Cochabamba: Chapare, Yunga del Espíritu Santo; and
Argentina: Jujuy, Salta (600m);
Peru: Piura??: Huancabamba; Pasco: Cerro de Pasco; and
throughout much of South America.
Docilis is very similar to amadis, but seems to have a straighter line to the outer margin of the forewing.
The abdomen of docilis has a distinct dorsal median line which is absent in amadis. The prominent dark green postmedian line on the forewing upperside is almost straight in docilis, but slightly s-shaped in amadis. There is a vestigial, dentate, submarginal line present basal to the submarginal row of vein spots. Specimens fade to brown, but when fresh have a definite greenish cast.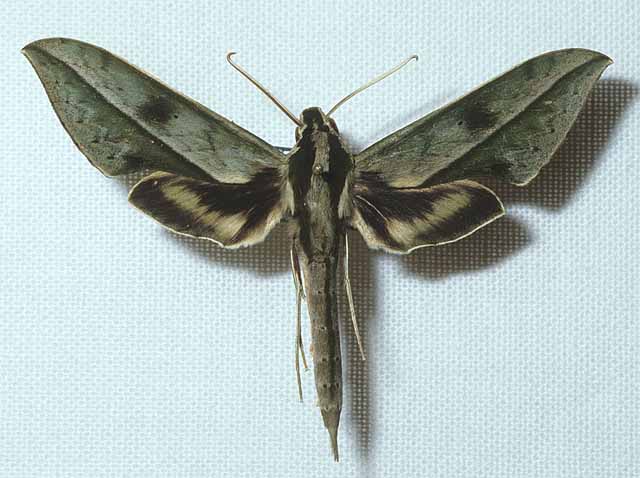 Xylophanes docilis male, Oxapampa, Peru, courtesy of Hubert Mayer copyright.
FLIGHT TIMES:
Xylophanes docilis adults fly as at least two broods in Peru with moths on the wing in February and again in July-August.
They have been taken in February and November in Argentina.
Les Catchick reports an April flight in San Isidro, Napo, Ecuador.
Females are active from 11:00pm until 1:30am and males are flying from 11:30pm until 2:30am.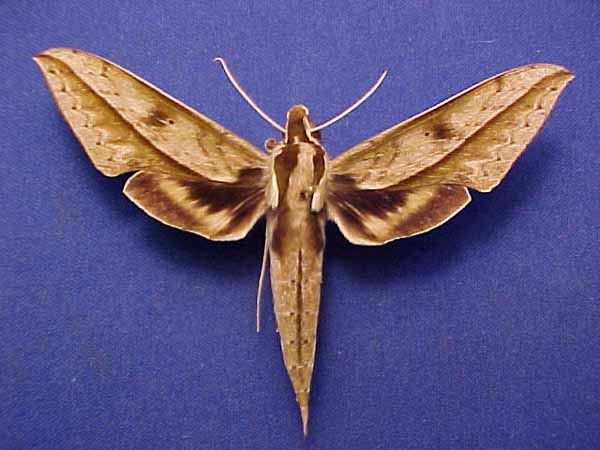 Xylophanes docilis, faded to brown, courtesy of John Vriesi.
ECLOSION:
Pupae probably wiggle to surface from subterranean chambers just prior to eclosion.
SCENTING AND MATING:Females call in the males with a pheromone released from a gland at the tip of the abdomen. Males come in to lights very readily, but females are seldom taken in that way. EGGS, LARVAE, PUPAE:Larvae probably feed on plants of the Rubiaceae family and Malvaceae family.
Moths emerge approximately one-two months after larvae pupate.
Use your browser "Back" button to return to the previous page.
Goto Main Sphingidae Index
Goto Macroglossini Tribe
Goto Central American Indices
Goto Carribean Islands
Goto South American Indices
Goto U.S.A. tables