Xylophanes juanita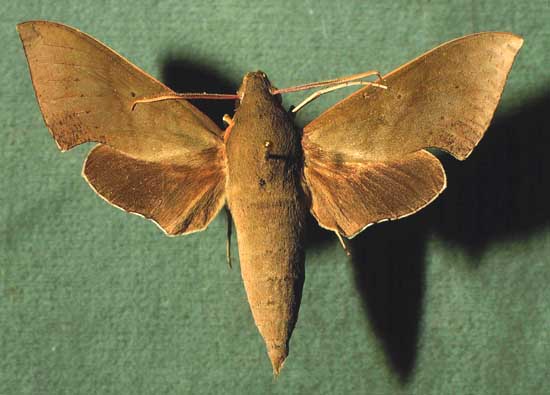 Xylophanes juanita male courtesy of Dan Janzen.
This site has been created by Bill Oehlke at oehlkew@islandtelecom.com
Comments, suggestions and/or additional information are welcomed by Bill.
TAXONOMY:



Family: Sphingidae, Latreille, 1802
Subfamily: Macroglossinae, Harris, 1839
Tribe: Macroglossini, Harris, 1839
Genus: Xylophanes Hubner [1819] ...........
Species: juanita Rothschild & Jordan, 1903


MIDI MUSIC
.....It's a Wonderful World.....
copyright C. Odenkirk


ON.OFF

DISTRIBUTION:
Xylophanes juanita moths (wingspan 57-59 mm) fly from Mexico (specimen type locality) and Belize to Costa Rica. FLIGHT TIMES: Xylophanes juanita adults probably brood continuously with pupae emerging after rains. ECLOSION:Pupae probably wiggle to surface from subterranean chambers just prior to eclosion. SCENTING AND MATING:Females call in the males with a pheromone released from a gland at the tip of the abdomen. Males come in to lights very readily, but females are seldom taken in that way.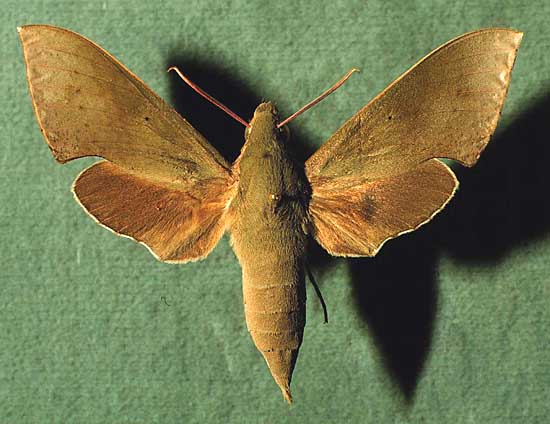 Xylophanes juanita female courtesy of Dan Janzen.
EGGS, LARVAE, PUPAE:
Larvae probably feed on Psychotria horizontalis, Psychotria correae, Psychotria microdon and Psychotria nervosa of the Rubiaceae family.
The false eye is divided into two parts, and this features is very distinctive of this species. There are several colour morphs. In one morph the last instar has yellow eyes and a blue/green body, side slashes.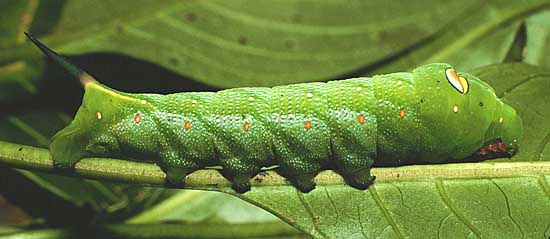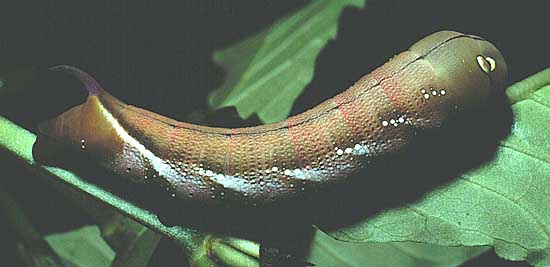 | | |
| --- | --- |
| Moths emerge approximately two months after larvae pupate, but some that pupate in July don't emerge until December or even March. Pupa has a spatulate tip as opposed to a sharp cremaster. | |
Larvae are subject to parasitization by Drino sp. 6of the Tachinidae family.
Use your browser "Back" button to return to the previous page.
Goto Main Sphingidae Index
Goto Macroglossini Tribe
Goto Central American Indices
Goto Carribean Islands
Goto South American Indices
Goto U.S.A. tables