Xylophanes media
Rothschild & Jordan, 1903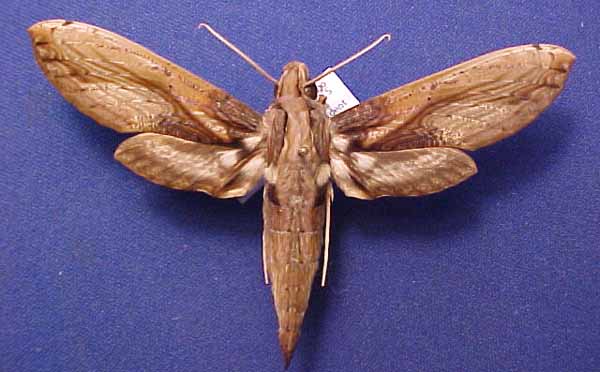 Xylophanes media courtesy of John Vriesi.
This site has been created by Bill Oehlke at oehlkew@islandtelecom.com
Comments, suggestions and/or additional information are welcomed by Bill.
TAXONOMY:



Family: Sphingidae, Latreille, 1802
Subfamily: Macroglossinae, Harris, 1839
Tribe: Macroglossini, Harris, 1839
Genus: Xylophanes Hubner [1819] ...........
Species: media Rothschild & Jordan, 1903


MIDI MUSIC
.....It's a Wonderful World.....
copyright C. Odenkirk


ON.OFF

DISTRIBUTION:
Xylophanes media (approximate wingspan: males: 92mm; females: 94mm) flies in
Colombia (specimen type locality);
Venezuela;
French Guiana; and
Peru.
Specimens have confirmed populations as far south as
Bolivia: La Paz: Murillo, Río Zongo, (750m, common).
CATE: "Similar to Xylophanes ceratomioides. Outer margin of forewing less rounded below M2 than in Xylophanes ceratomioides; very slightly undulate.
"Outermost dorsal lines of the abdomen posteriorly divergent on each tergite, as in Xylophanes ceratomioides, but not expanded into small triangular spots.
"Forewing upperside pattern similar to Xylophanes ceratomioides but all elements more diffuse; costa lacking subapical and apical black spots; most distal antemedian line and most basal postmedian line meet on inner edge of forewing upperside (as in Xylophanes guianensis); postmedian band not clearly developed; pale brown excavated area on outer margin of postmedian band with concave basal edge and dorsal edge angled more towards the costa than in Xylophanes ceratomioides.
"Subbasal and median bands of hindwing upperside pale grey, shaded with brown, the edges of the median band especially are diffuse."
FLIGHT TIMES:
Xylophanes media adults probably brood continuously. ECLOSION:Pupae probably wiggle to surface from subterranean chambers just prior to eclosion. SCENTING AND MATING:Females call in the males with a pheromone released from a gland at the tip of the abdomen. Males come in to lights very readily, but females are seldom taken in that way. EGGS, LARVAE, PUPAE:Larvae probably feed on plants of the Rubiaceae and Malvaceae families.
Moths emerge approximately one-two months after larvae pupate.
Use your browser "Back" button to return to the previous page.
Goto Main Sphingidae Index
Goto Macroglossini Tribe
Goto Central American Indices
Goto Carribean Islands
Goto South American Indices
Goto U.S.A. tables
Xylophanes media male, French Guiana, on my home computer only.
Xylophanes media female, French Guiana, on my home computer only.
Xylophanes media, French Guiana, on my home computer only.