Updated as per

AN ANNOTATED CHECKLIST OF THE SPHINGIDAE OF BOLIVIA

, October 2007

Updated as per personal communication with Peter Bruce-James (Weyqecha Lodge, Manu, Cusco, Peru, 2950m); February 2010

Updated as per personal communication with Leonardo Aguado (Salta, Argentina, October, 1989); October 6, 2011

Updated as per personal communication with Ezequiel Bustos (Shilap revta. lepid. 43 (172) diciembre, 2015, 615-631 eISSN 2340-4078 ISSN 0300-5267), January 4, 2016
Xylophanes nabuchodonosor
Oberthür, 1904
Xylophanes nabuchodonosor by John Vriesi.
This site has been created by Bill Oehlke at oehlkew@islandtelecom.com
Comments, suggestions and/or additional information are welcomed by Bill.
TAXONOMY:



Family: Sphingidae, Latreille, 1802
Subfamily: Macroglossinae, Harris, 1839
Tribe: Macroglossini, Harris, 1839
Genus: Xylophanes Hubner [1819] ...........
Species: nabuchodonosor Oberthur, 1904


MIDI MUSIC
.....It's a Wonderful World.....
copyright C. Odenkirk


ON.OFF

DISTRIBUTION:
Xylophanes nabuchodonosor (wingspan: 76 - 82 mm) flies in
Bolivia: La Paz: Murillo, Zongo; Caupolican, Mamacona; Cochabamba: Carrasco, Chapare, Yunga del Espíritu Santo; Santa Cruz: Ichilo, Buena Vista, (Bolivia is given as the specimen type locality.);
Argentina: Salta (LA); Jujuy (EB) and in
Peru: Carabaya, Oconeque; Cusco.
caissa Gehlen, 1931, is same as Xylophanes nabuchodonosor.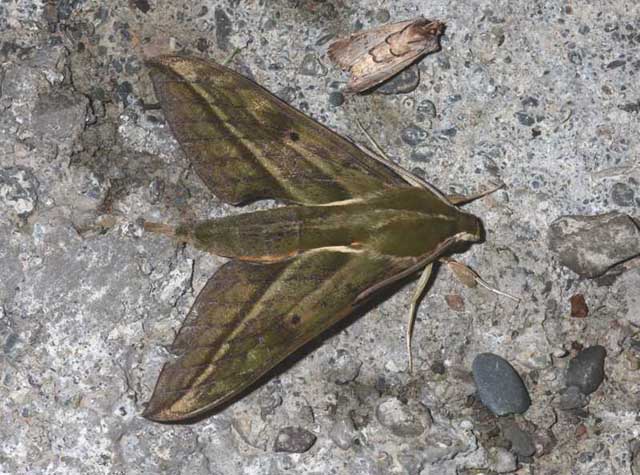 Xylophanes nabuchodonosor, Weyqecha Lodge, Manu, Cusco, Peru,
2950m, courtesy of Peter Bruce-Jones, id by Bill Oehlke.
This species is very similar to Xylophanes rhodochlora, but first postmedian line is dentate on veins between costa and M3. The discal spot small is very small as in Xylophanes crotonis.
Specimens can be drab green or brown.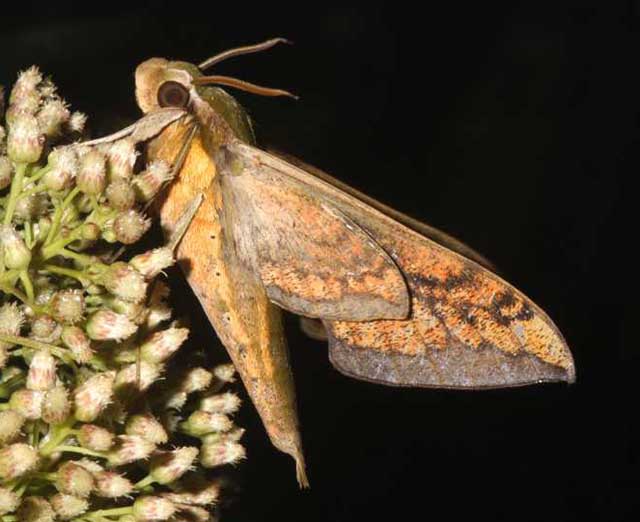 Xylophanes nabuchodonosor (verso), Weyqecha Lodge, Manu, Cusco, Peru,
2950m, courtesy of Peter Bruce-Jones, id by Bill Oehlke.
FLIGHT TIMES:
Leonardo Aguado reports an October flight in Salta, Argentina.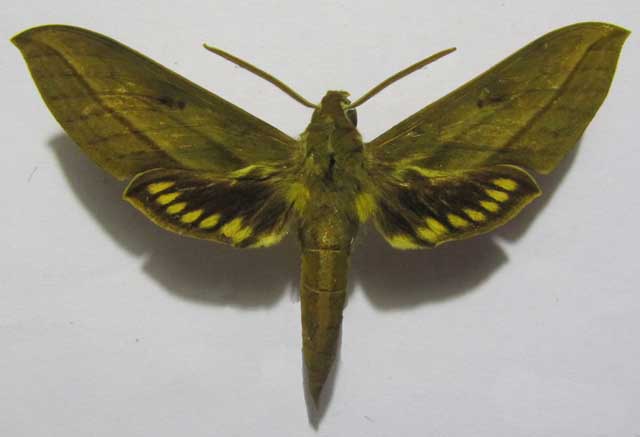 Xylophanes nabuchodonosor, Parque Nacional Baritu, Salta, Argentina,
October 1989, courtesy of Leonardo Aguado, id and digital repair by Bill Oehlke.
ECLOSION:
Pupae probably wiggle to surface from subterranean chambers or leaf litter just prior to eclosion. SCENTING AND MATING:Females call in the males with a pheromone released from a gland at the tip of the abdomen. Males come in to lights very readily, but females are seldom taken in that way. EGGS, LARVAE, PUPAE:The snake-like larva has a head and the three thoracic segments which may be retracted into abdominal segment 1, which is swollen and adorned with a pair of light-ringed grey eye-spots.
Use your browser "Back" button to return to the previous page.
Goto Main Sphingidae Index
Goto Macroglossini Tribe
Goto Central American Indices
Goto Carribean Islands
Goto South American Indices
Goto U.S.A. tables