Xylophanes ockendeni

Xylophanes ockendeni courtesy of John Vriesi.
This site has been created by Bill Oehlke. Comments, suggestions and/or additional information are welcomed by Bill.
TAXONOMY:


Family: Sphingidae, Latreille, 1802
Subfamily: Macroglossinae, Harris, 1839
Tribe: Macroglossini, Harris, 1839
Genus: Xylophanes Hubner [1819] ...........
Species: ockendeni Rothschild, 1904

DISTRIBUTION:
Xylophanes ockendeni (wingspan: males: 69-85mm; females: probably larger // forewing length ) flies in Peru: (specimen type locality) Junin, Peru.
San Remon (Ramon) is in the Chanchamayo Province of the Junín Region, on the eastern slopes of the Andean Cordillera Oriental in Peru. It is situated at an elevation of 770m above sea level. This is supposedly the HT location for ockendeni.
Xylophanes ockendeni, 85mm, Amazonas, Peru,
courtesy of Jean Haxaire, slight digital repair by Bill Oehlke.

Xylophanes ockendeni is similar to Xylophanes rothschildi, but ockendeni is distinguished by the slightly scalloped forewing outer margin; the more well-defined forewing dark basal patch; the transversely (not longitudinally) oriented dark patch distal to the discal spot; and the sinuate, brown postmedian band, distal of which, on the inner margin, is a black, triangular patch.

The abdomen has a thin, brown dorsal line, on either side of which is a row of small black spots, one on the posterior edge of each tergite.

The underside of the abdomen has a lavender-red coloration.

This species has a forewing upperside most similar to Xylophanes macasensis, but the ground colour of ockendeni is a deeper, darker, more bluish-green, on which the darker markings are less prominent, making the whole moth look more drab. The postmedian line is brownish, sinuate, less conspicuous and more poorly defined, distally blending in with the ground colour. The area around the discal spot is paler than in Xylophanes macasensis, rendering the spot more conspicuous. The submarginal line is represented by a series of small, dark vein spots. CATE

Xylophanes ockendeni sensu Eitschberger, flies in Cusco, Peru.

The specimen referred to as Xylophanes ockendeni sensu Eitschberger is also very Similar to Xylophanes rothschildi ... as Xylophanes ockendeni from Vista Alegre and Aguas Verdes, Amazonas Department, Peru. However, the male ... holotype of Xylophanes ockendeni, in the BMNH, was collected not in northern Peru but in ÔÇ£Santo Domingo ...

There is many a town/location named Santa Domingo in Peru?? I do not know which one is referenced. Bill Oehlke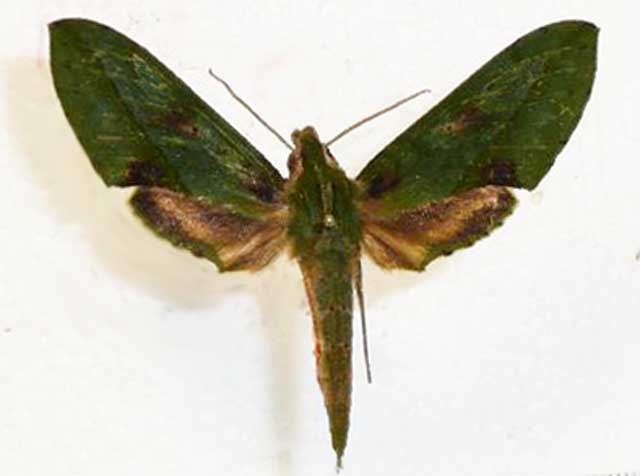 Xylophanes ockendeni, 74mm, Cusco, Peru, 1850m,
courtesy of Tomas Melichar, slight digital repair by Bill Oehlke.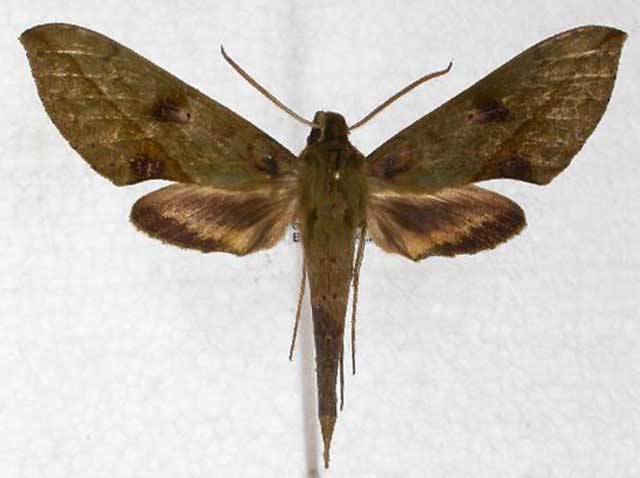 Xylophanes ockendeni, 82mm,
courtesy of Ulf Eitschberger, slight digital repair by Bill Oehlke.
FLIGHT TIMES:
Xylophanes ockendeni adults fly in June and probably in other months. ECLOSION:Pupae probably wiggle to surface from subterranean chambers just prior to eclosion.
Xylophanes ockendeni, Peru,
courtesy of Jean Haxaire, slight digital repair by Bill Oehlke.
SCENTING AND MATING:Females call in the males with a pheromone released from a gland at the tip of the abdomen. Males come in to lights very readily, but females are seldom taken in that way.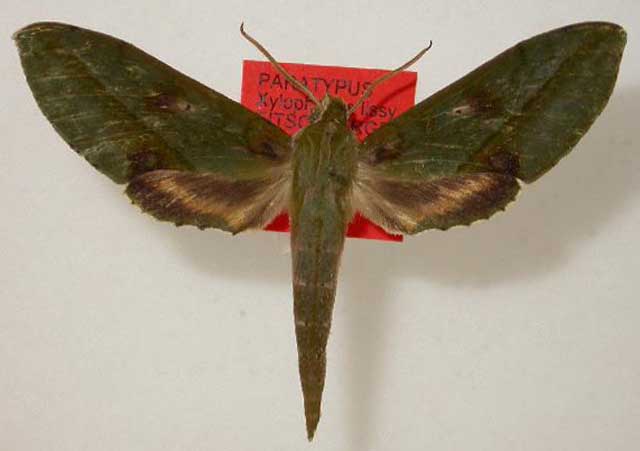 Xylophanes ockendeni, Peru,
courtesy of Jean Haxaire, slight digital repair by Bill Oehlke.
EGGS, LARVAE, PUPAE:
Larvae probably feed on members of the Rubiaceae or Malvaceae families.
Moths emerge approximately one-two months after larvae pupate.
Use your browser "Back" button to return to the previous page.
Goto Main Sphingidae Index
Goto Macroglossini Tribe
Goto Central American Indices
Goto Carribean Islands
Goto South American Indices
Goto U.S.A. tables