PRINCE EDWARD ISLAND BUTTERFLIES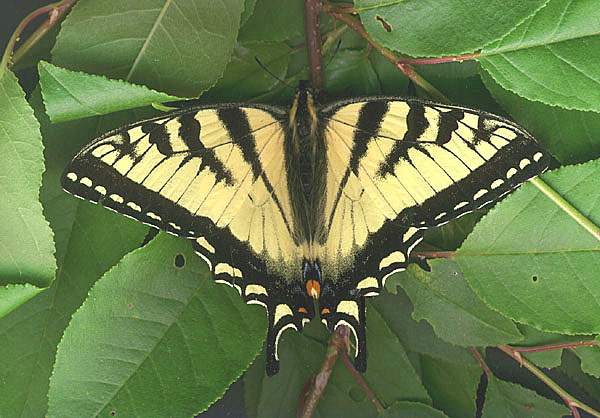 Papilio canadensis (male) by Bill Oehlke.
This site, which features life history pictorials of most of the larger butterflies of P.E.I., Canada, is dedicated to my mother, Rita Eileen Oehlke of Pottersville, New Jersey.

At the age of 74, Mom still rescues late instar monarch larvae from "would-be predators" on backyard milkweed plants.

She feeds the larvae indoors in 1000mm jars and then releases the adults when they emerge.

MIDI MUSIC

"Somewhere.Over.the.Rainbow"

copyright C. Odenkirk
MIDI CITY


ON.OFF


You can access images and information by clicking on the hypertext (blue coloured) names below.

Since there are many images embodied in the information packets, it may take a bit of time for the files to load, but text with information about distribution, host plants, flight times, etc., should load up very quickly.
GO TO:
Monarch
Viceroy
White admiral
Mourning cloak
Milbert's tortoise shell
Black swallowtail
Canadian Tiger swallowtail
Cabbage white
Question mark
Satyr comma
Red admiral
Painted lady
American painted lady

Here are some additonal northeastern North American butterflies of interest. To my knowledge, these species do not fly on Prince Edward Island, but I have reared most of them as a boy growing up in rural New Jersey.


Pipevine swallowtail
Buckeye
Red-spotted purple
Giant swallowtail
Eastern Tiger swallowtail
Spicebush swallowtail

Visit other websites maintained by Bill Oehlke:

+++LIVESTOCK AND SUPPLIES FOR SALE***


This site is designed and maintained by Bill Oehlke. You can reach Bill for questions by clicking on his name (email) or by phone 902-838-3455, or at Bill Oehlke, Box 476, Montague, P.E.I., Canada C0A 1R0.

I offer two membership sites that far exceed the coverage offered on the sites listed above:

THE WORLD'S LARGEST SATURNIIDAE SITE and
CATERPILLARS TOO! North American (Canada/US) Butterfly website


Please click on the flashing butterfly icon to the right to show
appreciation for this site and to visit other insect sites. Thankyou!