Catocala blandula
kah-TOCK-uh-lahm BLAND-yuh-luh
Hulst, 1884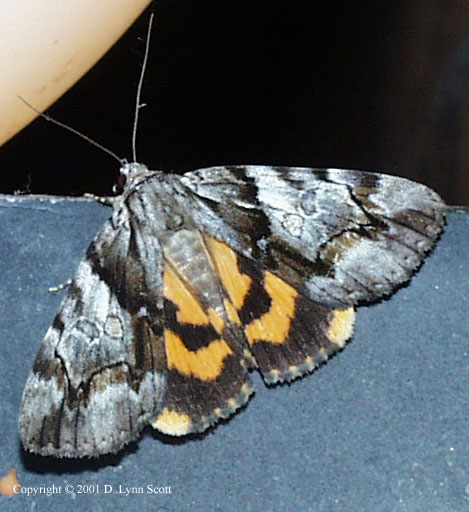 Catocala blandula courtesy of Lynn Scott.
This site has been created by Bill Oehlke at oehlkew@islandtelecom.com
Comments, suggestions and/or additional information are welcomed by Bill.
TAXONOMY:

Superfamily: Noctuoidea
Family: Noctuidae
Group: Noctuinina
Subfamily: Catocalinae
Genus: Catocala, Schrank, 1802


MIDI MUSIC
"Moon River"
copyright C. Odenkirk
MIDI CITYON.OFF

DISTRIBUTION:
It has also been reported in Florida, Kentucky, Louisiana, Massachusetts, Michigan, Minnesota, Mississippi, Missouri, New Hampshire, New Jersey, New York, North Carolina, North Dakota, Oklahoma, Pennsylvania, South Carolina, South Dakota, Texas, Vermont, Virginia, West Virginia and Wisconsin.
Moths previously designated as Catocala manitobensis Cassino, 1918, are now (2010) synonyms of Catocala blandula.
Catocala blandula, Thornton, Grafton County, New Hampshire,
September 4, 2011, courtesy of Deb Lievens.

It is often difficult to distinguish blandula from crataegi and mira, but mira lacks the dark basal shading common to blandula and crataegi.
Catocala blandula, Lancaster (Coos County), New Hampshire,
July 29, 2007, courtesy of Ron White, id by Bill Oehlke.
Catocala blandula, Monhegan Island (Sullivan County), Maine,
August 25, 2007, courtesy of Steve Nanz.

Blandula tends to differ from crataegi in that the former has
1) am and pm lines that meet at the inner margin,
2) a brown as opposed to black basal area,
3) an absence of any green shading/tint in the median area,
4) an unbroken (usually, not always) outer black band in the hindwing.

Tim Dyson of Peterborough, Ontario, sends this image of ventral surface, July 28, 2006.
Visit Catocala blandula, Omegaw County, Michigan, July 4, 2012, courtesy of Cindy Mead.

Visit Catocala blandula, Athol, Worcester Co., Massachusetts, July 10, 2010, courtesy of Dave Small.
Catocala blandula male, Lumsden, Saskatchewan,
48mm, July 19, 2010, courtesy of Tim Taylor, id by Larry Gall.
Catocala blandula male, Lumsden, Saskatchewan,
48mm, July 19, 2010, courtesy of Tim Taylor, id by Larry Gall.
Catocala blandula male (verso), Lumsden, Saskatchewan,
48mm, July 19, 2010, courtesy of Tim Taylor, id by Larry Gall.
FLIGHT TIMES AND PREFERRED FOOD PLANTS:
Catocala blandula are usually on the wing from July to early September.
The Catocala blandula caterpillar shows a preference for Amelanchier, Crataegus and Malus pumila.
ECLOSION:
Adults eclose from pupae at soil surface.
SCENTING AND MATING:
Catocala blandula females emit an airbourne pheromone and males use their antennae to track the scent plume.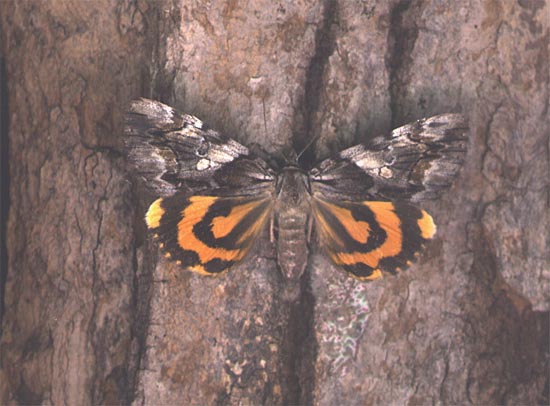 Catocala blandula scan of posed specimen by Bill Oehlke (Montague, P.E.I., Aug. 10, 2002).
EGGS, CATERPILLARS, COCOONS AND PUPAE:
Eggs are deposited on tree bark in the fall and hatch the following spring.

The larva is light grey-brown with orange tubercles on the fifth abdominal segment followed by an orangey-brown saddle.

The ventral fringe is dense, long and lighter than body color.

Catocala blandula final instar courtesy of James K. Adams.
Larval Food Plants
Listed below are primary food plant(s) and alternate food plants. It is hoped that this alphabetical listing followed by the common name of the foodplant will prove useful. The list is not exhaustive, although some species seem very host specific. Experimenting with closely related foodplants is worthwhile.
Amelanchier......
Crataegus
Malus pumila


Serviceberry
Hawthorn
Common apple

Return to Main Index
This page is brought to you by Bill Oehlke and the WLSS. Pages are on space rented from Bizland. If you would like to become a "Patron of the Sphingidae/Catocala Sites", contact Bill.
Please send sightings/images to Bill. I will do my best to respond to requests for identification help.