We are now sold out of cocoons until late summer and fall of 2018. Egg sales will begin in late March of 2018.

Visit Egg and Sleeve Prices, Spring and Summer 2018; updated/posted, March 2, 2018
Visit Cocoons and Pupae Prices, Fall and Winter 2017-Winter-Spring 2018; posted October 18, 2017; will be updated monthly. As of January, 2018, we are currently sold out of cocoons and pupae, but I hope to have the 2018 pricelist updated by mid march, 2018
GIANT MOTHS (SATURNIIDAE) OF
PRINCE EDWARD ISLAND, CANADA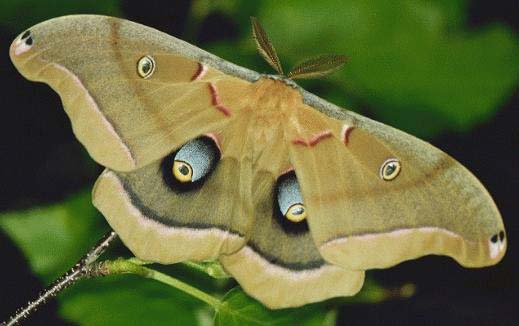 Antheraea polyphemus moth.
Photo by Dan MacKinnon for Bill Oehlke
This website is designed and maintained by Bill Oehlke. Comments and suggestions can be sent to Bill via the contact information and email links on the following page: Bill Oehlke Contact Information.
Become a member of THE WORLD's LARGEST SATURNIIDAE SITE:
Pictures, information, special member only privileges, approximately 10 % discount on most livestock and supplies, advance notification of special items are available to members. Over 1550 different worldwide species are currently depicted on the WLSS. Anyone who is serious about a study of these insects or who wants to try rearing them for fun and/or profit should take out a membership.
CLICK TO ACCESS
LIVESTOCK FOR SALE: Yes, I sell livestock (eggs and cocoons/pupae) of North American Saturniidae and livestock (pupae) of North American Sphingidae
OUTDOOR REARING TECHNIQUES
COCOON/PUPA CARE: How to successfully keep your cocoons alive and healthy through the diapuase (dormant period) of the winter months.
Actias luna rearing techniques.
Bill Oehlke rears the moths, indigenous to P.E.I., Canada, pictured below. Click on any of the smaller images to see a larger image of the adult, an image of a fifth instar caterpillar, and to read about distribution, flight times, broods, scenting, mating, caterpillar food plants, etc. He sells livestock of those species in Canada.
Bill also works with a number of experienced breeders in the United States who provide livestock for distribution with in the United States. Visit the Livestock page to see prices and lists of what is available.
Livestock

is available to zoos, museums, research centers, hobbyists, etc..
HYALOPHORA CECROPIA: INDOOR REARING DISPLAYS AND GENERAL NOTES.

Click image
to access
article

---
Moth Poem
---
Would you like help with caterpillar identification?
If so, click on Caterpillar Identification Guide
---


Visit other websites maintained by Bill by clicking on the BLUE TEXT: Caterpillars Too!: a membership site featuring images of North American butterfly caterpillars and adult butterflies, too, to help with identification.
Catocala of North America. created September 2002
SPHINGIDAE OF PRINCE EDWARD ISLAND
THE WORLD's LARGEST SATURNIIDAE SITE
CLICK ON: ***LIVESTOCK AND SUPPLIES FOR SALE***
I welcome comments and questions.
Website designed and maintained by Bill Oehlke


Show appreciation for this site by clicking on flashing butterfly to the left.
The link will take you to a page with links to many insect sites.