PAPILIO TROILUS:
THE SPICEBUSH SWALLOWTAIL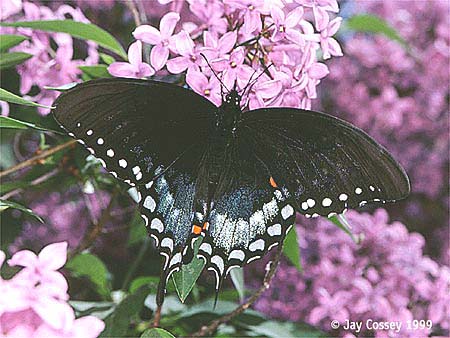 Papilio troilus, the Spicebush Swallowtail, ranges throughout the eastern half of the United States from southern Maine to Florida. In Canada there are populations in southern Quebec, Ontario, and Manitoba.

The specimen above is a male as identified by pale green hind wing scales. Females have a similar pattern, but colouration is a pale blue.

MIDI MUSIC

"Wonderful.World"

copyright C. Odenkirk
MIDI CITY


ON.OFF

During my preteen years (1950's) in Roselle, New Jersey, this species was very abundant, and larvae were frequently found in leaf-fold enclosures on Sassafras albidum.

In open fields adjacent train tracks, thirty to forty larvae could easily be found in an hour or so on low regrowth from cut trees.


Sassafras albidum: Photo courtesy Ken Stein
Photo courtesy of Candy Feller

These interesting larvae with their striking false eyespots were taken home in their leaf furls and reared to pupal stage in glass, gallon pickle jars.
Fresh leaves,three or four to a twig, were suplied every few days, and frass and condensation were removed regularly.
When larvae were ready to form chrysalids, they would turn a brilliant yellow and "clear their guts" with a loose, runny stool.

Sometimes the prepupal larvae would "hang" themselves attached to an upright sassafras twig; at other times they would "hang" in typical swallowtail fashion from the cardboard on the bottom side of the jar lid.

Photo courtesy of Ken Stein
Photos courtesy of Candy Fuller.
Swallowtail larvae typically fasten their claspers to a well constructed silk pad and swing a loop of silk over their upper bodies to "hammock" themselves upright on a vertical surface or horizontally on an outward growing branch.
First brood stock would only spend 9-12 days in the pupa (chrysalis) stage, while the fall generation would overwinter in pupal form.
L. benzoin. Photo courtesy of Ken Stein

Although named "The Spicebush Swallowtail", it has been my experience that the species prefers Sassafras. I have found larvae on both plants, but always more abundantly on S. albidum even when L. benzoin was in close proximity.

In either case, the characteristic leaf furl was always evident. Early instar larvae would fasten silk to either side of a small cut line near leaf edge, and the drying silk would draw the edge into a protective flap. As larvae progressed, new homes were fashioned. A small leaf was often completely folded to house a fifth instar larva.
The larvae seem to have four main defenses:

1. Throughout their lives they spend most of the day hidden in their leaf furls (early instar fold to the right) feeding almost exclusively at night.
2. The false eyespots might scare some predators as might the enlarged cobra- like anterior.
3. Disturbed larvae frequently extend bright orange osmetrium which give off an unpleasant odor.
4. Late instar larvae are a bright camouflage-green.


Photo courtesy of Candy Feller
Adult males can easily be distinguished from females by the green wing scales found on the lower wings in males. Females have blue wing scales. Both sexes frequent a variety of flowers and seem to prefer........During their feeding forays, females will frequently take time to visit foodplants where they lay single eggs on the undersides of leaves. The females alight, curl their abdomens under the leaves, and quickly affix an egg in a process lasting only two to three seconds. Incubation takes only a few days and larvae progress rapidly to pupation in three to four weeks. Spring/summer livestock emerges from chrysalids in nine to twelve days while larvae developing in late summer go through a winter diapause in the pupal stage.
Louise Dawson surprised me with this image of a two day old larva. I had always assumed they were smooth-skinned even in the first instar.

Second instar larvae are considerably darker with a light, cream-coloured saddle and a white behind.
GO TO:
Monarch
Viceroy
White admiral
Mourning cloak
Milbert's tortoise shell
Black swallowtail
Canadian Tiger swallowtail
Cabbage white
Question mark
Satyr comma
Red admiral
Painted lady
American painted lady

| | |
| --- | --- |
| | Google is one of my favourite Search Engines and seems to offer the most extensive listing of butterfly sites. Use your back arrow to return to this site after using the Google search box to the left. |
To use Google most effectively, type in either the complete Latin name for the butterfly or the complete common name followed by the word butterfly. If I wanted additional information about the red admiral, I would type in "Vanessa atalanta" or "red admiral butterfly" and then click on the Google Go button to the left.
Here are some additonal northeastern North American butterflies of interest. To my knowledge, these species do not fly on Prince Edward Island, but I have reared most of them as a boy growing up in rural New Jersey.


Pipevine swallowtail
Buckeye
Red-spotted purple
Giant swallowtail
Eastern Tiger swallowtail
Spicebush swallowtail

Visit other websites maintained by Bill Oehlke:

+++LIVESTOCK AND SUPPLIES FOR SALE***


This site is designed and maintained by Bill Oehlke. You can reach Bill for questions by clicking on his name (email) or by phone 902-838-3455, or at Bill Oehlke, Box 476, Montague, P.E.I., Canada C0A 1R0.

I offer two membership sites that far exceed the coverage offered on the sites listed above: