Moth Earrings
Enjoy and display some of nature's beauty.
Lindsay Oehlke of Charlottetown, Prince Edward Island, in eastern Canada, has begun marketing earrings featuring real, laminated moth wings, mostly of male silkmoths or sphinx moths hatched from the breeding stock of her father, Bill Oehlke, who raises moths as a hobby and small business.
Some of the wings available are from wild males that have flown to Bill's caged female Saturniidae or Sphingidae.
Lindsay is pictured below wearing Hyalophora columbia and Actia luna.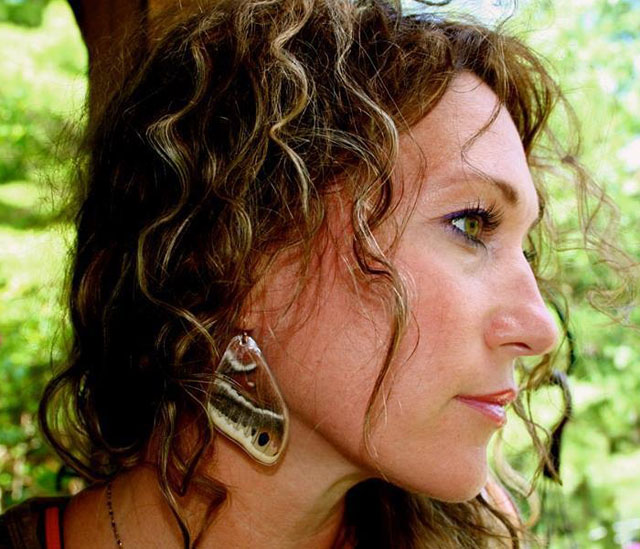 Lindsay Oehlke wearing Hyalophora columbia.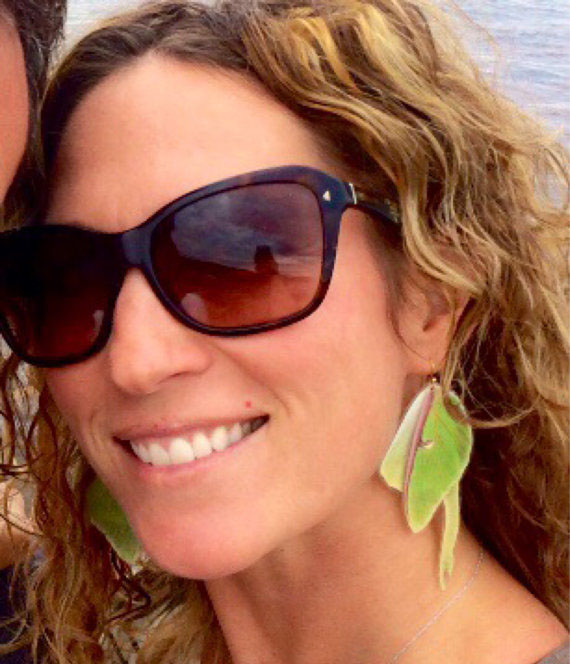 Lindsay Oehlke wearing Actias luna.

Lindsay has a website with prices and a much more complete display at https://www.etsy.com/shop/MORPHpei

Wings are carefully separated from deceased specimens, laminated, and cut from the laminating film. Holes are punched in appropriate places in the protective covering so the wings are free swinging from their hooks/posts. Single or double wings can be purchased for each ear in a set.

The earring posts are gold-plated over a copper base. Lindsay has platinum, yellow and rose gold and she is also starting to consider that her best option is likely surgical steel.

The jewellry is durable, quite eye-catching and has proven very popular at a recent showing in Charlottetown, PEI, Canada. Contact Lindsay directly via Lindsay Oehlke.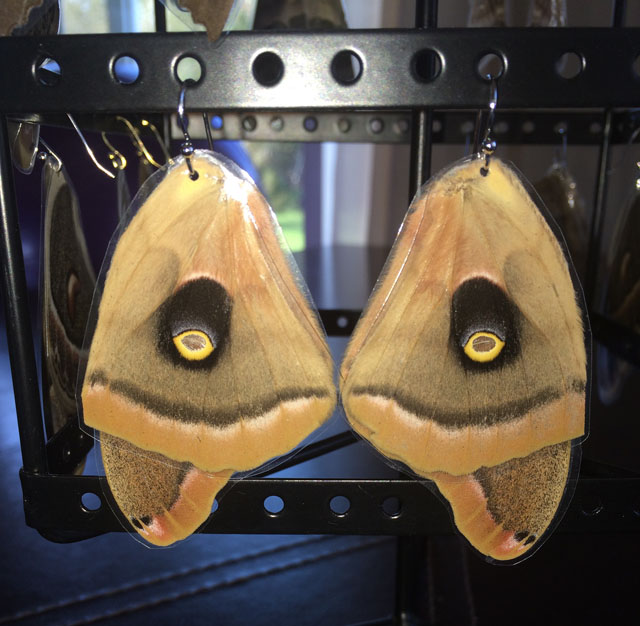 Antheraea polyphemus earrings on display.

All of the native PEI Saturniidae are or will be available as well as males from most of the non-feeding adult Sphingidae native to Prince Edward Island. These moths are relatively common and none are endangered species. In their normal environment most of these moths live very short adult lives of usually about a week, just long enough to find a mate so that reproduction can occur. Remarkably they have no mouth parts or feeding tubes. They live out their short adult lives getting energy from fats stored during their caterpillar days.

Under natural conditions most of the offspring fall prey to birds, reptiles, small rodents, bats, predatory or parasitoid insects. In their protected environment at Bill Oehlke' rearing sites, much larger numbers are able to complete their full life cycle, from egg to adult, and their beauty is now available for display, dangling from your ears.

After the males have done their duty, they are painlessly euthanized in the freezer.

The six Saturniidae species available from PEI include Actias luna, Anisota virginiensis, Antheraea polyphemus, Dryocampa rubicunda, Hyalophora cecropia and Hyalophora columbia.

For those who might want a smaller display, some of the Sphingidae or Dryocampa rubicunda might be appropriate.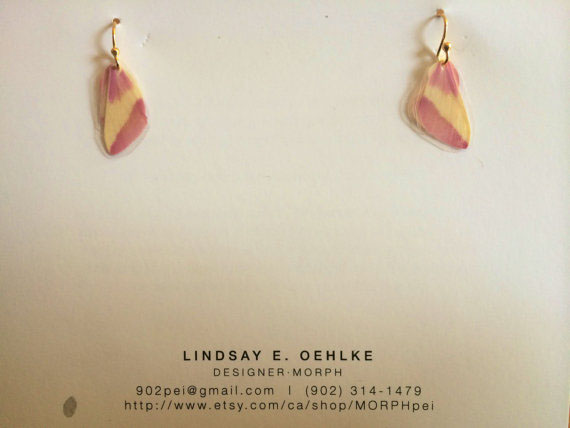 Dryocampa rubicunda earrings on display.

Sphingidae wings that are available usually include those of Pachysphinx modesta, Smerinthus cerisyi, Smerinthus jamaicensis, Paonias excaecata and Paonias myops. All are from the Smerinthini tribe whose adult moths do not feed, having very short adult lifespans.
Smerinthus jamaicensis (Sphingidae) earrings

If you have your own specimens that you would like laminated, punched and posted, contact Lindsay for details. She will also do your butterflies.

Use your browser "Back" button to return to the previous page.