Updated as per

http://www.pybio.org/SPHINGINAE.htm (Paraguay)

, November 2007

Updated as per

CATE

(Guyana: Bartica; Brazil: Para); February 12, 2011

Updated as per

Heteroceres de Guyane Francaise

(Kaw, February); February, 2011

Updated as per

Bold Systems

(French Guiana, Suriname, Ecuador, Peru, Bolivia); February 2011

Updated as per personal communication by Andres Urbas (Camp Caiman near Kaw, French Guiana, April 29, 2011); May 6, 2011
Manduca lucetius lucetius
man-DOO-kuhmmloo-SEE-tee-uhs
(Cramer, 1780) Sphinx
Manduca lucetius lucetius Paraguay, PYBIO.
This site has been created by Bill Oehlke at oehlkew@islandtelecom.com
Comments, suggestions and/or additional information are welcomed by Bill.
TAXONOMY:



Family: Sphingidae, Latreille, 1802
Subfamily: Sphinginae, Latreille, [1802]
Tribe: Sphingini, Latreille, 1802
Genus: Manduca Hubner, [1807] ...........
Species: lucetius lucetius (Cramer, 1780)


MIDI MUSIC
.....It's a Wonderful World.....
copyright C. Odenkirk


ON.OFF

DISTRIBUTION:
Manduca lucetius lucetius flies in
Surinam (specimen type locality);
Guyana: Bartica;
French Guiana: Kaw;
Brazil: Para;
Ecuador:
Peru;
Bolivia: Beni: Yacuma; and
Paraguay: Boqueron, Presidente Hayes, Concepcion, San Pedro, Canindeyu, Alto Parana Caaguazu, Cordillera, Paraguari, Guaira, Caazapa, and probably Amambay, Central and Itapua; and possibly
Uruguay as evidenced in the postage stamp below.
Gabriela Bentancur indicates a misidentification resulted in name lucetius on postage stamp. She indicates this species does not fly in Uruguay.
Manduca lucetius, Camp Caiman, near Kaw, French Guiana,
April 29, 2011, courtesy of Andres Urbas.
The forewing is somewhat variable in shape. In some specimens it is more elongate than in others. The slaty greyish-black downy patches in the forewing median area are very pronounced, and form, together with a patch in the discal cell, a large semicircle filled with dark grey to black scaling. The basal area, lower third of the median area and the postmedian areas are largely either russet or a much lighter grey. The white dots of the fringe sometimes encroach on the wing, being slightly enlarged toward the body, though they may be very small or absent.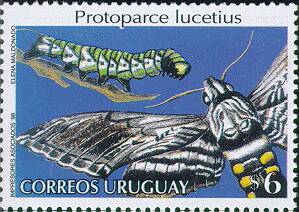 In Bolivia there is a record from Yocumo [Yacuma] (350-850m).
FLIGHT TIMES:
Manduca lucetius lucetius adults fly in February in French Guiana, and probably in other months.
ECLOSION:
Pupae probably wiggle to surface from subterranean chambers just prior to eclosion.
Manduca lucetius lucetius French Guiana, courtesy of Stephane Vassel,
id by Jean-Marie Cadiou.
SCENTING AND MATING:
Females call in the males with a pheromone released from a gland at the tip of the abdomen.
Manduca lucetius lucetius resting, Paraguay, PYBIO.
EGGS, LARVAE, PUPAE:
Larvae feed on Lycopersicon, Brugmansia arborea, Brunfelsia uniflora, Capsicum annuum, Lycopersicon esculentum and Solanum sisymbriifolium.
In Uruguay the following hosts are given: grapevine (parra); Pope, tobacco, tomato, etc.
Manduca lucetius lucetius by John Vriesi.
Use your browser "Back" button to return to the previous page.
Return to Sphingidae Index
Return to Sphingini Tribe

This page is brought to you by Bill Oehlke and the WLSS. Pages are on space rented from Bizland. If you would like to become a "Patron of the Sphingidae Site", contact Bill.
Please send sightings/images to Bill. I will do my best to respond to requests for identification help.
Enjoy one of nature's wonderments: Live Saturniidae (Giant Silkmoth) cocoons.

Show appreciation for this site by clicking on flashing butterfly to the left.
The link will take you to a page with links to many insect sites.