Mike Van Buskirk
Mike Van Buskirk has sent me many spectacular images of Sphingidae larvae and adults from the southwestern states. Michael has also sent some Saturniidae sightings.
Sphinx libocedrus courtesy of Michael Van Buskirk.

There is some question as to whether the above larva is Sphinx libocedrus or Sphinx chisoya. There is even a question as to whether or not these insects are actually the same species.

Mike was successful in getting the larva to pupate. Hopefully next summer, we will have a live moth to display.
Sphinx libocedrus pupa, courtesy of Mike van Buskirk.
Sphinx dollii fifth instar, courtesy of Mike van Buskirk.
Mike van Buskirk writes, "I found several Hyalophora cecropia cocoons locally over the past winter in the Helotes area (Bexar County), and kept two, one which seemed to be a male, and a larger one I hoped might be a female.
"The male emerged on March 27th, but the other held over until Sunday April 13th. It was a female, and I put her out for a mate on the oak outside my front porch. No males from April 13-15th, and I was sure she would simply start laying infertile ova, but she continued to hold on to the oak trunk, so I left her alone.
"The nights on April 13-15 were cool-cold, clear, and with waxing moon--very few moths flying. Last evening April 16th was slightly warmer, overcast, and she had no mate when I left for work at 5:30am this morning (April 17th). However, when I returned from work at 5:30pm this afternoon, she indeed had a mate, a very fresh male! In my experience, the males fly to the females at the cusp of dawn, which would have been more towards 6:00am.
"The female has been sequestered for ova, and the male retained as a local voucher. It is the first H. cecropia I have seen in the vicinity of my home since moving to Grey Forest (near Helotes) in August 2005."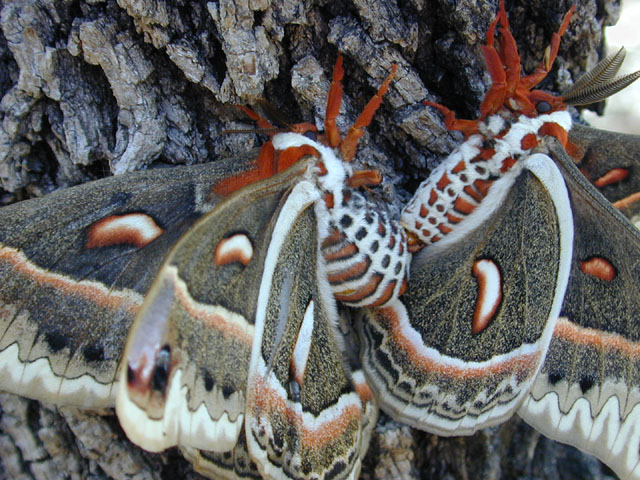 Hyalophora cecropia pair, Bexar County, Texas, April 17, 2008, courtesy of Mike van Buskirk.
Use your browser "Back" button to return to the previous page.