Nymphalis antiopa
nim-FAGHHL-ismm an-tee-OH-puh
(Linnaeus, 1758) Papilio antiopa

Nymphalis antiopa , courtesy of Leroy Simon.
Superfamily: Papilionoidea Latreille, [1802]
Family: Nymphalidae, Rafinesque, 1815
Subfamily: Nymphalinae, Rafinesque, 1815
Tribe: Nymphalini Rafinesque, 1815
Genus: Nymphalis Kluk, 1780

Website designed and maintained
by Bill Oehlke
Box 476, Montague
Prince Edward Island, Canada C0A 1R0
oehlkew@islandtelecom.com

Distribution:
The Mourning Cloak, Nymphalis antiopa (wingspan: 2 1/4 - 4 inches (5.7 - 10.1 cm)), is found almost anywhere that host plants occur including woods, openings, parks and suburbs, especially in riparian areas, across all of North America south of the tundra to central Mexico. It is seen rarely in the Gulf States and peninsular Florida. It is also native to temperate Eurasia. Description:The butterfly is unmistakable. There are short projections on both wings. The borders are irregular. The upperside is purple-black with a wide, bright yellow border on the outer margins, and there is a row of iridescent blue spots at the inner edge of the border.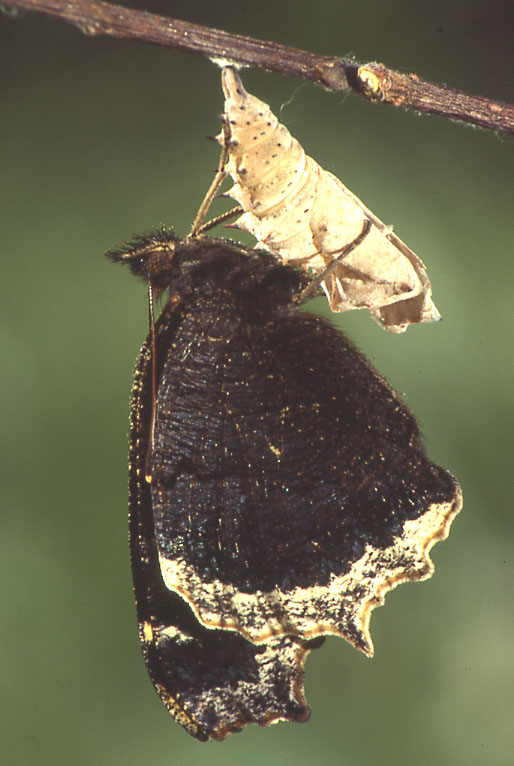 Nymphalis antiopa , courtesy of Leroy Simon.
Flight time(s) and Adult Food Sources:
There is usually one flight from June-July, but this butterfly survives in its adult form for up to eleven months.
Mourning Cloaks prefer tree sap, especially that of oaks. They walk down the trunk to the sap and feed head downward. They will also feed on rotting fruit, and only occasionally on flower nectar.
I could find them quite often in woods, feeding on fermenting oak sap along with other anglewings in Pottersville, New Jersey.
Only occasionally do I see them in Montague, Prince Edward Island, eastern Canada.
Eggs, Larvae, Pupae:
Nymphalis antiopa eggs, which are pale yellow at time of depostion, turn red and then black just prior to emergence.

They are laid in large clusters in June-July, and young and advanced caterpillars feed in groups.

Copyright: Peter J. Bryant.
The spiny, dark mourning cloak caterpillars feed in large numbers, having emerged from egg masses deposited on host plant twigs or leaves. Because of their concentrations, the larvae are regarded as pests, frequently stripping small, young growths. I have seen as many as forty clearly visible larvae on a small clump of willow. Their spiny appearance offers protection from predation.

Photo courtesy of K. J. Stein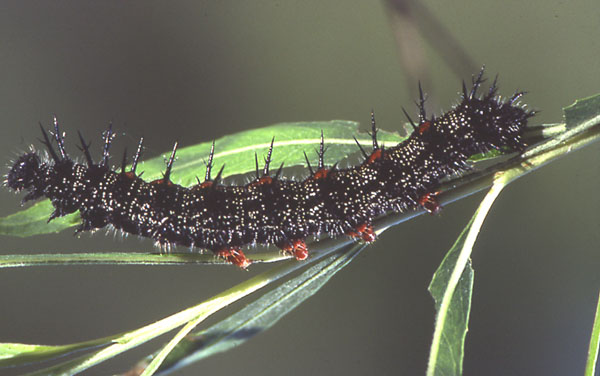 Nymphalis antiopa , courtesy of Leroy Simon.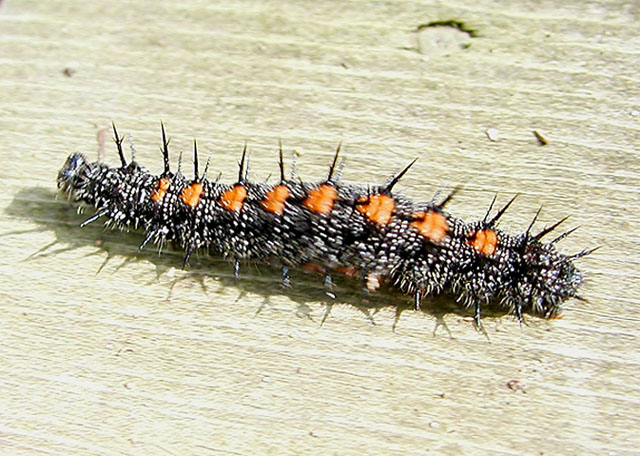 Nymphalis antiopa , Michigan, courtesy of Cindy Mead.

It is very easy to establish willow from stem cuttings, and propagation can be done any time of the year for those who wish to establish food plants for this species. Just go and cut some 18 inch long stem tips, strip the leaves from the bottom 8-9 inches, and place the stems in a jar of water. Placed in a sunny location, the stems will develop roots in 7-10 days. A few days later, when roots are an inch or so long, the stems can be moved to wet potting soil or a soilless mix. I use old waxed cardboard milk containers to hold the soil and transplants. Keep the soil very moist as willows love water. In two weeks, if the weather is warm enough, transplant to a permanent location, preferably with full sun and lots of moisture.
In Europe this species is known as the Camberwell Beauty. Although common in North America, the species is rare overseas and much sought after. Here a pupa with discarded skin still attached awaits a late summer emergence.

Copyright: Peter J. Bryant.

A pupae can be removed from its mooring by gently scraping the silk pad away from the twig or other pupation surface.

Eclosions generally occur within 9-14 days after pupation, depending upon temperature.
This species huibernates as an adult butterfly. Natural winter hibernation quarters in wood piles, under tree bark, under shingles, etc., can be matched artificially by drilling 2" diameter holes half way through 2"x4" lumber.

Screening, stapled over refrigerator chilled butterflies placed in the excavations, will allow for air circulation.

The lumber can be stored outdoors under two feet of leaves once the temperature has dropped.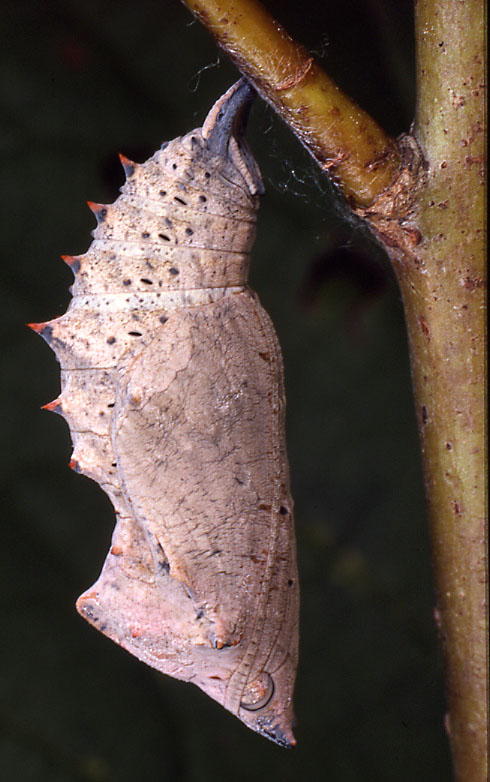 Nymphalis antiopa , courtesy of Leroy Simon.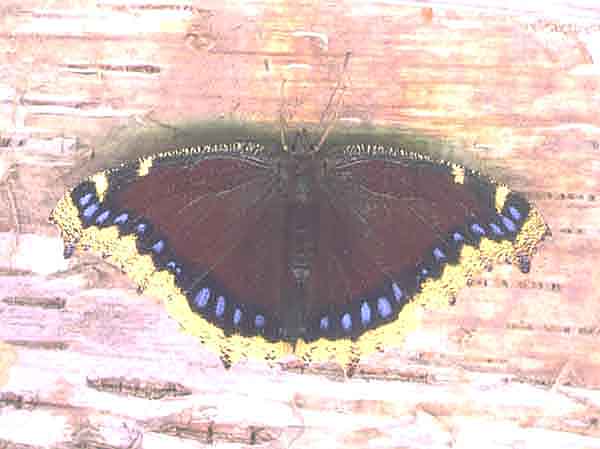 Nymphalis antiopa butterfly scan by Bill Oehlke.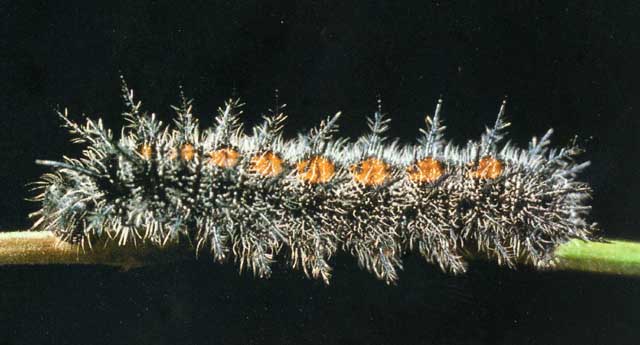 Nymphalis antiopa, courtesy of Jeffrey C. Miller,
Forest Health Technology Enterprise Team.

Use your browser "back" button to return to previous page.

Visit other websites maintained by Bill Oehlke:

+++LIVESTOCK AND SUPPLIES FOR SALE***


This site is designed and maintained by Bill Oehlke. You can reach Bill for questions by clicking on his name (email) or by phone 902-838-3455, or at Bill Oehlke, Box 476, Montague, P.E.I., Canada C0A 1R0.

I offer two membership sites that far exceed the coverage offered on the sites listed above:

THE WORLD'S LARGEST SATURNIIDAE SITE and
CATERPILLARS TOO! North American (Canada/US) Butterfly website


Please click on the flashing butterfly icon to the right to show
appreciation for this site and to visit other insect sites. Thankyou!