Limenitis arthemis arthemis:
THE WHITE ADMIRAL BUTTERFLY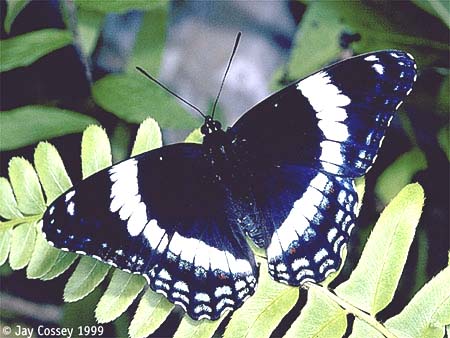 Limenitis arthemis arthemis photo courtesy of Jay Cossey.
This site has been created by Bill Oehlke at oehlkew@islandtelecom.com
Comments, suggestions and/or additional information are welcomed by Bill.
Taxonomy
Family: Nymphalidae
Subfamily: Limenitidinae...............
Genus: Limenitis
Species: arthemis arthemis


MIDI MUSIC
copyright C. Odenkirk
..........."Wonderful.World.mid"............


ON.OFF

The White Admiral, Limenitis arthemis arthemis (wingspan 3.1-3.4"), ranges in southern regions of Eastern Canada southward to just below the southern tip of Lake Michigan.

This butterfly is quite common on Prince Edward Island and I consider it to be P.E.I.'s most beautiful species with adult Limenitis arthemis arthemis on the wing in July and August.

I never saw this species in New Jersey, but Red-spotted Purples were there in abundance.

Limenitis arthemis arthemis caterpillars feed on birch, willow and poplar and overwinter in a cocoon-like hibernaculum. I plan to experiment with this species during the summer of 2000 to see if females will lay large numbers of eggs on sleeved hostplants and to find the best way of overwintering larvae. Any information from experienced breeders would be appreciated.

A female, sleeved on willow, deposited small green, spheroid eggs at leaf tips, one to a leaf, but she was nearly spent and only deposited a few eggs before perishing during August, 1999.
In July of 2001 several females oviposited on sleeved poplar and I have approximately 100 larvae feeding. Larvae hide in hibernaculi when they are not feeding.

Adults frequently visit barnyard puddles and often land in the middle of gravel roads near river bridges. Butterflies will also nectar at flowers and I had one visit my butterfly bush August 20. 1999. Females tend to be larger than males with more blue in the lower wings.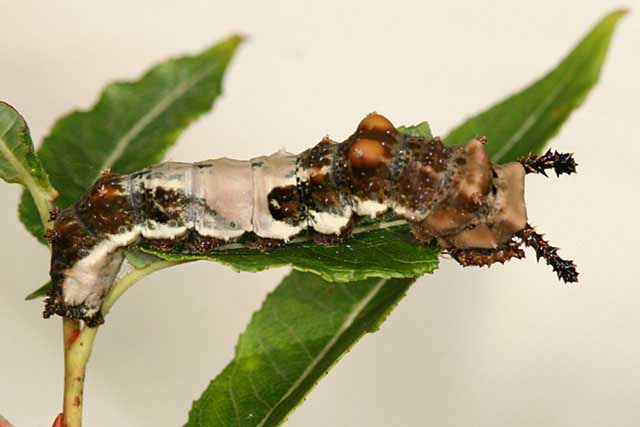 Limenitis arthemis arthemis August 5, 2006, Topsham, Vermont, courtesy/copyright Tom Murray.

Use your browser "Back" button to return to the previous page.

Visit other websites maintained by Bill Oehlke:

+++LIVESTOCK AND SUPPLIES FOR SALE***


This site is designed and maintained by Bill Oehlke. You can reach Bill for questions by clicking on his name (email) or by phone 902-838-3455, or at Bill Oehlke, Box 476, Montague, P.E.I., Canada C0A 1R0.

I offer two membership sites that far exceed the coverage offered on the sites listed above:

THE WORLD'S LARGEST SATURNIIDAE SITE and
CATERPILLARS TOO! North American (Canada/US) Butterfly website


Please click on the flashing butterfly icon to the right to show
appreciation for this site and to visit other insect sites. Thankyou!