Papilio polyxenes asterius
pa-PIL-ee-ohmm paul-ICKS-en-eesmm as-TEAR-ee-us
Stoll 1782

Papilio polyxenes asterius, male, courtesy of Leroy Simon.
Superfamily: Papilionoidea Latreille, 1802
Family: Papilionidae, Latreille, 1802
Subfamily: Papilioninae Latreille, 1802
Tribe: Papilionini Latreille, 1802
Genus: Papilio Linnaeus, 1758

Website designed and maintained
by Bill Oehlke
Box 476, Montague
Prince Edward Island, Canada C0A 1R0
oehlkew@islandtelecom.com

Distribution:
The Black Swallowtail (wingspan: 3 1/4 - 4 1/4 inches (8 - 11 cm)) flies in open fields, gardens, marshes, deserts, and along roadsides throughout most of the eastern United States and Canada westward to southern Saskatchewan, Colorado and southeastern California and southward to northern South America.
The subspecies coloro flies in the desert of the Southwest.
Description:
The dorsal wing surfaces are predominantly black. Along the inner edge of the hindwing is a black spot centered in a larger orange-yellow spot. The males have a wider yellow band near the center of the forewings; the female has a narrower row of yellow spots and an iridescent blue band on the hindwing.
In the Southwest, yellow forms predominate in the subspecies Papilio polyxenes coloro.
On the ventral surfaces, the yellow markings are replaced with deep orange replicas.
Papilio polyxenes asterius, courtesy of Leroy Simon.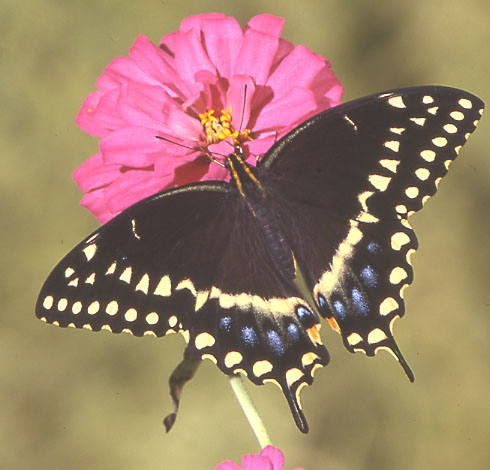 Papilio polyxenes asterius, female, courtesy of Leroy Simon.
Flight time(s) and Adult Food Sources:
In Canada and cooler portions of its range, there are two to three flights from April-October. In warmer regions this butterfly broods continuously as conditions permit.
Butterflies feed on nectar from many flowers including red clover, milkweed, and thistles. I often saw the females ovipositing on Queen Anne's Lace and then nectaring on flowers of the same plant.
Eggs, Larvae, Pupae:
The larval hosts of dill (Anethum graveolens), fennel (Foeniculum vulgare), parsley (Petroselinum sp.), celery (Apium sp.), carrot (Daucus sp.), Rue, (Ruta graveolens), Queen Anne's Lace (Daucus carota), Prairie-parsley (Polytaenia nuttallii) and other members of the family Apiaceae result in frequent adult visitations to the homeowner's garden.

Female butterflies can be observed alighting on soft foliage and gently curving their abdomens to affix yellow eggs, one per stop, to the undersides of foliage.

In some areas plants in the citrus family (Rutaceae) are preferred.

Black Swallowtail egg on Flat-leaf Parsley, courtesy of Dale Clark, Texas.
I am frequently asked to identify larvae of this commonly encountered "garden" species.

The young larvae are dark brown with a white saddle and frequently go unnoticed, resting on a mid leaf vein. They do not even vaguely resemble the form they will take in approximately two weeks.
There are several colour and pattern changes as the larvae moult (shed their skins, making way for new growth), passing through five instars.

People most often notice the larvae when the caterpillars are almost mature (below) (approx. 1.5 inches) and have eaten several carrot stems or dill leaves.

Mature larvae are much different from the third instar forms to the right.
Papilio polyxenes asterius, larva, courtesy of Leroy Simon.

Typical of the Papilionidae, mature larvae fashion a sling like support of silk to hold them secure during the pupa stage. Pupae are anchored with a silk pad near the anus and hang either in a vertical (head up) or horizontal position.

Pupae are usually green with a yellow dorsal cast if they are going to produce butterflies in two weeks. In the overwintering stage, the pupae are frequently beige-brown, offering better camouflage against dead, dried weeds. This is not a hard and fast rule, but a general indicator of dormancy.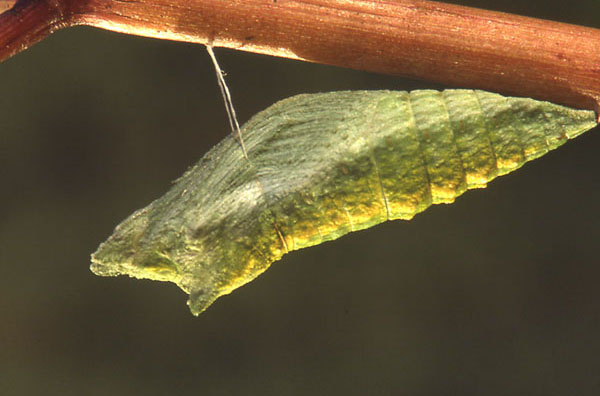 Papilio polyxenes asterius, pupa, courtesy of Leroy Simon.

Larvae are subject to attack from parasitic wasps. For those who want to watch the complete metamorphosis of this butterfly, the best way to do so is to observe a female butterfly as she oviposits. Locate a couple of eggs and bring them into the house, still affixed to foliage, but first give them a couple of days to incubate and develop outside. The couple of days outside is to let the eggs harden and to avoid cut foliage drying out or decomposing before the larvae emerge. The eggs and larvae can be reared indoors in a glass jar (quart or liter size is a good minimum) or plastic tub.

Keep the lid on tight and DON'T MAKE ANY AIRHOLES in the lid. The caterpillar will have ample oxygen in the jar or tub. Airholes would allow the foliage to dry out very quickly, robbing the caterpillar of much needed moisture.

The rearing container should be cleaned at least every second day and fresh food should be inserted regularly to replace that which has lost some moisture.

Mature larvae clear their guts with a lose, runny stool just prior to pupation.

Commercial breeders usually rear larvae on live, growing food under protective coverings, sleeves, tents or cages.

The newly formed pupa or chryslid is very soft and should not be handled. It will harden after a couple of days and can then be moved to an emergence cage, any sort of enclosure with a vetical surface (cloth, screen, paper towel, brown paper), that will allow the emerged butterfly to climb, hang and inflate its wings.

Summer, non-diapausing pupae, usually emerge within fourteen days of pupation.

Livestock of this beautiful species is usually available from Bill Oehlke at oehlkew@islandtelecom.com in the fall as overwintering pupae.

Use your browser "Back" button to return to previous page.

Visit other websites maintained by Bill Oehlke:

+++LIVESTOCK AND SUPPLIES FOR SALE***


This site is designed and maintained by Bill Oehlke. You can reach Bill for questions by clicking on his name (email) or by phone 902-838-3455, or at Bill Oehlke, Box 476, Montague, P.E.I., Canada C0A 1R0.

I offer two membership sites that far exceed the coverage offered on the sites listed above: