LIMENITIS ARTHEMIS ASTYANAX:
THE RED-SPOTTED PURPLE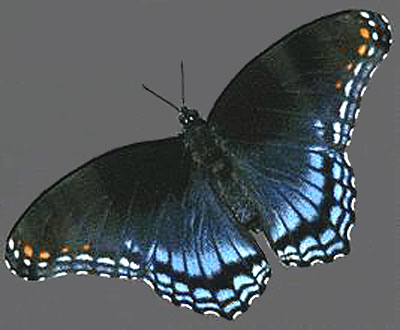 Photo courtesy of THE BUTTERFLY ZONE





The Red-spotted purple (3.1-3.4") ranges from southern Canada throughout the eastern two-thirds of the United States down into Mexico. It is absent west of the Rockies.


Although I have never seen an adult of this species on Prince Edward Island, they are quite common in New Jersey. I don't remember seeing purples nectaring at flowers, but the adults frequently visit mud puddles.


Photo courtesy of Mark Lasko.

Larvae emerge from tiny eggs laid singly on foodplants (wild cherry), and adults fly in mid summer.
It is interesting to me, primarily a moth breeder, that these tiny larvae overwinter in a cocoon like hibernaculum which usually remains affixed to the tree all winter.

Photo courtesy of Mark Lasko.
| | |
| --- | --- |
| | With their white abdominal saddles, green or brown larvae mimic bird droppings in later instars. In southern portions of their range there are three generations while in more northern latitudes there are two generations/year. Chrysalids are attached to branches and hang vertically, anterior side down. Besides cherry, larvae also feed on elms, oaks, poplars, and willows. |
Photos courtesy of John H. Campbell.


GO TO:
Monarch
Viceroy
White admiral
Mourning cloak
Milbert's tortoise shell
Black swallowtail
Canadian Tiger swallowtail
Cabbage white
Question mark
Satyr comma
Red admiral
Painted lady
American painted lady

| | |
| --- | --- |
| | Google is one of my favourite Search Engines and seems to offer the most extensive listing of butterfly sites. Use your back arrow to return to this site after using the Google search box to the left. |
To use Google most effectively, type in either the complete Latin name for the butterfly or the complete common name followed by the word butterfly. If I wanted additional information about the red admiral, I would type in "Vanessa atalanta" or "red admiral butterfly" and then click on the Google Go button to the left.
Here are some additonal northeastern North American butterflies of interest. To my knowledge, these species do not fly on Prince Edward Island, but I have reared most of them as a boy growing up in rural New Jersey.


Pipevine swallowtail
Buckeye
Red-spotted purple
Giant swallowtail
Eastern Tiger swallowtail
Spicebush swallowtail

Visit other websites maintained by Bill Oehlke:

+++LIVESTOCK AND SUPPLIES FOR SALE***


This site is designed and maintained by Bill Oehlke. You can reach Bill for questions by clicking on his name (email) or by phone 902-838-3455, or at Bill Oehlke, Box 476, Montague, P.E.I., Canada C0A 1R0.

I offer two membership sites that far exceed the coverage offered on the sites listed above: