PAPILIO GLAUCUS:
THE EASTERN TIGER SWALLOWTAIL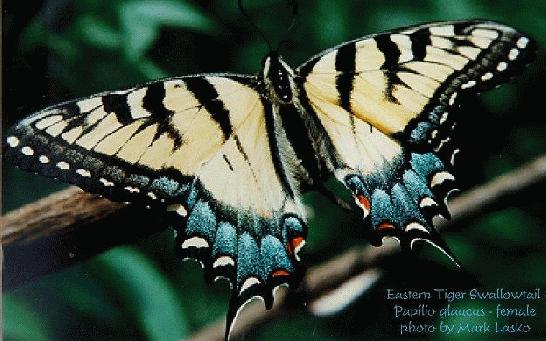 Photo courtesy of Mark Lasko.

This extremely colourful female has an excess of irridescent blue scales. Males have no or very few blue scales in the lower wings.


The Tiger Swallowtail, with a wingspan sometimes approaching six inches, ranges throughout most of the eastern half of the United States, but it is absent in Maine, where it is replaced by the smaller Papilio canadensis.

For a more detailed distribution report visit U.S. DISTRIBUTION MAPS.
Use ALT TAB to return to this site.
This species is triple-brooded in the South with adults flying from February to November.

In New Jersey it is double-brooded. Adults appear from May until September with a peak emergence in mid July when Joe Pie Weed is in flower. I've often captured these butterflies by hand while they were feeding on thistle or Joe Pie which freqently grows around stream and pond banks.
Photo courtesy of Mark Deering

Butterflies frequently gather to drink up moisture and nutrients from puddles, especially those mingled with animal excrement or urine.
I've often seen glaucus and troilus sipping at stream side along the Black River in New Jersey.
During a dry spell these butterflies are easily enticed by some sugar/honey/water in a puddle.
Rearing tigers is easy. Females in either the yellow or black form (females only) will lay many small green eggs, usually singly, on either side of host plant leaves.
Use a four foot or six foot long sleeve over the branch of a Tulip tree (Liriodendron tulipifera), an ash (Fraxinus), or chokecherry (Prunus virginiana).
Feeding the females once a day with a 10% sugar/honey/water solution prolongs life and results in more ova.




Photo courtesy of William T. Hark




Photo courtesy of David L. Wagner

The larvae, with their interesting false eyespots which become apparent as larvae move into green third instar, also feed on Magnolia, Sweetbay, Birch, Cottonwood, Mountain ash and Willow.
Larvae like to make a slightly raised silk pad near the center of a leaf. They leave the pad to feed at night and return to rest during the day.
| | |
| --- | --- |
| Chrysalids are hung in typical swallowtail fashion often from the underside of a twig or on a vertical surface. Eclosion from the first brood(s) is usually after 10-14 days. Fall broods overwinter in the chrysalid stage. | |
Photo courtesy of Doug Malone

The male to the left is nectaring on thistle, one of this species' favorite food plants.

Note the absence of blue scales in the hind wings. This sexual dimorphism, i.e., females have blue scales in lower wings, males do not, is typical of asterius, glaucus, and troilus in the North East.
GO TO:
Monarch
Viceroy
White admiral
Mourning cloak
Milbert's tortoise shell
Black swallowtail
Canadian Tiger swallowtail
Cabbage white
Question mark
Satyr comma
Red admiral
Painted lady
American painted lady

| | |
| --- | --- |
| | Google is one of my favourite Search Engines and seems to offer the most extensive listing of butterfly sites. Use your back arrow to return to this site after using the Google search box to the left. |
To use Google most effectively, type in either the complete Latin name for the butterfly or the complete common name followed by the word butterfly. If I wanted additional information about the red admiral, I would type in "Vanessa atalanta" or "red admiral butterfly" and then click on the Google Go button to the left.
Here are some additonal northeastern North American butterflies of interest. To my knowledge, these species do not fly on Prince Edward Island, but I have reared most of them as a boy growing up in rural New Jersey.


Pipevine swallowtail
Buckeye
Red-spotted purple
Giant swallowtail
Eastern Tiger swallowtail
Spicebush swallowtail

Visit other websites maintained by Bill Oehlke:

+++LIVESTOCK AND SUPPLIES FOR SALE***


This site is designed and maintained by Bill Oehlke. You can reach Bill for questions by clicking on his name (email) or by phone 902-838-3455, or at Bill Oehlke, Box 476, Montague, P.E.I., Canada C0A 1R0.

I offer two membership sites that far exceed the coverage offered on the sites listed above: