BATTUS PHILENOR:
THE PIPEVINE SWALLOWTAIL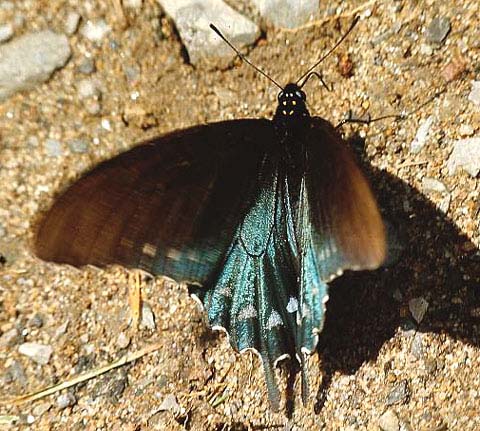 Photo courtesy of John Campbell
The Pipevine swallowtail (3.0-4.5") ranges from southern New England westward to the pacific Coast and southward into Mexico. It is absent in the northwest.

I can still remember a warm sunny day in July in New Jersey when my cousin and I were out bicycling. We spotted a philenor, a real rarity in that part of the country, and had quite a debate about who was going to race home to get a butterfly net and who was going to track the butterfly. My cousin wanted the catch and insisted he'd get the net.

I tracked the butterfly carefully as it was flying slowly in search of Dutchman's pipevine, the larval host plant. A few minutes later I was joined by my cousin in an alley way between two houses. The female philenor had found some Dutchman's pipe growing up a tressle on one wall between the two houses.

I don't remember getting any eggs from the specimen. I think it went into my cousin's collection!



Larval photo courtesy of Mark Deering. Larvae
emerge from orange eggs laid in clusters on
pipevine, snakeroot or ginger.

Butterfly image courtesy of W. T. Hark.
GO TO:
Monarch
Viceroy
White admiral
Mourning cloak
Milbert's tortoise shell
Black swallowtail
Canadian Tiger swallowtail
Cabbage white
Question mark
Satyr comma
Red admiral
Painted lady
American painted lady

| | |
| --- | --- |
| | Google is one of my favourite Search Engines and seems to offer the most extensive listing of butterfly sites. Use your back arrow to return to this site after using the Google search box to the left. |
To use Google most effectively, type in either the complete Latin name for the butterfly or the complete common name followed by the word butterfly. If I wanted additional information about the red admiral, I would type in "Vanessa atalanta" or "red admiral butterfly" and then click on the Google Go button to the left.
Here are some additonal northeastern North American butterflies of interest. To my knowledge, these species do not fly on Prince Edward Island, but I have reared most of them as a boy growing up in rural New Jersey.


Pipevine swallowtail
Buckeye
Red-spotted purple
Giant swallowtail
Eastern Tiger swallowtail
Spicebush swallowtail

Visit other websites maintained by Bill Oehlke:

+++LIVESTOCK AND SUPPLIES FOR SALE***


This site is designed and maintained by Bill Oehlke. You can reach Bill for questions by clicking on his name (email) or by phone 902-838-3455, or at Bill Oehlke, Box 476, Montague, P.E.I., Canada C0A 1R0.

I offer two membership sites that far exceed the coverage offered on the sites listed above: