AUTOMERIS IO MOTH (FABRICIUS, 1775)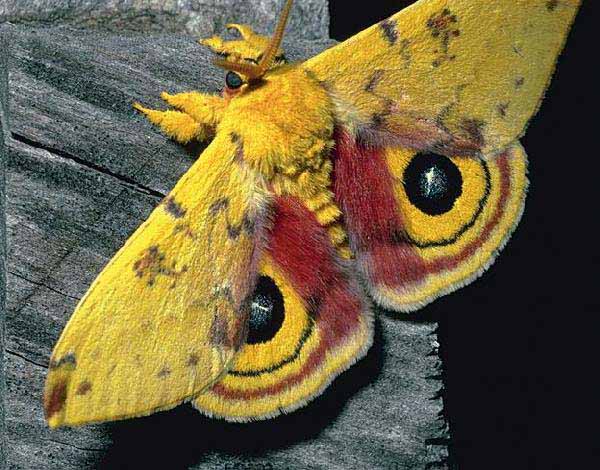 Male io moth courtesy of Paul Duncan.
This site has been created by Bill Oehlke at oehlkew@islandtelecom.com
Comments, suggestions and/or additional information are welcomed by Bill.
Become a member of
THE WORLD's LARGEST SATURNIIDAE SITE
Pictures, information, contests, prizes, data base search engine, free cocoons, special member only privileges
TAXONOMY:




Superfamily: Bombycoidea, Latreille, 1802
Family: Saturniidae, Boisduval, [1837] 1834
Subfamily: Hemileucinae, [1837] 1834
Genus: Automeris, Hubner, 1819


MIDI MUSIC
"Someone to Watch Over Me"
copyright C. Odenkirk
MIDI CITY


ON.OFF

DISTRIBUTON:
In Canada, the Automeris io moth (wingspan 2.5-3.5 inches) is found in the southeast corner of Manitoba and in the southern extremes of Ontario, Quebec, and New Brunswick. In the United States, this moth ranges in and to the east of the following states: North Dakota, South Dakota, Nebraska, Colorado, New Mexico, and Texas. There are populations in the extreme southeast corner of Utah. FLIGHT TIMES AND PREFERRED FOOD PLANTS: In Canada and northern states, Automeris io is univoltine (single brooded). Most single brood adults fly in late May to early July.
From New Jersey westward, this species is sometimes double-brooded depending on springtime weather. Caterpillars are frequently found on various species of cherry. Adults fly in late April to May and then again July and August.
In the Florida Keys and southern Texas there are three to four broods.
Both sexes are attracted to lights and fly when air temperatures exceed 45 F or 7 C, but males appear much more often than females. ECLOSION:
Adult moths emerge from their flimsy, valveless cocoons in late morning or early afternoon and then climb and hang so that furled wings can be inflated with fluid pumped from the body.

Eclosion (escape or emergence from the cocoon) takes only a few minutes and "inflation" takes about twenty minutes.

Females seldom fly until after mating. Males begin flying shortly after dusk.






Photo by Dan MacKinnon for Bill Oehlke
SCENTING AND MATING: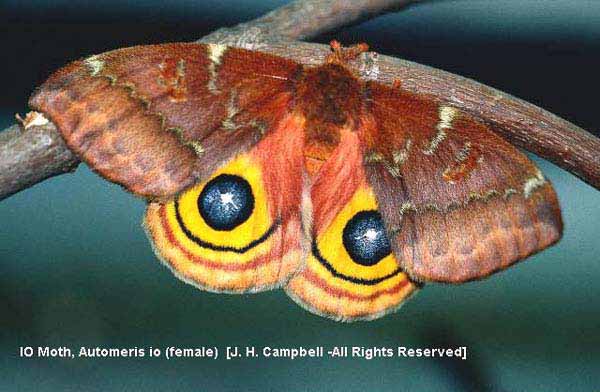 Photo courtesy of John Campbell

Female moths extend a scent gland from the posterior region of the abdomen in an effort to attract males via the wind carried scent (pheromone). Some breeders have indicated that this species is difficult to mate in captivity and have best results by putting the unmated female in a cage or sleeve over the host plant and then introducing a male. Other breeders have indicated the moths mate readily in captivity even in small cages. Females generally do not fly until after mating. OVA, LARVAE, COCOONS, AND PUPAE: Ova are small and white with a large micropyle rosette that turns black as the fertile eggs develop. The eggs are usually laid in clusters of twenty plus and early instar caterpillars are gregarious and travel regularly in single file processions all over the food plant. Emerged larvae usually eat a portion of the egg shell and remain close to the cluster until all eggs have emerged.
The newly emerged larvae are small and a dull orange color and remain that way for first two instars.




Photo courtesy of John H. Campbell.



Some larvae progress very rapidly while others from the same egg batch progress much more slowly. Caterpillars are urticating (have poisonous spines) and remain gregarious (travel and feed in groups) through all instars, making them relatively easy to find in the wild by collectors and predatory wasps. The pain from the venomous spines is quite annoying and sometimes produces a rash on tender skin.
Bright green or yellow colouration of body and spines is taken on during third instar.The cocoon is made from a dark, coarse silk and is a very flimsy affair. The dark brown, almost black pupa can easily be seen through the silk when the cocoon is held up to a light, and female moths and pupae tend to be considerably larger than males.
Most larvae will leave the food plant to spin cocoons amongst litter on the ground. Some caterpillars will use a leaf wrap and the cocoons will fall to the ground with the autumn leaves.
I usually rear ios outdoors in sleeves and then bring mature larvae indoors to finish rearing in large plastic tubs. When I see larvae leaving the foliage to crawl around bottom of container, I gently remove caterpillars to another container filled with several inches of dried leaves. Caterpillars will spin up among leaves for an easy harvest a week or so later.

Larval Food Plants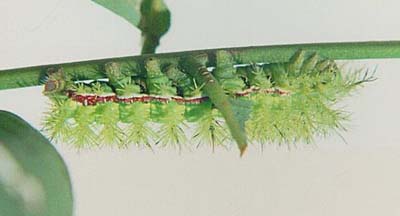 Photo courtesy of Mark Lasko
Listed below are 1) the primary food plant(s) used by myself on Prince Edward Island (listed first), and 2) preferred and alternate food plants listed in Stephen E. Stone's "Foodplants of World Saturniidae". It is hoped that this alphabetical listing followed by the common name of the foodplant will prove useful. The list is not exhaustive. Experimenting with closely related foodplants is worthwhile. Starred items are successfully used by my father, Don Oehlke, in New Jersey.



Prunus pensylvanica
Salix
Abies balsamea
Acer rubrum
Amorpha fruticosa
Baptisia tinctoria
Carpinus caroliniana
Cassia fasciculata
Celtis laevigata
Cercis canadensis
Comptonia peregrina
Cornus florida
Corylus avellana
Fagus
Fraxinus
Gleditsia triacanthos
Gossypium herbaceum
Hibiscus lasiocarpus
Humulus lupulus
Ilex verticillata
Lespedeza
Leucaena pulverulenta
Liquidambar styraciflua .....
Liriodendron tulipifera
Magnolia virginiana
Malus pumila
Malvaviscus arboreus
Melilotus alba
Melilotus officinalis
Mimosa
Myrica pensylvanica
Nephelium lichti
Ostrya virginiana
Platanus occidentalis
Populus balsamifera
Populus deltoides
Populus gileadensis
Populus tremuloides
Prunus cerasus
Prunus domestica
Prunus serotina
Prunus virginiana
Pyrus communis
Pyrus malus
Quercus palustris
Rhizophera mangle
Rhododendron
Ribes sativum
Robinia pseudoacacia
Rosa
Rubus allegheniensis
Rubus canadensis
Salix interior
Sassafras albidum
Serenoa repens
Spiraea
Symphoricarpos albus
Tilia
Trifolium repens
Viburnum dentatum
Wisteria frutescens
Wisteria sinensis
Zea mays

Pin cherry
Willow
Balsam fir
Red maple
Bastard indigo
Wild indigo
American hornbeam
Cassia fasciculata
Texas sugarberry
Redbud
Sweet fern
Floweringdogwood
European hazel
Beech
Ash
Honeylocust
Levant cotton
Hibiscus lasiocarpus
Hops
Black alder
Bush clover
Giant leadtree
Sweetgum
Tuliptree/White poplar
Sweetbay
Apple
Wax mallow
White sweet clover
Yellow sweet clover
Mimosa
Northern bayberry
Lychee
American hop hornbeam
American plane tree/Sycamore
Balsam poplar
Eastern cottonwood
Balm-of-Gilead
Quaking aspen
Sour cherry
Garden plum
Wild black cherry
Chokecherry *
Pear
Apple
Pin oak
American mangrove
Azalea
Common currant
Black locust\False acacia
Rose
Sow-teat blackberry
Rubus canadensis
Sandbar willow
Sassafras
Saw palmetto
Meadowsweet
Snowberry
Basswood/Lime/Linden
White clover
Southern arrowwood
Wisteria frutescens
Chinese wisteria
Cultivated corn/Maize

| | |
| --- | --- |
| | Google is one of my favourite Search Engines and seems to offer the most extensive listing of Saturniidae, Sphingidae and butterfly sites. Use your back arrow to return to this site after using the Google search box to the left. Clicking on radio button to left of pei.sympatico.ca will limit your search to this site. |
Google lists at least one site for each of the following Saturniidae genera: Actias, Adelocephala, Adeloneivaia, Adelowalkeria, Adetomeris, Agapema, Aglia, Anisota, Antheraea, Antherina, Antistathmoptera, Archaeoattacus, Argema, Arsenura, Athletes (need species), Attacus, Aurivillius, Automerella, Automerina, Automeris, Bunaea, Bunaeopsis, Caio (need species: richardsoni), Caligula (need species), Callosamia, Catocephala, Cinabra, Cirina (need species), Citheronia, Citioica, Coloradia, Copaxa, Copiopteryx, Coscinocera, Cricula, Decachorda, Dirphia, Dirphiopsis, Dryocampa, Dysdaemonia, Eacles, Eochroa, Epiphora, Eriogyna, Eubergia, Eudyaria, Eupackardia, Eustera, Gamelia, Gonimbrasia, Goodia, Graellsia, Gynanisa, Heliconisa, Hemileuca, Heniocha, Holocerina, Homoeopteryx, Hyalophora, Hylesia, Hyperchiria, Imbrasia, Ithomisa, Lemaireia, Leucanella, Lobobunaea, Loepa, Lonomia, ludia, Melanocera, Micragone, Molippa, Neoris, Nudaurelia, Oiticella, Opodiphthera, Ormiscodes, Orthogonioptilium, Othorene, Paradirphia, Perisomena, Periphoba, Polythysana, Procitheronia, Pselaphelia, Pseudaphelia, Pseudantheraea, Pseudautomeris, Pseudimbrasia, Pseudobunaea, Pseudodirphia, Psilopygida, Ptiloscola, Rhescynthis, Rhodinia, Rohaniella, Rothschildia, Salassa (need species: lola), Samia, Saturnia, Schausiella, Syssphinx, Tagoropsis, Titaea, Urota, Usta (need species:terpsichore), Vegetia.


Visit other websites maintained by Bill Oehlke: