Titaea tamerlan
TYE-tee-uh mm ta-MER-lan
(Maassen, 1869) Dysdaemonia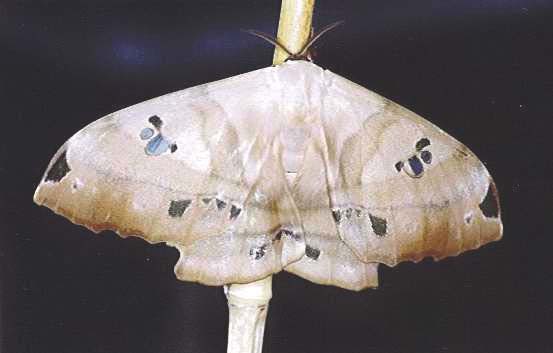 Titaea tamerlan (female) courtesy of Angelo Santin.
This page about Titaea tamerlan has been created by Bill Oehlke at oehlkew@islandtelecom.com
Comments, suggestions and/or additional information are welcomed by Bill.
TAXONOMY:

Superfamily: Bombycoidea, Latreille, 1802
Family: Saturniidae, Boisduval, [1837] 1834
Subfamily: Arsenurinae, Jordan, 1922
Tribe: Arsenurini, Jordan, 1922
Genus: Titaea, Hubner, [1823]
Species: tamerlan, Maassen, 1869

MIDI MUSIC
"The.Girl.from.Ipanema"
midi by Mel Webb



ON.OFF

DISTRIBUTION:
The Titaea tamerlan moth flies in Central and South America. FLIGHT TIMES AND PREFERRED FOOD PLANTS:Titaea tamerlan larvae feed upon Bombax (Silk-cotton tree), Bombacopsis quinatum (Bombacopsis) and Tilia platyphyllos (Basswood/Lime) and possibly kopak trees.
In Costa Rica moths are taken in June-July and then again in the fall.
ECLOSION, SCENTING AND MATING:
Adults eclose in the evening (7-8 pm) from underground pupae
There is no distinguishing of sexes by antennae, but males have slightly more elongate tails than do the females which emit an airbourne pheromone to call in males at night.
EGGS, LARVAE, COCOONS, AND PUPAE:
Eggs typically incubate for seven to eight days.

First instar larvae are well adorned with protective "spikes", especially long and bifurcate on thoracic segments.

Images courtesy of Dan Janzen.
Colour and patterning change dramatically as these larvae move into subsequent instars.

This second instar larva may have protective camouflage of "bird dropping".
| | |
| --- | --- |
| Colours change with each subsequent moult, and now basic green colour prevails. A central yellow dorsal line, suggesting a leaf vein, runs the length of the caterpillar. | |
Larvae bulk up considerably in final instar where they are without "horns".

Caterpillars will descend trees to pupate in the soil.
There is considerable colour and patterning variation among larvae.

Image courtesy of Angelo Santin.
Larval Food Plants
Listed below are primary food plant(s) and alternate food plants listed in Stephen E. Stone's Foodplants of World Saturniidae. It is hoped that this alphabetical listing followed by the common name of the foodplant will prove useful. The list is not exhaustive. Experimenting with closely related foodplants is worthwhile.



Bombax
Bombacopsis quinatum.....
Tilia platyphyllos

Silk-cotton tree
Bombacopsis
Basswood/Lime


Return to Introduction with members' comments