Gynanisa maja
gye-na-NEE-suh mm MAH-juh
(Klug, 1836) Saturnia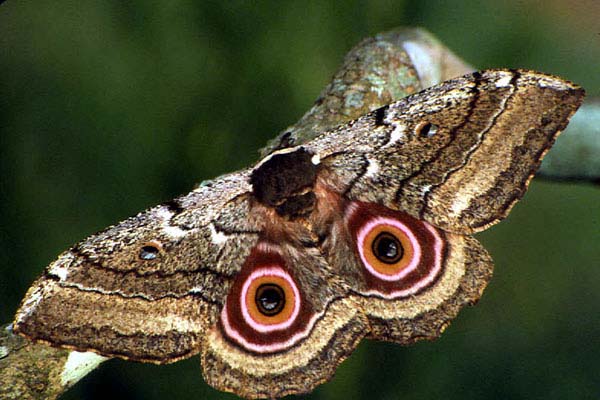 Photo courtesy of Leroy Simon
This site has been created by Bill Oehlke at oehlkew@islandtelcom.com
Comments, suggestions and/or additional information are welcomed by Bill.
TAXONOMY:

Superfamily: Bombycoidea, Latreille, 1802
Family: Saturniidae, Boisduval, [1837] 1834
Subfamily: Saturniinae, Boisduval, [1837] 1834
Tribe: Bunaeini, Packard, 1902
Genus: Gynanisa, Walker, 1855


MIDI MUSIC
Wind Beneath My Wings
copyright C. Odenkirk
MIDI CITY


ON.OFF

DISTRIBUTION:
Gynanisa maja, The Speckled Emperor, (wingspan 10.5-13 cm), is widely distributed in southern Africa and ranges northward into Angola and Zambia. The species is absent, however, from the southwestern arid and winter rainfall regions.

The dark form, Gynanisa nigra, is not a distinct species FLIGHT TIMES AND PREFERRED FOOD PLANTS:
This emperor flies from late December until early February.

Gynanisa maja larvae feed primarily on Namibia Camel Thorn (Acacia erioloba) and Mopane (Colophospermum mopane).

Larvae serve as an important human food source and the species is celebrated on a Mali postage stamp.
ECLOSION, SCENTING AND MATING:
Eclosion is from a deep (20 cm) subterranean pupa. Males fly around midnight, the calling time of females.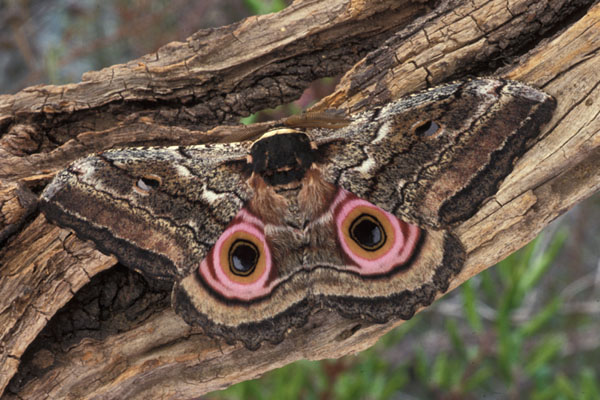 Gynanisa maja male copyright protected courtesy of Kirby Wolfe.
EGGS, LARVAE, COCOONS, AND PUPAE:
Females deposit clusters of 10-12 ova on foodplant leaves. The eggs are often sparsely covered with scales from the female's body.

Early instar larvae are gregarious and reddish-black. As they develop, they become solitary feeders, hiding on the underside of leaf stems and twigs. Basis green colouration with silver (sky coloured) spines offers excellent camouflage.

Fully grown larvae (9.0 cm) descend the hostplant in March or April to pupate in deep underground chambers.




Photo courtesy of Leroy Simon.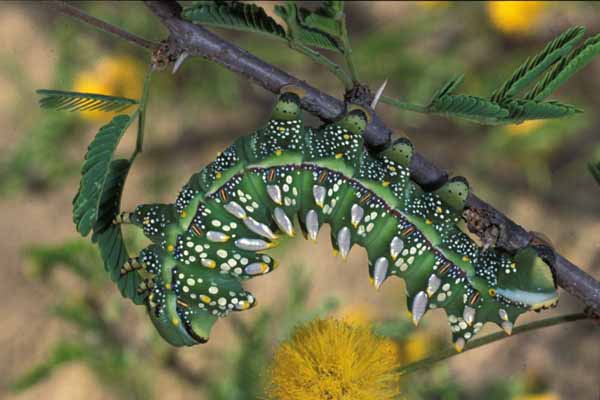 Gynanisa maja larva copyright protected courtesy of Kirby Wolfe.
Larval Food Plants
Listed below are the primary food plant(s) and alternate food plants listed in Stephen E. Stone's Foodplants of World Saturniidae. It is hoped that this alphabetical listing followed by the common name of the foodplant will prove useful. The list is not exhaustive. Experimenting with closely related foodplants is worthwhile.



Acacia erioloba
Acacia karroo
Acacia mollissima
Berlinia paniculata
Brachystegia venosa
Cassia
Colophospermum mopane.....
Elephantorrhiza burchelli
Julbernardia
Laburnum
Peltophorum
Prunus persica
Pterocarpus
Quercus gambelii
Quercus robar
Quercus turneri
Robinia pseudoacacia
Schotia

Namibia Camel Thorn
Karro wattle
Black wattle
Mnondo
Msasa
Senna
Mopane
Elephantorrhiza
Mnondo
Bean tree
Wattle
Peach
Mukwa
Gambel oak
English oak
oak
Locust
Tree Fuchisa

Return to Introduction with members' comments