ANISOTA SENATORIA
J. E. SMITH, 1797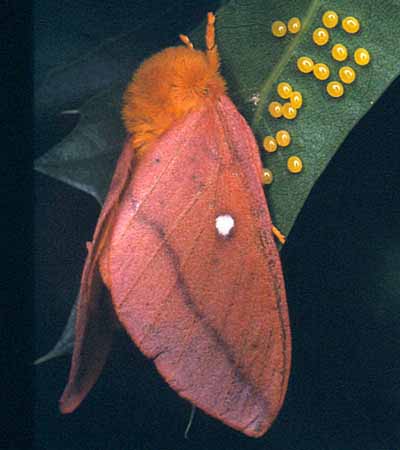 Anisota senatoria (female) courtesy of Leroy Simon.
This site has been created by Bill Oehlke at oehlkew@islandtelecom.com
Comments, suggestions and/or additional information are welcomed by Bill.
TAXONOMY:

Superfamily: Bombycoidea, Latreille, 1802
Family Saturniidae Boisduval, [1837] 1834
Subfamily: Ceratocampinae, Harris 1841
Genus: Anisota, Hübner, 1820 ("1816")
Species: senatoria, J. E. Smith, 1797

MIDI MUSIC
"What.A.Wonderful.World"
copyright C. Odenkirk
MIDI CITY


ON.OFF

DISTRIBUTON:
Anisota senatoria, the Orange-tipped oakworm moth (wing span: 1 3/16 - 2 inches (3 - 5 cm)), flies in deciduous forests from southern Maine west across the Great Lakes region to central Minnesota; south to central Georgia, central Alabama, central Mississippi, Louisiana, and east Texas. FLIGHT TIMES AND PREFERRED FOOD PLANTS: There is one Anisota senatoria brood from June-July, and oakworm larvae feed on various oaks (Quercus) and perhaps chinquapin (Castanea pumila). ECLOSION, SCENTING AND MATING:
Anisota senatoria adult maless are day fliers. Mating takes place from late morning to early afternoon.

Females can be twice as large as males. The upperside of the female is yellow-orange to yellow-brown and the forewing has a white cell spot and varying amounts of scattered black specks.

The upperside of the male is reddish orange to brownish orange and the forewing is narrow with a small white cell spot and a small whitish translucent patch.
EGGS, LARVAE, COCOONS, AND PUPAE:
In late afternoon or dusk, females begin laying eggs in large clumps on the underside of oak leaves.

Eggs hatch in about two weeks and predominantly black larvae are gregarious when young.

Caterpillar populations can be large enough to cause severe defoliation of oaks. Trees can often survive a single year of defoliation, but repeat performances greatly reduce growth and can cause tree mortality.

Ornamental oaks and city and suburban plantings are often sprayed to control this oakworm pest.

Photo to right by Ricardo Bessin


In early fall the fully grown caterpillars move to the ground, burrow in three to four inches, change to pupae, and spend the winter as pupae in their underground chambers.

Photo to right by Leroy Simon










Larval Food Plants
Listed below are primary food plant(s) and alternate food plants listed in Stephen E. Stone's Foodplants of World Saturniidae. It is hoped that this alphabetical listing followed by the common name of the foodplant will prove useful. The list is not exhaustive. Experimenting with closely related foodplants is worthwhile.



Carya
Castanea dentata
Castanea vulgaris
Corylus
Fagus
Quercus alba
Quercus bicolor
Quercus coccinea
Quercus ilicifolia
Quercus imbricaria
Quercus macrocarpa
Quercus palustris
Quercus prinoides
Quercus prinus
Quercus rubra
Quercus stellata
Quercus velutina
Rubus allegheniensis.....
Rubus idaeus

Hickory
American chestnut
American chestnut
Hazel
Beech
White oak
Swamp white oak
Scarlet oak
Bear oak
Shingle oak
Bur oak
Pin oak
Dwarf chestnut oak
Chestnut oak
Northern red oak
Post oak
Black oak
Bramble
Wild red raspberry


Please visit other websites maintained by
Bill Oehlke oehlkew@islandtelecom.com
Box 476, Peardon Road
Montague, Prince Edward Island
Canada C0A 1R0.

SATURNIIDAE OF PRINCE EDWARD ISLAND
EUROPEAN SATURNIIDAE
NORTH AMERICAN SATURNIIDAE
BUTTERFLIES OF PRINCE EDWARD ISLAND
Return to SPHINGIDAE OF PRINCE EDWARD ISLAND
Return to Ceratocampinae Index
Return to Caterpillar Identification Guide