The Great Leopard Moth:
Ecpantheria scribonia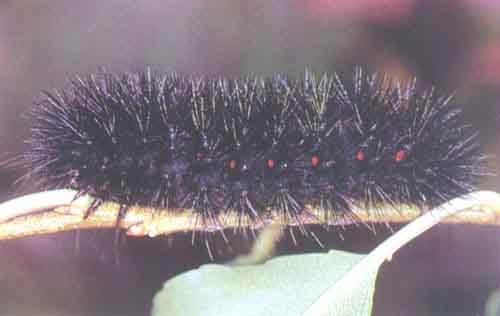 Giant Leopard Moth Caterpillar: Ecpantheria scribonia
This site has been created by Bill Oehlke at oehlkew@islandtelecom.com
Comments, suggestions and/or additional information are welcomed by Bill.
Woolly bear or fuzzy bear caterpillars are often found in the fall after they have left their foodplants in search of a dark and sheltered spot where they can hibernate as larvae for the winter. When spring brings its warm sunshine, the caterpillars again become active, feeding for a brief time and then fashioning cocoons out of silk and body hairs.
Tiger moths usually emerge from cocoons two to three weeks later.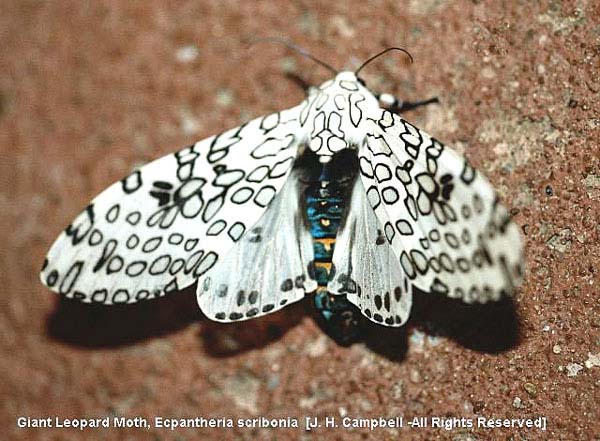 Image of Ecpantheria scribonia moth courtesy of John H. Campbell.
The Great Leopard Moth, (Ecpantheria scribonia, wingspan 5.0 -7.5 cm) ranges throughout the eastern half of the United States from southern New England to eastern Mexico.
Ecpantheria scriboni caterpillars, which are densely coated with coarse black setae (hairs) of equal lengths, curl up in a ball when disturbed, revealing bright red intersegmental rings. The small circles surrounding the spiracles are also red.
The caterpillars feed on a variety of food plants including forest trees, shrubs and low growing plants. Hibernation is usually over in northern portions of scribonia's range in May. The caterpillars feed briefly, spin their cocoons and then emerge a few weeks later as adult moths.
After dark, the female moth (larvae of females approach three inches in length) extends a scent gland from the tip of her abdomen. Night-flying males zigzag in their flights into the wind, pick up the airbourne scent with their antennae, and locate and mate with the calling female.
Upon separating, the male looks for another mate while the female begins her ovapositing flight under cover of darkness. Eggs are widely dispersed on a variety of hosts.

Male Ecpantheria Scribonia come in to lights and rest with wings folded over their backs. To my knowledge the females are so busy with ovapositing that they are not distracted by lights.

I would be very curious to hear from others who may have taken females at lights. Breeders may have to rely upon finding female larvae and then obtaining pairings with wild males once the females eclose the following summer.
Ecpantheria scribonia caterpillars usually go unnoticed until fall when they seek out sheltered overwintering sites. My father, Don Oehlke in New Jersey, has reported that he has seen caterpillars go into cocoon in the fall if they are kept warm and provided with food. He currently has a larva feeding on ironwood as of October 15, 2000.
Dormancy can be induced in larvae by chilling them and keeping them cool. Warmth stimulates them and in an active state they require food.
Hobbyists or nature enthusiasts who wish to experience the metamorphosis of this species from larva to adult have two choices: 1) Keep found-larva warm and supplied with food until the cocoon has been spun in the fall, or 2) chill fall larva and maintain cold temperatures until food is available again in spring. In either case, the moths will eclose the following summer after diapausing through winter.
Larvae experience freezing temperatures in northern portions of their range. The species is more common in southern states.
| | |
| --- | --- |
| If this info has been helpful, please click on the flashing butterfly to express appreciation and to visit other related sites. | |
or go to Introduction to WORLD'S LARGEST SATURNIIDAE SITE and click on flashing butterfly there. This site features spectacular photography with the most extensive set of Saturniidae files found anywhere on the internet.
Woolly bear or fuzzy bear caterpillars come in a variety of colours and patterns, many of them quite striking!
Click on the hypertext (blue print) below to access info and images of various Tiger Moth adults and caterpillars:
ARCTIIDAE (TIGER MOTH) INDEX:
Larval images are from Caterpillars of Eastern Forests courtesy of David Wagner.
Visit other websites maintained by Bill Oehlke: