Nymphalis milberti
nim-FAGHHL-ismmmil-BERT-tye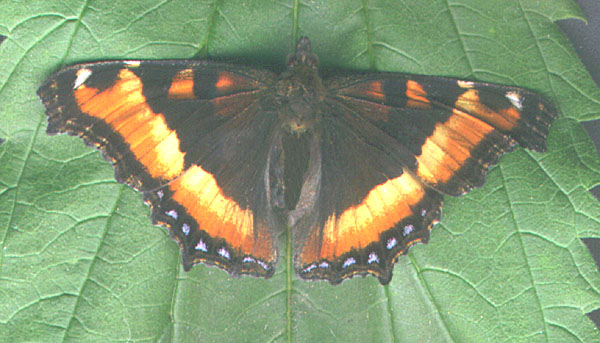 Nymphalis milberti butterfly scan by Bill Oehlke.
This site has been created by Bill Oehlke at oehlkew@islandtelecom.com
Comments, suggestions and/or additional information are welcomed by Bill.
Taxonomy
Superfamily: Papilionoidea Latreille, [1802]
Family: Nymphalidae, Rafinesque, 1815
Subfamily: Nymphalinae, Rafinesque, 1815
Tribe: Nymphalini Rafinesque, 1815
Genus: Nymphalis Kluk, 1780

MIDI MUSIC
..........."Danny Boy"............


ON.OFF

The Milbert's tortoiseshell, Nymphalis milberti, flies throughout most of Canada and northwestern U.S.A.
To my surprise, on April 9, 2004, I spotted a Milbert's tortoiseshell fluttering around the south side of my house (Montague, Prince Edward Island) , temperature around 6-7C, 45 F. The butterfly colouration and wing structure were of high quality. Local foodplant for larvae, nettles, has not broken ground yet and is under at least a foot of snow. The butterfly will probably go back into hibernation for a couple of weeks.
In late May, 2000, I discovered a cluster of approximately 100 tiny Nymphalis milberti caterpillars feeding under a grey web at the top of one of my nettle stems.

I brought them inside to protect from predation and parasitization and reared the lot of them in four two-gallon plastic tubs on cut nettle stems.



The Nymphalis milberti caterpillars progressed very rapidly but remained rather nondescript throughout their development.

Scan by Bill Oehlke.

The gregarious feeding habit continued throughout most of their larval development.
Within three weeks of my find, the larvae began hanging in characteristic "j-shape" and formed rather striking pupae.

Pupae of the Nymphalis milberti butterfly can be removed from their moorings by gently scraping the silk pads away from the twigs/stems or other pupation surfaces.
Eclosions generally occur within 9-14 days after pupation, depending upon temperature.
I set the pupae on some paper towels in the bottom of a five gallon clear plastic tub and draped some towelling over an end and one side so emerged butterlies could climb, hang and inflate.
Natural winter hibernation quarters in wood piles, under tree bark, under shingles, etc., can be matched artificially by drilling 2" diameter holes half way through 2"x4" lumber.
Screening, stapled over refrigerator chilled butterflies placed in the excavations, will allow for air circulation.

The lumber can be stored outdoors under two feet of leaves once the temperature has dropped to below freezing.

Use your browser "back" button to return to previous page.

Visit other websites maintained by Bill Oehlke:

+++LIVESTOCK AND SUPPLIES FOR SALE***


This site is designed and maintained by Bill Oehlke. You can reach Bill for questions by clicking on his name (email) or by phone 902-838-3455, or at Bill Oehlke, Box 476, Montague, P.E.I., Canada C0A 1R0.

I offer two membership sites that far exceed the coverage offered on the sites listed above:

THE WORLD'S LARGEST SATURNIIDAE SITE and
CATERPILLARS TOO! North American (Canada/US) Butterfly website


Please click on the flashing butterfly icon to the right to show
appreciation for this site and to visit other insect sites. Thankyou!