PAONIAS EXCAECATUS,
THE BLINDED SPHINX
J. E. Smith, 1797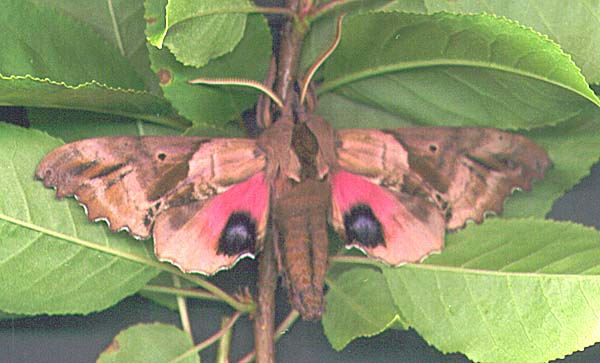 Paonias excaecatus by Bill Oehlke

This site has been created by Bill Oehlke at oehlkew@islandtelecom.com
Comments, suggestions and/or additional information are welcomed by Bill.
TAXONOMY:



Family: Sphingidae, Latreille, 1802
Subfamily: Sphinginae, Latreille, 1802
Tribe: Smerinthini, Grote & Robinson, 1865
Genus: Paonias (Hubner, 1819) was Sphinx........
Species: excaecatus J. E. Smith, 1797


MIDI MUSIC
......It's a Wonderful World......
copyright C. Odenkirk


ON.OFF

DISTRIBUTION:Paonias excaecatus, the Blinded Sphinx (wingspan 60-85 mm) is found in Nova Scotia, New Brunswick, Prince Edward Island, and southern Quebec, Ontario, and Manitoba. In the U.S. it ranges due south of those provinces and extends it range westward to eastern California from Oklahoma south.
Typical of species in the tribe Smerinthini, adult excaecatus do not feed.
FLIGHT TIMES:On Prince Edward Island, Canada, Paonias excaecatus flies from early June to late July. Double broods begin to occur from New Jersey southwards with triple broods in Missouri and as many as four broods in Louisiana where winter diapause stock begins flight in late March and subsequent broods follow at roughly 45 day intervals.

ECLOSION:Little is known about the eclosions of the earth pupators. Many believe the moths wiggle their way to the surface from subterranean chambers just prior to eclosions. Here on Prince Edward Island, my reared pupae emerge right around midnight. I have observed the same eclosion time for Smerinthus cerisyi. SCENTING AND MATINGMales of the eye-spotted sphinxes rest with the posterior of the abdomen curved upwards. This species mates readily in small cages and females will call and mate shortly after inflating wings. EGGS, LARVAE, PUPAE:
Females as well as males of this short-tongued (3.4 mm) species come in to lights and females readily deposit green, spheroid eggs (100+) in paper bags without feeding.

Excaecatus eggs are slightly larger than poecilus and tend to be more toward a yellow-green. Incubation lasts approximately 8 days at room temperature.

These Blinded Sphinx eggs are from a female taken on June 3, 1999, in Montague, Prince Edward Island.
Larvae accept willows, birches, and cherries. I have tried all three and my larvae progressed most rapidly and grew the largest on pin cherry (Prunus pensylvanica). I have found large larvae, however, in the wild on oak and poplar. Basswood (Tilia), hawthorn (Crataegus) and ocean spray (Holodiscus) also serve well as larval hosts.

The hornworm to the right (2.5 x life size, July 11, ex egg above) will grow another half inch and fatten considerably on many pin cherry leaves in the next 3-5 days before descending the branch to seek out a suitable pupation area.

Scan by Bill Oehlke
Paonias excaecatus larvae pupate readily in 4-5 days under artificial conditions, i.e., a dark enclosure with loose paper litter. I use a covered, five-gallon bucket loosely lined on the bottom with three to four sheets of paper towels. When larvae are about ready to pupate, i.e., they have left foliage to descend tree branches or stems, I gently put them in the buckets. I put as many as twenty larvae in a single pupation bucket.


Blinded sphinx pupae are smooth and shiny and a very dark chestnut colour, once they have hardened. Initially they are very soft and green. They should not be moved for a week or so to give the pupal shell time to harden.

Larvae develop very stumpy legs and a reduced body size as a result of clearing the intestinal tract just prior to pupation.





Please visit other websites maintained by
Bill Oehlke oehlkew@islandtelecom.com
Box 476, Peardon Road
Montague, Prince Edward Island
Canada C0A 1R0.



SATURNIIDAE OF PRINCE EDWARD ISLAND
EUROPEAN SATURNIIDAE
NORTH AMERICAN SATURNIIDAE
BUTTERFLIES OF PRINCE EDWARD ISLAND
Return to SPHINGIDAE OF PRINCE EDWARD ISLAND