The Virginian Tiger Moth:
Spilosoma virginica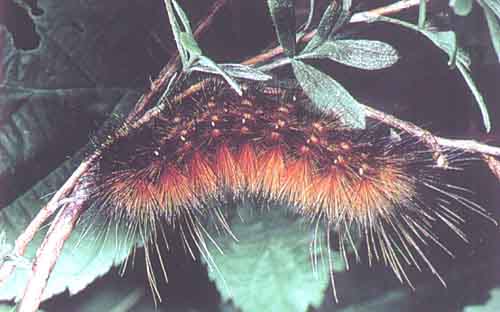 Virginian Tiger Moth Caterpillar: Spilosoma virginica
This site has been created by Bill Oehlke at oehlkew@islandtelecom.com
Comments, suggestions and/or additional information are welcomed by Bill.
Yellow woolly bear or fuzzy bear caterpillars are often found in the fall after they have left their foodplants in search of a dark and sheltered spot where they can hibernate as larvae for the winter. When spring brings its warm sunshine, the yellow bear caterpillars again become active, feeding for a brief time and then fashioning cocoons out of silk and body hairs.
Tiger moths usually emerge from cocoons two to three weeks later.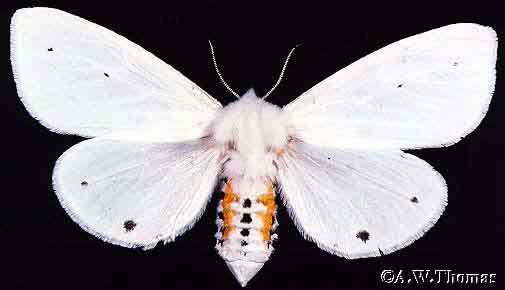 Image of Spilosoma virginica moth courtesy of Anthony Thomas.
The Virginian Tiger Moth, (Spilosoma virginica, wingspan 2.5-4.5cm) ranges throughout the entire United States northward into southern Canada and southward into eastern Mexico.
Spilosoma virginica caterpillars are densely coated with yellow or orange (occasionally even red or black) setae (hairs). On the move, woolly bear caterpillars motor quite rapidly and often thrill young children as the larvae skoot across their hands and arms. There are longer, lighter coloured setae projecting individually from clusters of the darker setae, especially near the small black head and from the posterior. Spiracles are surrounded in white ovals or circles.
The yellow bear caterpillars feed on a variety of food plants including forest trees, shrubs and low growing plants. Hibernation is usually over in northern portions of virginica's range in May. The caterpillars feed briefly, spin their cocoons and then emerge a few weeks later as adult moths.
There are usually at least two generations in the North and thee or more generations in the South. After dark, the female moth (larvae of females approach three inches in length) extends a scent gland from the tip of her abdomen. Night-flying males zigzag in their flights into the wind, pick up the airbourne scent with their antennae, and locate and mate with the calling female.
Upon separating, the male looks for another mate while the female begins her ovapositing flight under cover of darkness. Eggs are widely dispersed on a variety of hosts.
Male Spilosoma virginica come in to lights and rest with wings folded over their backs.
Spilosoma virginica caterpillars usually go unnoticed until fall when they seek out sheltered overwintering sites.
Dormancy can be induced in larvae by chilling them and keeping them cool. Warmth stimulates them and in an active state they require food.
Woolly bear or fuzzy bear caterpillars come in a variety of colours and patterns, many of them quite striking!
Click on the hypertext (blue print) below to access info and images of various Tiger Moth adults and caterpillars:
ARCTIIDAE (TIGER MOTH) INDEX:
Larval images are from Caterpillars of Eastern Forests courtesy of David Wagner.
Visit other websites maintained by Bill Oehlke: