Vanessa atalanta
va-NES-uhmm a-ta-LANT-uh
(Linnaeus, 1758) Papilio atalanta

Vanessa atalanta, Florida, courtesy of Leroy Simon.
Superfamily: Papilionoidea Latreille, [1802]
Family: Nymphalidae Rafinesque, 1815
Subfamily: Nymphalinae Rafinesque, 1815
Tribe: Nymphalini Rafinesque, 1815
Genus: Vanessa Fabricius, 1807

Website designed and maintained
by Bill Oehlke
Box 476, Montague
Prince Edward Island, Canada C0A 1R0
oehlkew@islandtelecom.com

Distribution:
The Red Admiral Butterfly, (Vanessa atalanta) (wingspan=2.0-2.3") enjoys a very wide range from the southern half of all Canadian provinces throughout the continental U.S. into Mexico. Actually the red admiral butterfly is found worldwide in north temperate regions. There are also populations in Hawaii. Description:


Vanessa atalanta butterfly scan by Bill Oehlke
The upperside is black with white spots near the apex. The forewing has a red-orange median band. The hindwing has a red-orange marginal band. The winter form is smaller and duller, with the summer form larger and brighter with an interrupted forewing band.
Flight time(s) and Adult Food Sources:
This double-brooded butterfly is quite territorial and likes to perch where it has a good view of this wonderful world. Red admiral adults hibernate and are on the wing with warm spring sun, visiting fermenting tree sap and favoring lilacs and butterfly bush when they are in bloom. Frequently an adult red admiral butterfly will alight on a person who has the patience to stand still where admirals are flying.
I suspect it broods continuously where climate permits.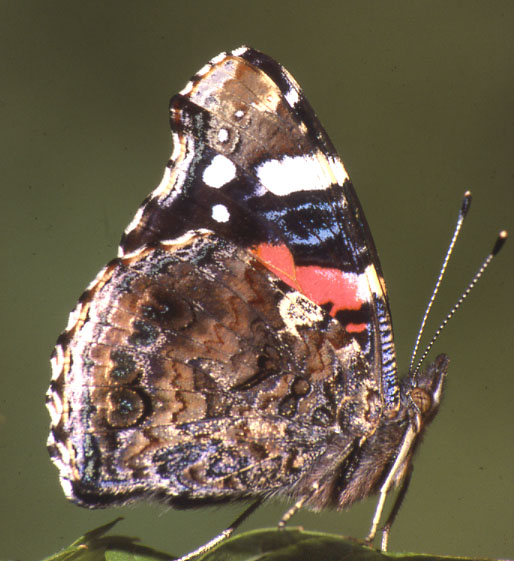 Vanessa atalanta, Florida, courtesy of Leroy Simon.
Eggs, Larvae, Pupae:
On May 8, 2001, I watched a female ovipositing on some fresh nettle shoots. Tiny, blue-green eggs were deposited singly on both upper and undersides of leaves. This leaf section is approximately 1 cm from cut section to leaf tip.
The female would flit about, sometimes just lifting off for a flight of no more than a few centimeters before alighting to lay another egg.
Larvae feed singly on leaves of nettle, hops, and baby tears, and use a few strands of silk to draw the leaf edges together, forming a hiding place. Other nettle leaves on this stalk were characteristically open and flat.
It is not difficult to find Vanessa atalanta larvae. Just look for the characteristic leaf furl on a clump of nettles. The caterpillar, one to a furl, will most likely be inside during the day.

This species is very easy to rear indoors on cut food in plastic containers or glass jars. Just keep the food fresh and the container clean.

If you want to attract red admiral butterflies to your garden, plant some nettles in a moist semi-shaded location.
| | |
| --- | --- |
| | I carefully unfurled the leaf roll to reveal this first or second instar Vanessa atalanta larva about 1 cm long. The entire furl was held together with "silk stitches" at leaf edges from the tip of the furl to the juncture of the petiole. |
Young caterpillars frequently feed from the inside protection of the furl on the outer edge and literally eat themselves out of house and home, leaving only the skeleton of the coarser leaf veins.

Nettles and a nectar source will fetch the admirals.
Vanessa atalanta, courtesy of Jeffrey C. Miller,
Forest Health Technology Enterprise Team.
The best way to get butterflies to oviposit is to place them in a lightweight sleeve over live hostplant foliage.

I had tied three five-foot-high nettle stems together about ten inches from the ground and covered the group with a five foot Remay sleeve with two open ends. The lower end was tied shut around the stems, the butterfly dropped into the clump through the upper open end, and then the upper end was gathered and tied shut.

I have also built frames out of plastic tubing to support rectangular remay "tents" over the nettles. As long as the butterflies have a little room for flight, eggs will be deposited all over the enclosed foliage.
| | |
| --- | --- |
| Gray pupae are affixed by a strong and extensive silk pad to any surface from which they can hang. Dislodging the pupae with a sharp object to scrape away silkpad from its mooring does not impede subsequent eclosions. Larvae took on a pale grey colour in the final instar prior to moulting. | |

Silk pads and a discarded larval skin are visible in pupal image above: ventral (l), lateral (c); dorsal (r).
Use your browser "Back" button to return to the previous page.

Visit other websites maintained by Bill Oehlke:

+++LIVESTOCK AND SUPPLIES FOR SALE***


This site is designed and maintained by Bill Oehlke. You can reach Bill for questions by clicking on his name (email) or by phone 902-838-3455, or at Bill Oehlke, Box 476, Montague, P.E.I., Canada C0A 1R0.

I offer two membership sites that far exceed the coverage offered on the sites listed above: